Netflix has resounded with originality and thrill ever since it entered the entertainment industry. Year after year, it has delivered some high paced, no nonsense and extremely engaging shows that have become instant fan favorites. Going into 2021, it promises nothing less. On the contrary, it has already ignited the audience's curiosity by announcing thrilling shows, some new and some old. Here's a look at 10 Action thrillers hitting Netflix in 2021. Brace yourselves, it is going to be one wild ride.
Army of the Dead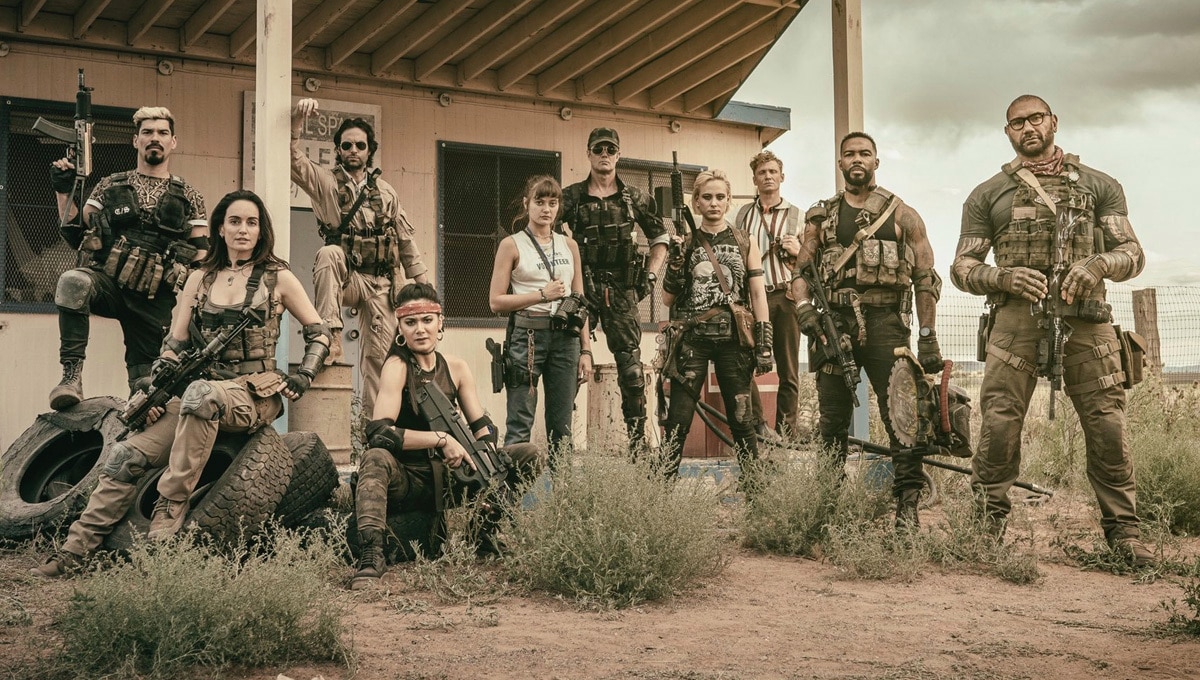 This looks like another promising Zack Snyder marvel who is already the helm of films like Watchmen, 300, and Dawn of the Dead. Just like Dawn of the Dead, Army of the Dead is a zombie apocalypse based film. But this time, it focuses on more than just survival. A group of people comes together in the midst of a zombie apocalypse to pull off an insane heist. This movie boasts of a crazy ensemble cast that includes names like Dave Baustita, Ella Purnell, Ana De La Reguera, Omari Hardwick, and Theo Rossi.
Red Notice
A Netflix regular (Ryan Reynolds) is joined by debutantes Dwayne Johnson and Gal Gadot. Red Notice refers to a blast from Interpol to round up the world's most dangerous and notorious fugitives. 
While Johnson plays an FBI agent trying to smack down an art thief, Reynolds and Gadot are a part of the rival crew. This film is a promise on the enthralling Cat and Mouse race. A release date is yet to be confirmed. 
Against the Ice
This one is based on a true story. This movie tells the tale of the 1909 Denmark Alabama expedition that was on a quest to disprove the United States' claim to north-eastern Greenland. Nikolaj Coster-Waldau's character sets out on its mission with the inexperienced sailor played by Joe Cole. they find the proof they were looking for but their return home is longer and more tedious than they thought. What ensues is only an adventure to be seen. 
Blood Red Sky
Blood Red Sky follows the story of a woman suffering from a mysterious illness that in turn gives her superpowers. Though hidden from the world, she takes a transatlantic flight which ends up getting hijacked. Nothing simple about this, huh? She then reveals her superpowers to protect her son. Pauri Baumeister (German Actress) stars alongside Graham McTavish, Dominic Purcell & Roy McCrerey.
The Woman in the Window
This Amy Adams film has been delayed several times to many before it finally acquired a 2021 release date. This is because of re-shooting several scenes to dismantle some plot confusion. 
This movie is based on a novel by the same name. It follows a woman (Amy Adams) suffering from agoraphobia who lives in New York. she becomes a friend of a neighbor (Juliane Moore) and witnesses her friend's murder. This gut wrenching movie also co-stars Anthony Mackie, Jennifer Jason Leigh and Gary Oldman.
Intrusion
A movie based on home invasion, this one stars Freida Pinto and Logan Marshall-Green as the husband and wife of the said home. It is directed by Adam Salky (known for the 2015 film I Smile Back).
Both these actors are famous for their roles in Spider-Man: Homecoming (Logan) and Slumdog Millionaire & Rise of the Planet of the Apes (Freida).
Kate
Mary Elizabeth Winstead stars in the titular role of this thriller. It follows the story about vengeance when Mary's character gets poisoned and has only 24 hours to live. We follow her as she forms a bond with the daughter of one of her former victims'. 
It also has some famous actors playing major characters including Michiel Huisman, Tadanobu Asano, and Miyavi Lee Ishihara.
Awake
A world without all gadgets? Impossible you might think, not for this film. This film happens when a global event wipes out all of the world's gadgets. Alongside it also affects the humans' ability to sleep. The solution to this massive and prolonging chaos seems to lie in an ex-soldier's daughter. 
The cast comprises Gina Rodriguez in the lead role. She is joined by Leigh, Shamier Anderson, Lucius Hoyos, Gil Bellows, Barry Pepper, Ariana Greenblatt, Frances Fisher, and Finn Jones.
The Swarm
The Swarm is a feature film first shown at Cannes' Festival in 2020 (Special Critics' Week Special Label). Netflix acquired global rights (except Spain, France, & China) to this film. It encircles the story of a family that raises locusts as crops. Turns out, they are as harmless as they thought. 
Things Heard and Seen
This one is based on the book All Things Cease to Appear by Elizabeth Brundage. It surrounds a couple who move to Hudson Valley from Manhattan who discovers the dark energy in their marriage just like the dark energy in their new house. Amanda Seyfried, James Norton and Natalia Dyer star in this. It releases on April 30.