Academy Awards are one of the prestigious awards in Hollywood. And every year numerous actors are nominated for their extraordinary performances in the movies. However, sometimes the Oscar nomination misses out on some of the really deserving performances.
There have been various actors who have been nominated but never won an Oscar even when they clearly deserved it. We mean Amy Adams should have won an Oscar a long time ago! But she is not the only actor that has been left out of Oscar nomination.
Here are 10 actors and their brilliant performances that clearly deserved a Oscar nomination.
Andrew Garfield in The Social Network (2010)
Why he deserved the nomination: Andrew Garfield gave a charismatic and believable performance in the movie. He was raw, emotional, and absolutely phenomenal. The particular 'Lawyer up' scene brings the maximum of the character on the screen.  It is one of those scenes that are memorable, and you would want to watch it again just to get pumped up.
Who was nominated instead for Best Supporting Actor: Jeremy Renner in The Town, Christian Bale in The Fighter, Geoffrey Rush in The King's Speech, Mark Ruffalo in The Kids Are All Right, and John Hawkes in Winter's Bone.
Toni Colette in Hereditary (2018)
Why she deserved the nomination: This terrifying and mind-twisting movie had its moments. And Toni Colette was certainly a part of all those moments. Her performance was spine-chilling. The most iconic scene was the speech at the dinner table. She was at her best in this scene.
Who was nominated instead for Best Lead Actress: Lady Gaga in A Star Is Born, Olivia Colman in The Favourite, Yalitza Aparicio in Roma, Melissa McCarthy in Can You Ever Forgive Me?, and Glenn Close in The Wife.
Amy Adams in Enchanted (2007)
Why she deserved the nomination: This should have been a no-brainer, as Amy Adams deserved a position in the nominations for that year. She was perfect in portraying the animated character without going overboard. She was the right amount of silly and serious without sounding campy or absurd. And what's more? She sang all the songs herself.
Who was nominated instead for Best Lead Actress: Cate Blanchett in Elizabeth: The Golden Age, Marion Cotillard in La Vie en Rose, Elliot Page in Juno, Laura Linney in The Savages, and Julie Christie in Away From Her.
Robert Downey Jr. in Avengers: Endgame (2019)
Why he deserved a nomination: A movie that had high expectations deserved extraordinary performances from its actors. And Robert Downed Jr. outdid everyone in the movie with his emotional and raw performance. He was able to deliver trademark witty Tony Stark along with a heart-wrenching and emotional element of the character.
Who was nominated instead Best Supporting Actors: Anthony Hopkins in The Two Popes, Brad Pitt in Once Upon a Time in Hollywood, Al Pacino in The Irishman, Tom Hanks in A Beautiful Day in the Neighborhood, and Joe Pesci in The Irishman.
Emily Blunt in A Quiet Place (2018)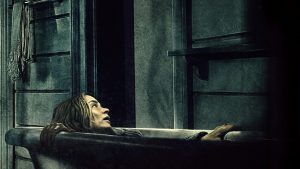 Why she deserved a nomination: Well, let's start by appreciating the concept of the movie. It was brilliant and refreshing. Now, let's talk about the actors and especially Emily Blunt. She did an amazing job portraying the fear yet the determination to keep her kids safe. Every mother would have probably connected with a range of emotions that the actress poured into her role. And one of the striking scenes in the movie was the bathtub scene accompanied by a scream! That was literal chills!
Who was nominated instead for Best Supporting Actress: Amy Adams in Vice, Regina King in If Beale Street Could Talk, Emma Stone in The Favourite, Rachel Weisz in The Favourite, and Marina de Tavira in Roma.
Jacob Tremblay in Room (2015)
Why he deserved a nomination: It was incredible to see him in such an intense and demanding role at such a young age. And he pulled it off wonderfully! He should have got a nomination just for his hard work and efforts to put everything in the role.
Who was nominated instead for Best Supporting Actor: Christian Bale in The Big Short, Mark Rylance in Bridge of Spies, Mark Ruffalo in Spotlight, Tom Hardy in The Revenant, and Sylvester Stallone in Creed.
Michael Stuhlberg in Call Me by Your Name (2017)
Why he deserved a nomination: The movie had an overwhelmingly amazing response from the audience and critics alike. And Timothée Chalamet was much appreciated for his role. But Michael Stuhlberg deserved an Academy Award nomination. He gave a natural performance that was full of compassion, empathy, and love.
Who was nominated instead for Best Supporting Actor: Richard Jenkins in The Shape of Water, Sam Rockwell in Three Billboards Outside Ebbing, Missouri, Christopher Plummer in All the Money in the World, Woody Harrelson in Three Billboards, and Willem Dafoe in The Florida Project.
Brie Larson in Short Term 12 (2013)
Why she deserved a nomination: A film that helped several actors make their way to being big names in the industry such as Rami Malek, Kaitlyn Dever, Stephanie Beatriz, and Lakeith Stanfield. But the outstanding performance by Brie Larson makes a contender to be nominated for the Academy Awards. She portrayed her character peeling back each layer slowly and beautifully. In the movie, her character dealt with anxiety, depression, grief, and isolation while helping others.
Who was nominated instead for Best Lead Actress: Judi Dench in Philomena, Cate Blanchett in Blue Jasmine, Amy Adams in American Hustle, Sandra Bullock in Gravity, and Meryl Streep in August: Osage County.
Alan Rickman in Harry Potter and the Deathly Hallows: Part Two (2011)
Why he deserved a nomination: Oscars are meant to always give a nod to actors who have passed away but gave great last performance. And Alan Rickman deserved the same! He was a wonderful actor and portrayed the role Snape of with his full heart and mind. Not just in this movie but he was fantastic in every one of them. In fact, we would go further and say that nobody would have been able to portray Snape better than Alan Rickman.
Who was nominated instead for Best Supporting Actor: Kenneth Branagh in My Week With Marilyn, Christopher Plummer in The Beginners, Jonah Hill in Moneyball, Nick Nolte in Warrior, and Max von Sydow in Extremely Loud & Incredibly Close.
Did we miss any deserving Oscar nomination? Do you think someone else should also have been on this list? Comment down below.