When you say Mortal Kombat memes, I say, "Get over here!"
Mortal Kombat is tremendously influential on the gaming industry and pop culture as a whole. Mortal Kombat aces it when it comes to being hilarious. Consequently, one focal point of comedy was some of the lines from the game. Moreover, no line got named in a meme as Scorpion's famous spear move quote, "Get over here!" And here are our favorites. 
10. Get Out of Here!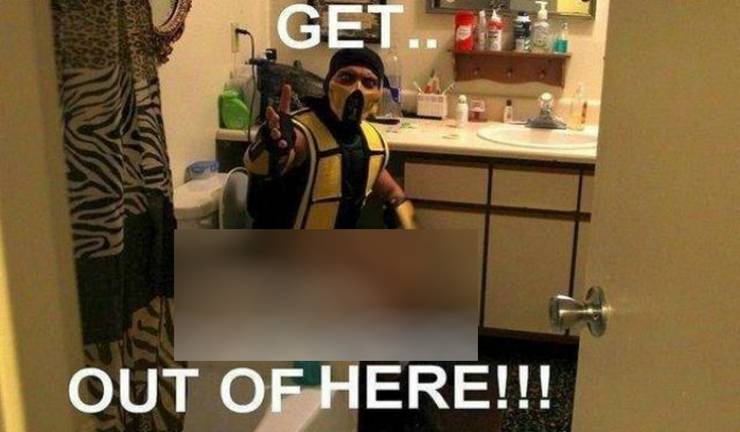 In this meme, Hanzo Hasashi, aka Scorpion, is taking a break from the violence. Moreover, an untimely door opening reveals him in an indecent state. Consequently, rephrasing "get over here" to "Get out of Here."
9.That Awkward Moment
The worst thing that could happen to anyone in Mortal Kombat is encountering a seductive version of Scorpion. The classic meme has been making the rounds for years. It gets posted to this day, where a glimpse of a seductive Scorpion gets portrayed. It's a traditional format of the early 2010's decade. Consequently, it could still make someone laugh hard who is familiar with the Mortal Kombat mascot.
8.Daffy Duck Cameo
The Mortal Kombat animated film, Mortal Kombat Legends: Scorpion's Revenge by Warner Bros, introduced a hilarious cameo from Looney Tunes/Merry Melodies legend Daffy Duck. It just got better when It got turned into a meme. Consequently, the sheer randomness of their encounter never fails to get a chuckle out of you.
7.Mortal Kombros from mortal enemies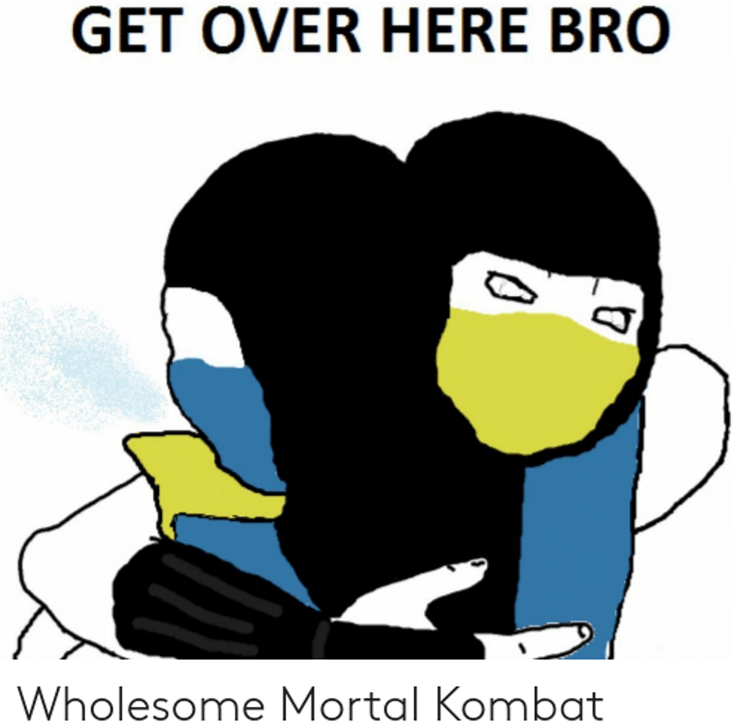 The wojak meme format is a big hit. Consequently, this particular Mortal Kombat meme has been making the rounds for decades. The two mortal enemies up until the end of Mortal Kombat X make the context of the meme funnier. Moreover, in the games, they are out to murder one another brutally.
6.Mortal Kombat On your way to Work
Fans of Mortal Kombat either love Scorpion and play like him in every single game or hate Scorpion. Consequently, for the latter, this meme shows that there may be no escape from the Scorpion. The ninja even shows up to get in your way to work and give a simple instruction.
5.Mortal Kombat & Chill?
This version of a hilarious and seductive Scorpion pulls whoever he's talking to over. He is not even trying to act cute. Consequently, one could hope not to get stabbed by him.
4.The Classic Scorpion Decision
Fans hated Scorpion during Mortal Kombat's 2011 revival game. As the history of Scorpion and Sub Zero's rivalry got revived. Moreover, Scorpion hates the original Sub Zero for killing his clan. Although he himself confesses to  Scorpion, that it wasn't his doing. Consequently, Scorpion asked no questions and listened to the evil man from hell. He also kills Bi Han for no reason.
3.Animal Crossing is hilarious
Isabelle's inclusion in Super Smash Bros. Ultimate was the invitation of memes to the internet. Isabelle being in a fighting game was a massive hit by a Twitter artist's crossover image. She had a long-range Scorpion spear-like move in her fishing pole grab. 
2.Scorpion becomes the pandemic warrior
Mortal Kombat enjoyed the spotlight during this pandemic. The ninja mask is all set to fight with Covid. At the same time, it's hilarious to see Scorpion change his ways to tell everyone to be safe during these challenging times.
1.Deteriorating Scorpion Trend
Following the popular trend to deteriorate a character until they and their quotes are barely recognizable is also tried and tested on Scorpion. The ridiculous last version of Scorpion makes the definition of the meme.