The transformation of a sports person into an actor is not an easy job. Still, many athletes managed to get this job done efficiently. Actors like Terry Crews and Jason Statham were former athletes who turned their career to become actors. They pivoted their careers larger in life. And these two were not the only athlete who managed to innate their abilities to become action heroes on screen.
With that said, these are some of the many athletes who later turned into action superstars in Hollywood – 
Jason Statham
It has been over for more than two decades in Hollywood. It is pretty much fun to think about Jason Statham as a model or a professional diver. Before moving into modeling, Jason used to be an experienced diver who even competed in the 1990 Commonwealth Games. Debuting with movies like Snatch and Lock, Stock, and Two Smoking Barrels, Statham has been a great and essential part of the film industry.
Dolph Lundgren
Dolph Lundgren has done much more in acting than he did in sports. Being a professional kaate fighter, Lundgren holds a 4th-dan black belt in Kyokushin karate. After debuting with a small role in A View to a Kill, he got his spotlight in Rocky IV.
Carl Weathers
Despite being a professional football player, he stepped out to enter the cinema and TV shows in 1975. While playing for the Canadian Football League, he was also pursuing his bachelor's degree in drama. He started to act in TV shows to begin his career, and by the 1980s. Later, he got multiple roles to build his career in the film industry as well.
Dave Bautista
After having a 20 year long yet spectacular career in wrestling, Dave Bautista managed to transit his athletic career into acting. He debuted with Smallville (2006), where he played a character called Aldar. Soon, he got to play in Hollywood. Hee has prominently played essential characters in movies such as Guardians of the Galaxy, Blade Runner, and Riddick.
Burt Reynolds
Burt has spent most of his young days playing football. He even got admission to Florida State University due to his football scholarship. Before becoming limelight in the 1970s, he has acted in many TV shows and films around the 1950s and 1960s. Later, movies like White Lightning and Hooper helped him craft his career strong in the industry.
Jim Brown
Jim Brown is one of the most efficient NFL players in this world. He has pretty much won everything an athlete could imagine. While playing his tournaments, he got an opportunity to act in Rios Conchos (1964). That's how his career in the film industry got off the ground. Later, he has significantly contributed to the movie industry by playing essential roles in movies like 100 Rifles and Three the Hard Way.
John David Washington
John David Washington spent most of his professional life with the Sacramento Mountain Lions playing football leagues. He started acting in 2015 when he got an opportunity to play the central part in Ballers. It was a football comedy-drama.
Dwayne Johnson
Every Dwayne Johnson, The Rock fan knows that he was a professional wrestler before he started acting. But do you know that he was a football player as well? Yes, he has even won an NCAA championship in 1991 before joining the Canadian Football League. After debuting in 2001's The Mummy Returns, Dwayne Johnson has created his own path and place in the film industry with movies such as Fast and Furious, The Rundown, Pain & Gain, San Andreas, and many others.
Vinnie Jones
Vinnie Jones is a former soccer player and has played 200+ games in EPL (English Premier League). He had even won the FA Cup against Liverpool in 1988. Jones first appeared on screen in Lock, Stock, and Two Smoking Barrels. Switching between comedy and action, he has given many hit films on the box office, including Gone in 60 Seconds and movies like X-Men: The Last Stand.
John Cena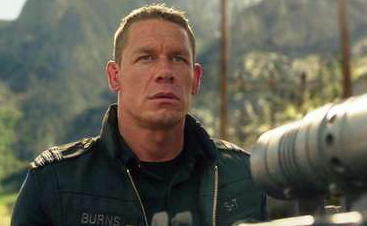 John Cena was a great wrestler of all time. But his debut in 2006 in The Marine helped him transform his profession into acting. Thus, he became an actor, and over the last couple of years, he has done multiple films. From Fast and Furious to Suicide Squad, Cena delivers power-packed action on screen.