Netflix started as a novelty in the world of entertainment. It was experimental, it was innovative and it was new. Newer, fresher faces made their debuts in the Netflix shows and series. But as Netflix started succeeding, big A-List actors started to venture into these attracting huge magnitudes of audience. In a vicious cycle, big and bankable actors attracted audiences and big audiences attracted stars. 
2021 is going to be huge in these terms. Several A-List actors are making their debuts in Netflix shows and series. Let's take a look at these actors coming to Netflix screens in 2021.
Leonardo DiCaprio
Leonardo DiCaprio has been a fan favorite since his early adulthood. He has starred in huge blockbusters like Inception, The Revenants, Titanic and The Wolf of the Wall Street. These are equally powerful in their stories. 
DiCaprio's next, Don't Look Up coming to Netflix promises to be as powerful. It also stars Meryl Streep. It follows the story of two low-key astronomers who go around the world to warn about a comet threatening to hit earth and destroying life on it.
Woody Harrelson
Woody's a fantastic actor and his Oscar nominations are proof of the same. He now stars alongside Mary Elizabeth Winstead (Birds of Prey) in Kate. Harrelson's role hasn't been announced yet in this Winstead helmed film. He co-stars alongside Tadanobu Asano and Michiel Huisman.
Jennifer Garner
The Emmy-nominated actress tasted praise for portraying spy Sydney Bristow in the ABC series, Alias. Garner now headlines Netflix film, Yes Day. Garner plays a mother to 3 kids along with her husband (Edgar Ramirez). They decide to grant their kids a 'Yes Day' where the kids would be allowed to make their own decisions. 
Benedict Cumberbatch
Cumberbatch is known for his portrayal of Sherlock Holmes in Sherlock and Dr. Strange in an array of MCU films. He now stars in a novel adaptation of The Power of the Dog (1997).
The movie revolves around two wealthy brothers, Phil (Benedict Cumberbatch) and George (Jesse Plemons) Montana. They wage a war against each other when one of these two brothers decides to marry a local widow played by Kirsten Dunst. Frances Conroy is also a part of the cast for this film.
Dwayne Johnson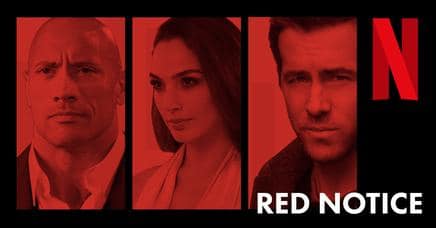 Johnson stars in Red Notice alongside Gal Gadot and Ryan Reynolds. Johnson plays the protagonist who is on a search for the world's most famous and notorious  (and the most wanted) art thief. Dwayne Johnson is a box office giant courtesy of the Jumanji and the Fast and the Furious franchises. 
Anna Kendrick
Kendrick stars in Stowaway. Anna Kendrick plays a medical researcher onboard a spaceship headed for a Mars Mission. The mission goes haywire when life support systems fail on the spaceship.  Toni Colette plays the ship's commander-in-chief while Daniel Dae Kim stars as a biologist aboard the spaceship. 
Halle Berry
This Oscar winning actress stars in Bruised (MMA drama). Halle Berry plays the role of a mother and a washed-out MMA fighter. She is ready to give her everything to earn a chance at redemption. This also marks Halle Berry's directorial debut. Berry was injured several times in the process of making this film. Despite this, she didn't let production stop.
Shailene Woodley 
Shailene Woodley stars in an upcoming romantic flick from Netflix, The Last Letter from Your Lover alongside  Joe Alwyn, Nabhaan Rizwan, and Ncuti Gatwa. Woodley and Felicity Jones also headline as the executive producers of the film. 
It follows the uncovering of old love letters discovered by a journalist (Felicity Jones). These letters are written by the wife (Woodley) of a successful industrialist to a financial journalist assigned to cover her husband (Callum Turner). 
Gal Gadot
Gal Gadot will be joining Ryan Reynolds in this Dwayne Jonson produced Red Notice who also stars in it. Johnson celebrated the wrapping of the film in November with a celebratory Instagram Post which had  Gal Gadot and Ryan Reynolds in it. 
Jennifer Lawrence
Jennifer Lawrence is one of the Netflix debutantes this year. Lawrence co-stars in Don't Look Up with Leonardo DiCaprio, Chris Evans, Matthew Perry, Meryl Streep and Timothee Chalamet. An already big cast boasts a few other names in Netflix's next. DiCaprio and Lawrence play the roles of astronomers. COVID 19 pandemic delayed the filming of Don't Look Up.