Streaming is soon going to be the king of entertainment whether you like it or not. and there is only one true king of the streaming wars – Netflix. Over the years, it has built itself an impressive array of Netflix Originals that contributed towards its success.
Ozark
It is quite easy to tell why Ozark struck a chord with the fans. The show had drugs, organized crime, crooked crops, and morally gray characters running amok. Many drew comparisons between Ozark and breaking Bad as well as the spin-off show – Better Call Saul. The story is of Marty Byrde, a Chicago based Financial advisor that quietly moves B.F.E Missouri. He is tasked with handling the money of one of the world's most powerful drug cartels. Ozark is different in the sense that the protagonist is not hell-bent on trying to take over the underworld. All Marty ever wanted was to keep his family safe. Season 2 and 3 took things forward with Marty's wife Wendy taking center-stage.
Daredevil
Before Marvel put all its eggs in the Disney+ basket, it was Netflix that was the king of Marvel shows. With shows like Jessica Jones, the Punisher and The Defenders, Netflix garnered a formidable superhero fan-base within their viewer populace. And all of it began with Netflix's Daredevil in 2015. Charlie Cox waltzed into our life and tricked us into falling in love with the character he played. daredevil is one of the grittiest, most grounded, and realistic superhero action thrillers to have been ever made. It pushed Netflix to new heights.
Narcos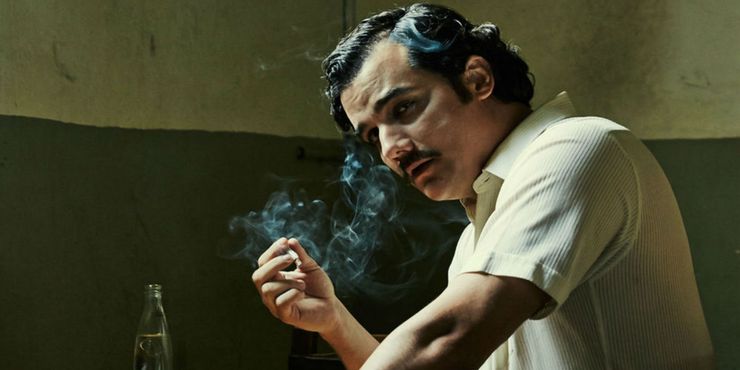 If you are an infamous figure in the pages of history, chances are your life story will be turned into a show or a movie. Pablo Escobar was once the richest man on Earth. The total fortune under his possession was once more than $59 Billion. That was the actual net worth of the Colombian Drug Lord. there have been numerous attempts to capture his life in front of the camera. none have come even close to the popularity of Netflix's Narcos. The show is still celebrated as a cult classic. It is one of the greatest crime dramas to be ever made.
House Of Cards
Before there was Daredevil and Narcos, there was the behemoth that is House Of Cards. It was this show that started it all. Kevin Spacey played the role of a ruthless politician who would stop at nothing and stop lower than the depths of hell to get the job done. House Of Cards was more than just a political thriller. It shoed us the brutal world of high profile politics and what it takes to survive in a pool of sharks. House Of Cards is credited to being the show that started the phenomenon of "binge-watching". It was so good the viuewers could not get enough of it.
13 Reasons Why
13 Reasons Why started out extremely strong. it was bold enough to highlight issues no other show would dare explore. Issues related to teenagers, something that is almost never shown on TV, was shown in-depth. Critics and fans lauded just how realistic an approach 13 Reasons Why took in its first season. But the subsequent sequel series could not hold on to that element and the show quickly lost its charm. Despite its eventual downfall, it was one of the shows that made Netflix into the giant it is today.
Orange Is The New Black
Orange Is The New Black is one of the foundations on which Netflix has built its territory. It is one of the longest running Netflix shows with over 100 episodes. Orange Is The New Black has won numerous awards and accolades in international circles. The show has had the good fortune of a regulating ensemble cast ranging from Laura Prepon from That 70's Show and Russian Doll Actor Natasha Lyonne. The comedy-drama series focuses on the life and times of female inmates in a federal prison.
The Witcher

The Witcher is the youngest show on this list. despite its age, it is still one of the greatest Netflix Originals to have been ever made. Starring Henry Cavill as Geralt of Rivia, the show is a supernatural action-fantasy based on the popular book and video games series of the same name. the show is merely two years old. And yet fans cannot get enough of it. The action, cinematography, acting, casting, and even the musical score is worthy of praise. "Toss a Coin to the Witcher" is the best song ever made for a Netflix Original
Stranger Things
While Netflix has many Originals under its belt, none have come quite close to the success it has received due to Stranger Things. The show is so famous that every time someone tells us Stranger Things, we are immediately reminded of Netflix and vice versa. each season of Stranger Things somehow comes out a bit better than its predecessor, which is rare for any series of today's times. The show kind of lost its charm after season 2 but has since regained its position on the throne with the third season.
Money Heist
Although it started out as a Spanish crime drama and heist thriller, it became so famous that Netflix bought the global streaming rights to the show. By 2018, La casa de Papel had been completely rebranded as Money Heist. Netflix became the primary shot-caller and distributer for the series. Netflix renewed the show under their own banner for another season and the rest is history. Money heist has since become a global phenomenon. If you like intensely deep characterization with riveting story-telling, then Money heist is what you seek. It is one of the most watched shows on Netflix.
The Crown
It is quite risky for a studio to opt for a historical drama period piece. A lot of time and resources have to be poured into the scripts, the props, the characters, and the sets all in the name of historical accuracy. Netflix left no stone unturned when it came to The Crown – a show that follows the life and times of Queen Elizabeth II from her days of youth in 1947 to the present times. The quality of the show has only appreciated over time, featuring prominent British historical characters like Prince Charles and Margaret Thatcher.
Altered Carbon
A cyberpunk thriller rife with incredible visuals and special effects, Altered Carbon was the show the reminded us why we all love Netflix. The show's weak storyline was well compensated for with its tacky narrative and insanely fleshed out characters. Altered carbon takes place in the 26th century where humanity has unlocked the secret to immortality. to do so, they merely need to digitize their consciousness and memories in portable discs attached to their spine called "Cortical Stacks". Altered Carbon was recently cancelled but fans still hold it in high regard.
BoJack Horseman
You would never expect a show about a talking horse who was a former Hollywood heart-throb living in a state of denial to be an adult's show. The very premise sounds so obnoxious. BoJack Horseman is anything but. It has super smart dialogue, incredible arcs, and complex visual gags that will make you re-evaluate what you are doing in life. More often than not, the show makes you laugh less and reconsider your life choices more. It is a gem of a show and you should be watching it.