Danielle Radcliffe is an amazingly cool guy. He is amongst the well known actors of the 21st century. He rose to his fame with his popular role in and as Harry Potter in the franchise and has gone on to star in multiple hit films and even Broadway shows!
And for many it comes as a shocking fact that a guy who played Harry Potter for a decade could be this cool.
And he's a guy who has literally no chills when it comes to paparazzies ; so it is not surprising when you come across some of his interviews… which are sometimes purely savage too.
Here are some of the best interview moments of Daniel Radcliffe
1. When He Gave These Amazing Tactics For Outsmarting Paparazzi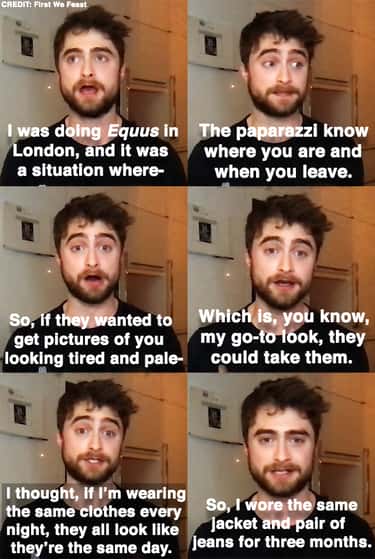 Hermione would be proud. 10 points to Gryffindor.
2. When He Spoke About His Terrifyingly Realistic Mannequin Stunt Double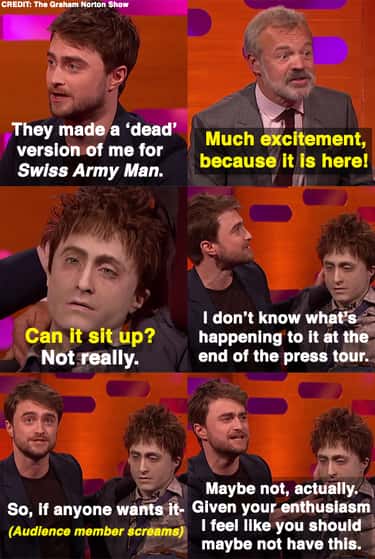 And this is realistically scary for some reason.
3.  When He Said He Would End Up Making A Great Spider- Man In Real Life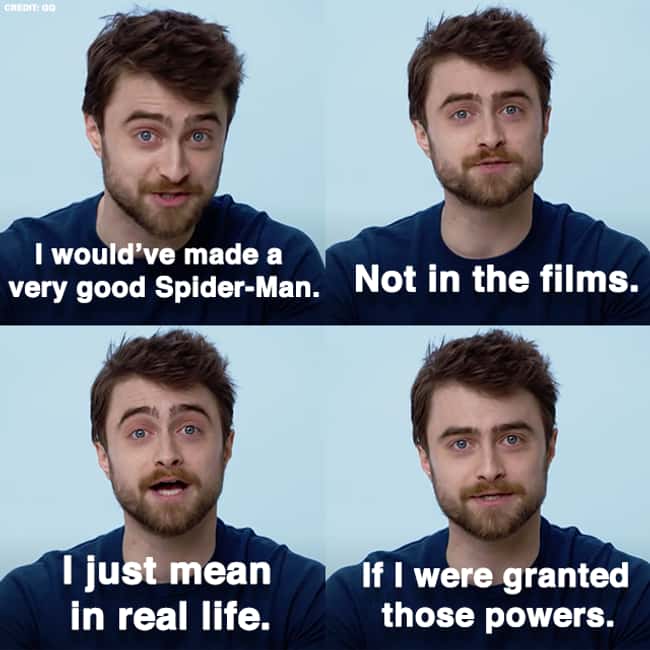 If they ever make a spoof; they should definitely get Daniel Radcliffe aboard. He would be fantastic to be honest.
4. When He Gave Away A Very Good "Daniel Radcliffe" Time Traveler Theory.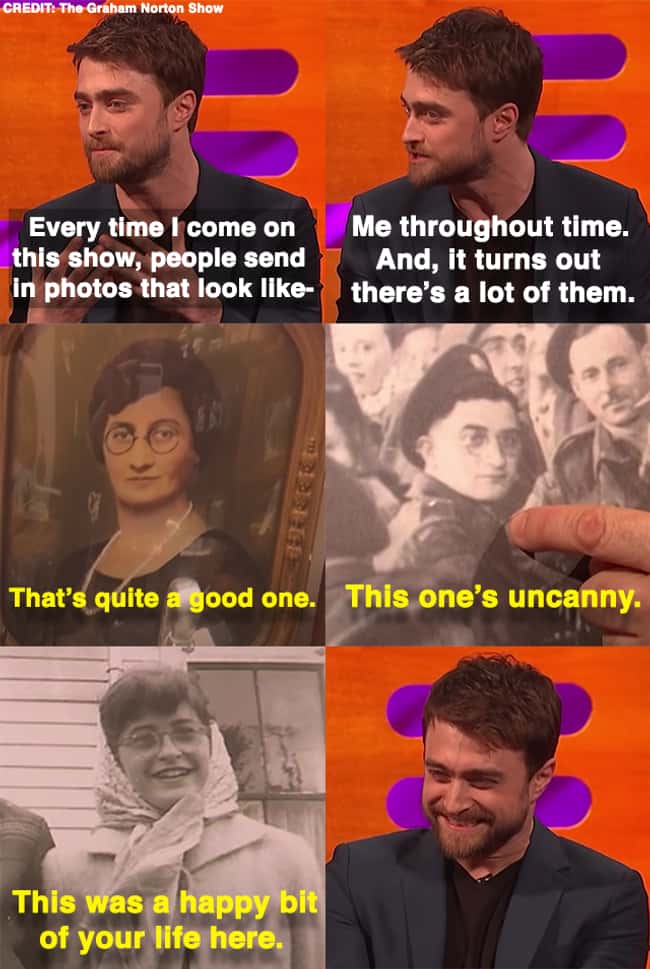 Okay. Yes. He could be a time traveller for real.
5. When He Showed Off His LEGO Sets On " The Late Show"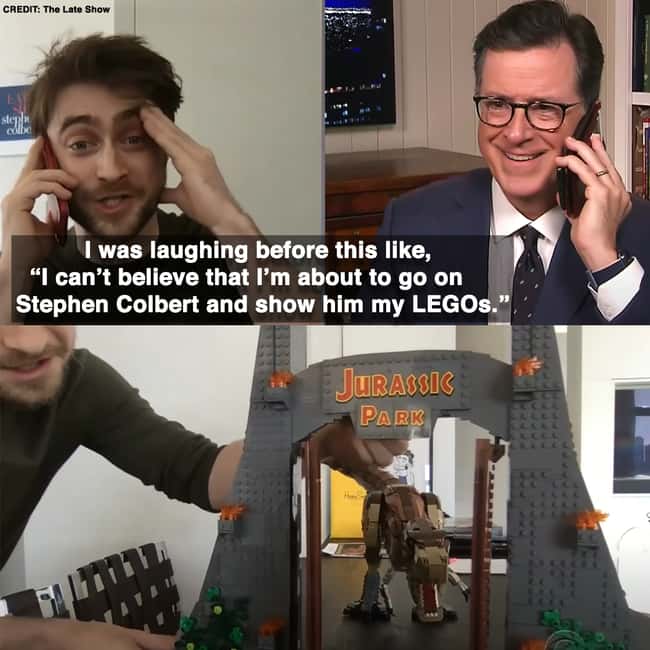 Daniel Radcliffe is just like us obsessing over our precious lego sets! Always relatable.
6. His Reply To When He Was Asked If He Was Available For Marriage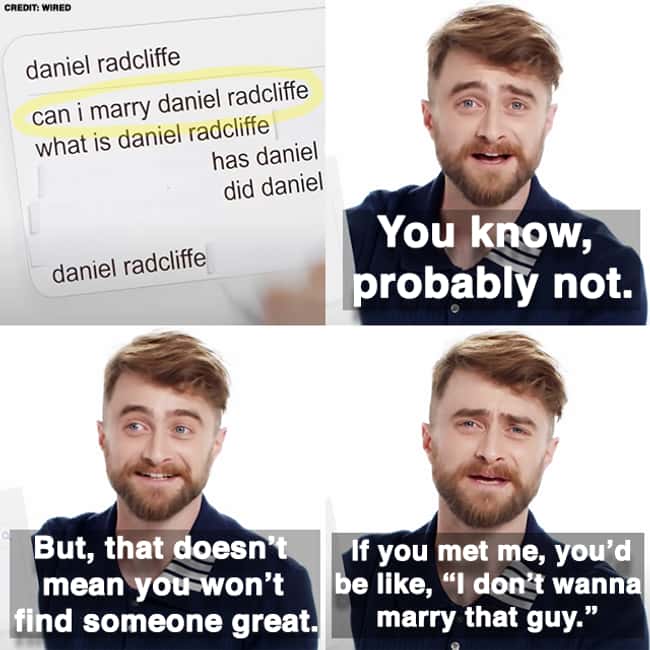 Maybe Daniel Radcliffe just doesn't want to tie the knot , yet! Try again next year maybe.
7.  When He Accepted That He Has Never Been Trick – Or – Treating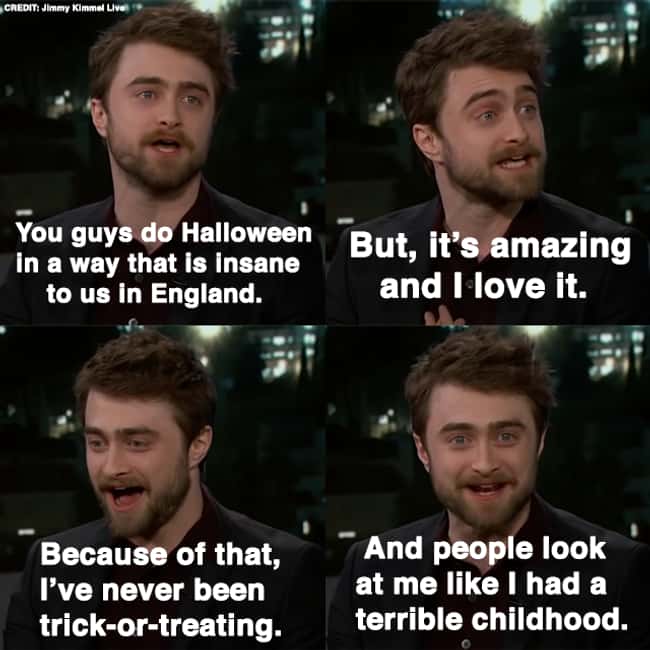 In his defence, it would be actually scary to dress up as any other character just to be called as "Oh aren't you Harry Potter"
8. When He Described For Us His Favorite Stunt From The "Harry Potter" Franchise!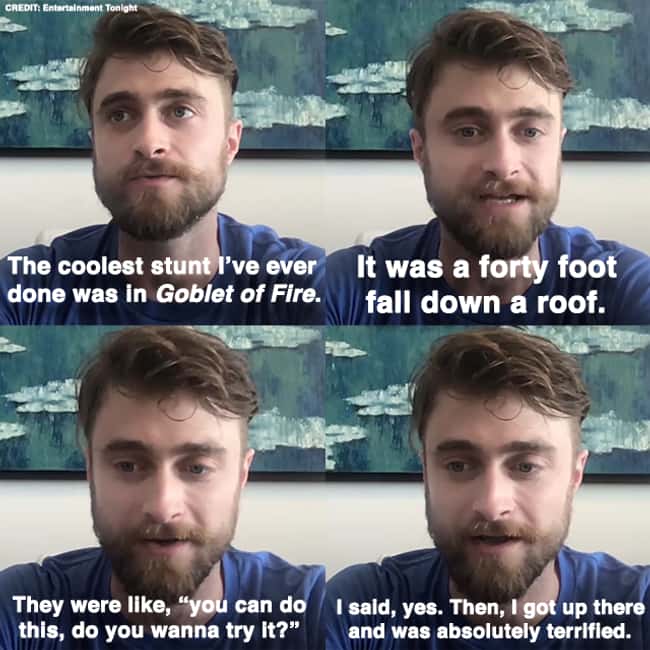 He is quite a daredevil just like his character- Harry Potter. And we are sure Ron thinks Harry has lost it!
9. When He Thought He Was Actually Being Recognized On The Street.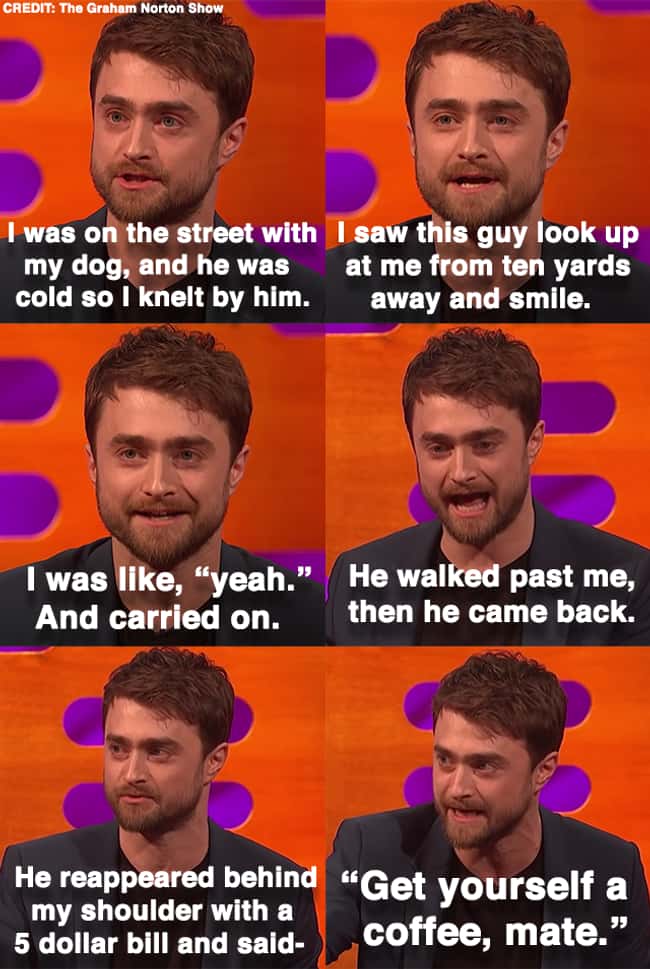 It is very common for celebrities to think that a fan is saying hi or maybe wants a picture clicked. But being mistaken for a homeless man and being given coffee money surely would have been an embarrassing moment for Daniel Radcliffe.
10. When He Accepted He Says A Lot Of "Yes"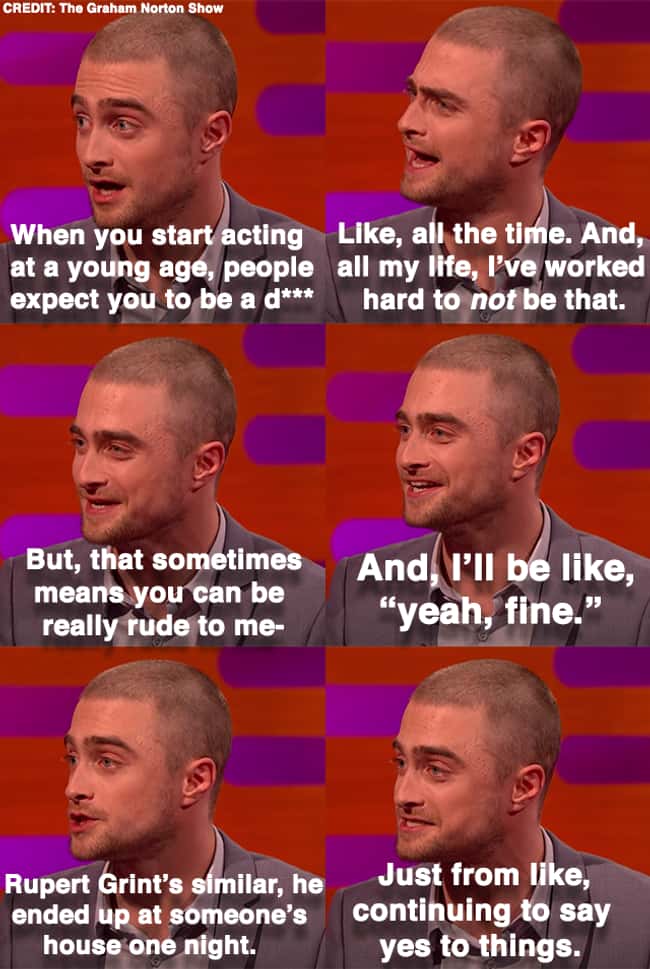 Daniel Radcliffe seems to be a real life " Yes Man"
11. When He Let Out His Secret Of Using Fake Names To Stay In Hotels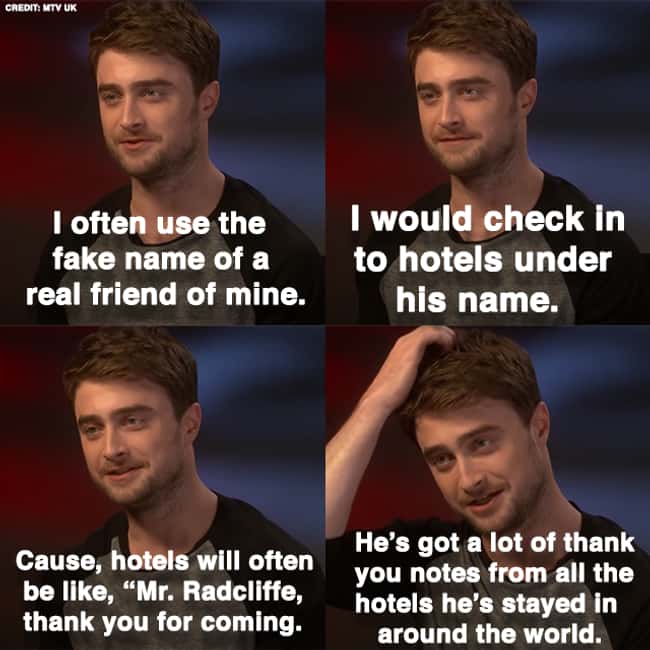 Imagine the number of Spam emails his friend gets!
12. When He Talked How He Loves Chess But Is Very Bad At It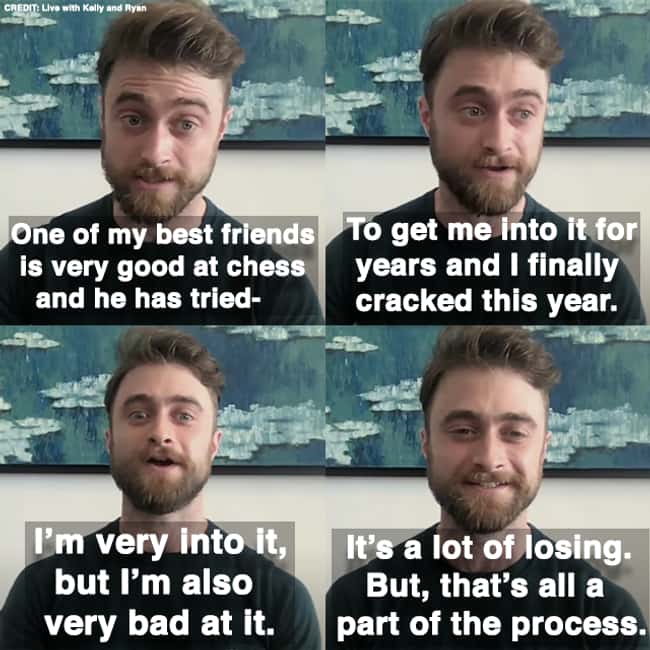 Someone needs to take chess classes from Ron Weasley. This is your clue Harry.
13.  When He Said That He Was Not On Any Social Media Platform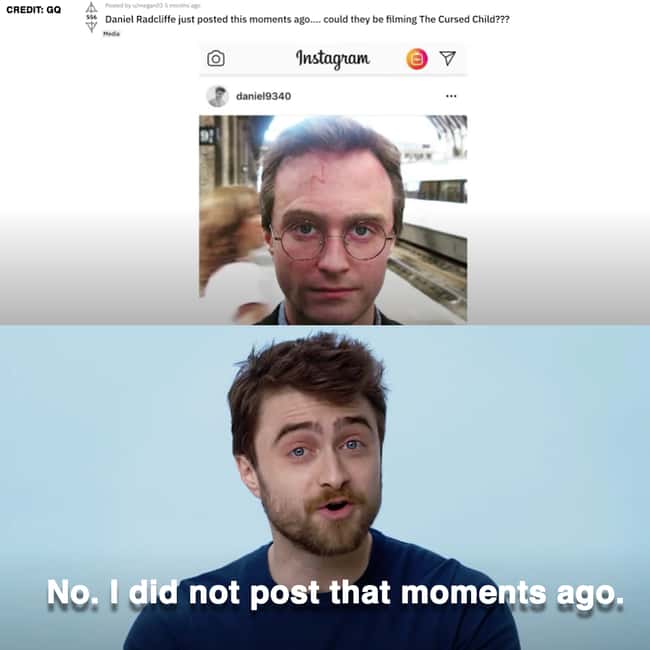 We need to stop following those fake and fan made accounts it seems.
14. When He Admitted To J. J. Abrams That He Very Recently Saw "Star Wars"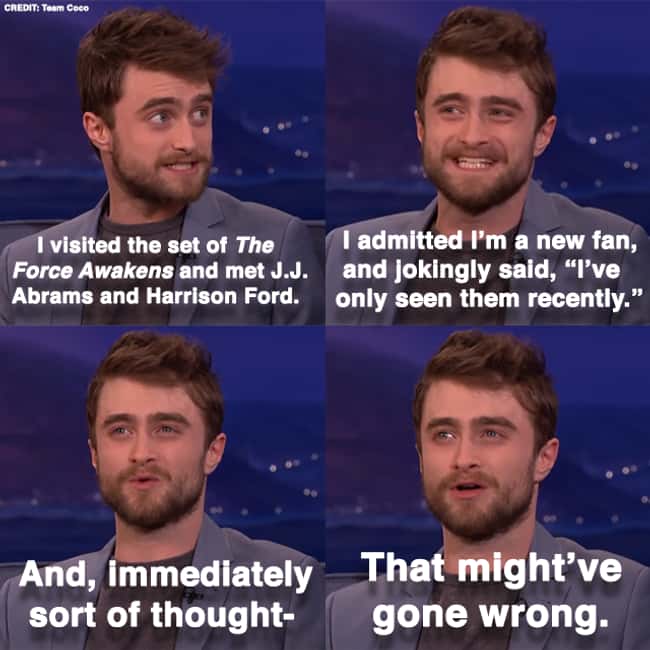 15. When He Broke The News That He Is Not Related To Elijah Wood