"It's not who I am underneath, but what I do that defines me."- Batman.
Imagine how Bill Murray would look like in a Batsuit? Or How Clint Eastwood would look like?
Or even if we talk about Stallone, what would he look like if he wears the cape and cowl!
Welcome to Animated Times. 
Today we are counting down are pics of 20 Super Crazy Redesigns Of Popular Actors As Batman. 
In this list, we are looking at the actors who fit perfectly for the Dark Knight role. 
Moving on, let us give you fans a brief intro on the cape crusader.
Since 1939, Batman has been around.
There have been many actors who had portrayed Batman on both movie theaters and Television screen.
Back in the day, a rumor got spread like fire, which was Orson Welles will be writing and directing a Batman movie. 
But eventually, this was just a piece of fake news. Thank god, as there is enough Batman to go around, so many brilliant actors can easily play the Caped Crusader without confusion. 
Well, these portrayals have ranged from the comical Adam West's 1960s TV show to the ferocious Ben Affleck's Batman to the witless Will Arnett, who voiced Batman in The Lego Movie. 
We all are grateful to some very innovative people, as well as some agile technological tools.
We at Animated Times have imagined some alternate realities that our favorite actors put on the cape and the cowl. 
Some of these fan castings are very much creative, whereas the others are beautifully preposterous. 
If we talk about our favorite Batman, Michael Keaton. 
He was well-doing comedy roles before he landed on the part of Bruce Wayne in Tim Burton's 1989 Batman movie.
But just imagine what other comedic actors would do if they are allowed to wear the Bat-armor and drive around in the Batmobile? 
Sounds fun… 
Let's hop into the list below to see who can live up to the mantle of the Dark Knight.
20. CLINT EASTWOOD
19. JAKE GYLLENHAAL
18. JEFFREY DEAN MORGAN
17. BILL MURRAY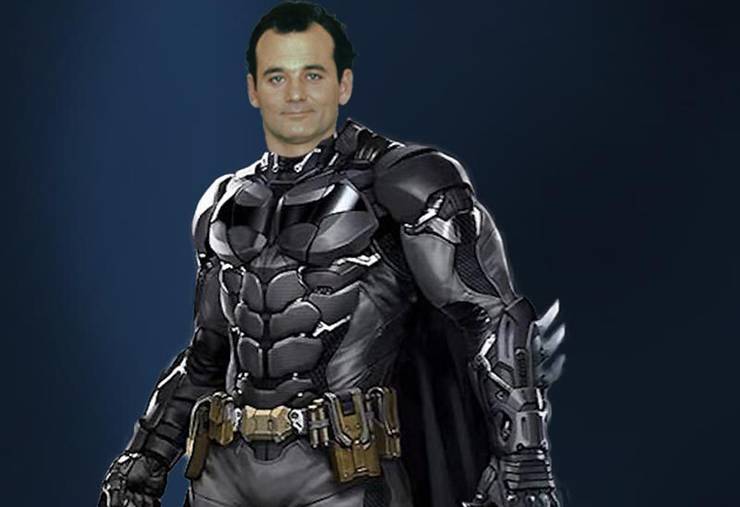 16. JASON BATEMAN
15. ARMIE HAMMER
14. SYLVESTER STALLONE
13. GREG SESTERO
12. JOSH BROLIN
11. JAKE GYLLENHAAL
10. JADEN SMITH
9. IDRIS ELBA
8. JEFFREY DEAN MORGAN
7. ROBBIE AMELL
6. SCOTT ADKINS
5. OSCAR ISAAC
4. BILL MURRAY
3. JON HAMM
2. JASON BATEMAN
1. JAKE GYLLENHAAL
Well, if DC decides to show Batman in the gloom of his life, according to his portrayal in Frank Miller's classic The Dark Knight Returns.
Then these above actors would conclusive be able to portray the Old Man Wayne.
 One of these actions, comedy actors would you love to see putting on the mask and kicking the butts for real?
We are glad to show you Armie Hammer in a Batsuit. 
Even Jaden Smith tries the outfit of the cape crusader.
Do not blink your eyes! 
Or you could miss Tommy Wiseau's cameo as Batman. Oh, hi, Batman!! 
Do you agree with our list of 20 Super Crazy Redesigns Of Popular Actors As Batman? 
If yes, let us know your favorite actors you would like to see in the role. Comment down below…