When we think of actors, we see them as talented in only one skill – acting. Musicians are seen to be only good at writing and/or singing songs. But what if we told you some celebrities are true over-achievers. They have secret and unique talents you never knew.
Angelina Jolie – Knife Throwing
You thought she was just a brilliant actress with an even more brilliant cheekbone structure? Angelina Jolie has trained for years in the art of Knife Throwing. She honed her skills while filming for the Tomb Raider movies.
Pierce Brosnan – Fire-Spitting & Painting
He may be one of most hated James Bond actors. But Pierce Brosnan is not just an actor. The suave and stylish celebrity is a well-known fire eater. He has shown his fire spitting skills on various talk shows. He is also an accomplished painter.
Neil Patrick Harris – Magician
Barney from How i met your Mother has always had this magical charm. Neil Patrick Harris took that charm and turned it into a lifelong hobby.
Harrison Ford – Hollywood's Most Accomplished Pilot
Interesting fact about Harrison Ford – He originally wanted to be a pilot. But due to financial constraints, he had to leave his pursuit of becoming a pilot midway. After becoming one of the industry's highest paid actors, Ford retook his flying lessons. He is now trained to fly everything from a Cessna to a Commercial Cargo Freighter.
Jamie Lee Curtis – Inventor
Jamie Lee Curtis is not just a pretty face. She is the sole inventor of a device that is a life-saver for moms everywhere. She invented a diaper with a water-proof compartment to hold baby wipes. She patented her invention. Companies that approached the actor were instructed to only use biodegradable materials. The patent soon expired and her invention never saw the light of day.
Steve Martin – Grammy Award Winner
He was won an Emmy, Grammy, and an Oscar, just inches away from bagging a Tony and becoming a member of the coveted EGOT club. The popular comedian won his Grammy for his Best Bluegrass Album "The Crow: New Songs For The 5 String Banjo". Yep he knows how to play the Banjo.
Matthew Perry – Nationally Ranked Tennis Player
Although he never managed to defeat Monica in Foosball, Matthew Perry is a Pro level Tennis Player. He was selected for the State level junior team as well.
Geena Davis – Olympic Level Archer
The Fly actor is an Olympian. She is a skilled archer. She was part of the 1999 Olympic Archery event. Geena Davis was a semi-finalist.
Margot Robbie – Tattoo Artist
She wowed the audience with her tattooed version of Harley Quinn in Birds Of prey. But Margot Robbie is the real deal when it comes to the art. She is a celebrity tattoo artist. Amongst the nearly 100 celebs she has tattooed, one of them is her Suicide Squad co-star Cara Delevingne.
Jennifer Garner – Saxophone Expert
The Elektra and Alias star claims she is as skilled as a Hillbilly. One of her prime hobbies and skills is with the Saxophone, which she uses on sets to entertain her fellow co-stars.
Cara Delevingne – Beatboxing
She is not just someone who made thick eyebrows vogue again. Cara Delevingne's beatboxing skills are legendary. Rapper Black thought of The roots was stupefied after hearing her in The Tonight Show.
Ellen Page – Expert Juggler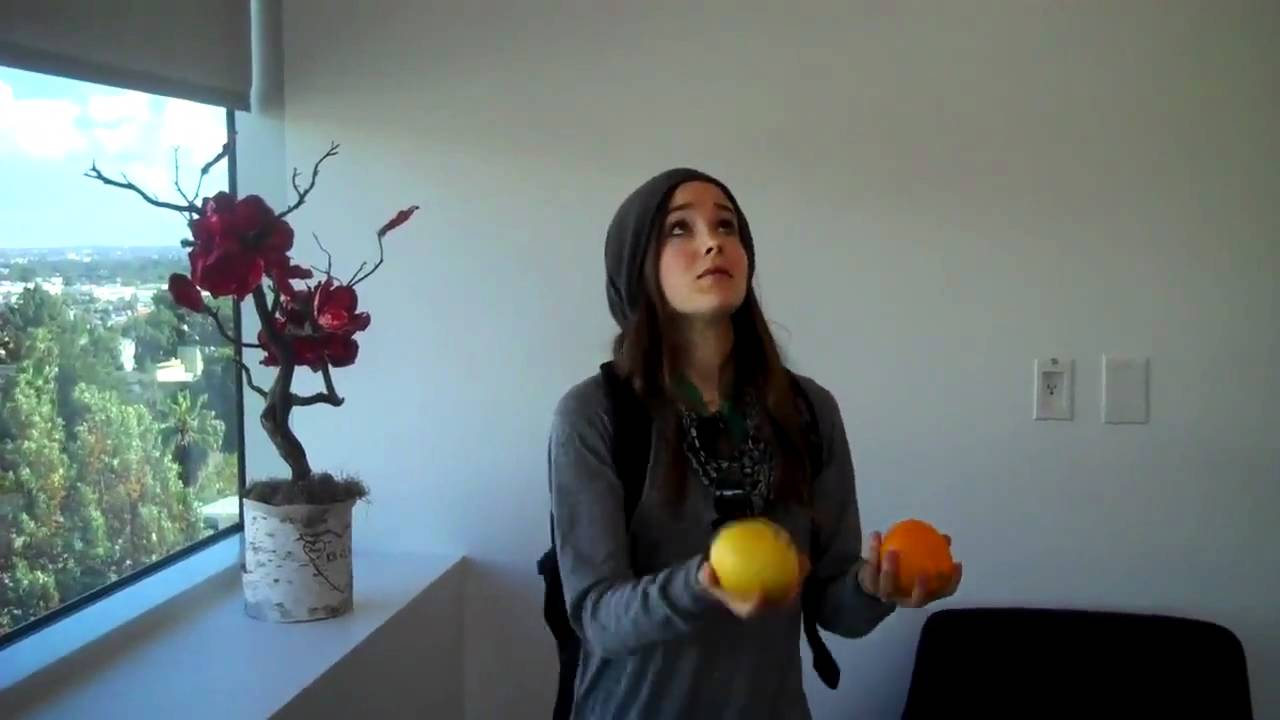 Page has won numerous awards for her marvelous works in Juno and The Umbrella Academy. But did you know she is is very good at juggling. Not the metaphorical one, we mean the real skill. Just take a look at the pic and you will know.
Ed O'Neill – Black Belt In Jiu-Jitsu
He made his name after starring in shows like Married…With children and Modern family. He also knows his way around the fighting arena. Ed O'Neill is a martial artist. He is a Black belt in the Brazilian Martial Arts form.
Andrew Garfield – Gymnast
The Amazing Spider-Man star was once a skilled gymnast. As a matter of fact, he even participated in competitive gymnastics as a teen. That was part of the reason why Sony chose him to become the next Peter Parker.
Rachel Weisz – Unicycle Rider
One of the hottest actors in Hollywood, Rachel Weisz could start a career in the circus if need be. She is very talented in riding the uni-cycle. Other actors who are known to have the skill are Harry Potter's Rupert Grint and 17 Again's Leslie Mann.
Patrick Dempsey – Race Car Driver
When he is not out winning hearts and souls with his sinisterly charming grin, Patrick 'McDreamy' Dempsey is out being a race car driver.
Jennifer Lawrence – Talented Mime
Apart from a distinct voice and a commanding character, Lawrence is also gifted in the art of enacting silence. Her miming skills are second to none.
Justin Bieber – Rubik's Cube Specialist
The singer is a Rubik's Cube genius. He can solve the cube in under 2 minutes!!
Christopher Walken – Lion Tamer
The was his profession until the age of 16. The Prophecy star regularly talks about his past profession in vivid detail in talk shows.
Taylor Lautner – Competitive Martial Arts Champion
How many of you know Taylor Lautner earned his black belt in Karate at the tender age of 8? He went on to compete in various national elevl events. That was before he joined Twilight and the rest is history.
Susan Sarandon – Ping Pong
Susan Sarandon is surprisingly passionate about the sport. In 2009, she opened up a chain of Ping Pong clubs with her then boyfriend Jonathan Bricklin.
Bob Dylan – Metalworks
The legendary singer and song-writer of 20th century hails from a small town in Minnesota. He credits his humble beginnings as a child the reason why he is so into metalworks when he is not writing the next super hit song.
Mike Tyson – Pigeon Racing
Mike Tyson may be the toughest and roughest inside the ring. But when he is in his home, he likes to show off his sweet side. Mike tyson is well-versed in the suburban art form of pigeon racing.
Tom Cruise – Fencing
Tom Cruise is Hollywood royalty. The seemingly ageless actor has a private room in his sprawling mansion where he practices the art of fencing. Sometimes his friends like Will Smith and David Beckham join in.
Charlie Sheen – Inventor
Actor Charlie Sheen keeps jumping into and out of controversies. he has other skills though. He once invented and patented a Chapstick dispenser that you can use one handed, without removing the cap. He created the device for use by car drivers who needed to have a hand on the steering wheel.