Fans love when their favourite on-screen couples also turn out to be
dating in real life. Even though what happens on the screen is fiction,
people get super attached to the characters and the actors who play
them. It's no different for Hollywood celebs who work together and
have to pretend to be in love. It's only a human nature to share
genuine feelings, and yes, sometimes those feelings turn into
something more once the cameras stop rolling. Some onscreen
connections turn romantic and those stars decide to carry on with
their love affair beyond the set. A lot of the biggest names in
Hollywood right now met and started their relationships on movie
sets. Some beloved on- and off-screen couples have ended their
relationships lately, like Jenna Dewan-Tatum and Channing Tatum,
but others have been going strong now for days. Romantic love isn't
the only thing that can blossom on the job, though. We love talking
about people who fell in love on set, but sometimes even better
stories come from people who are best friends behind the scenes.
Hollywood is home to a lot of strong friendships as well as love
affairs. So which A-Listers are actually dating in real life, and which
ones are just really fantastic friends? We've got a catch-all list for you
right here. So which of the co-stars are actually dating in real life, and
which ones are just really fantastic friends? We've got a list for you
right here.
1. DATING : KIT HARINGTON & ROSE LESLIE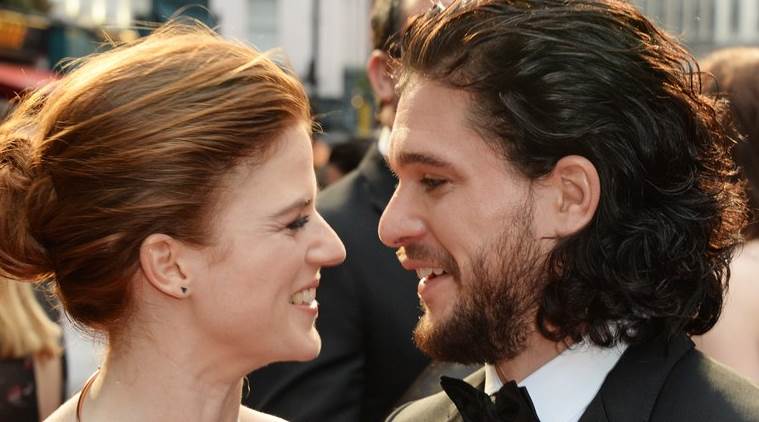 Since the Jon and Daenerys' ship took off during the latest
season of Game of Thrones, some fans have already forgotten
the original woman everyone wanted Jon to marry.
Back in season three of the show, we saw Jon and the wildling
Ygritte slowly fall in love. Jon was still secretly aligned with the
Night's Watch while pretending to be a defector. This led to a
pretty painful encounter when Ygritte literally shot him out of
anger but it wasn't as painful as her passing in a climactic
battle at the Wall. Fans who are still on the Jon/Ygritte train
can rejoice, because Kit Harington and Rose Leslie the actors
who portray both characters have just as much chemistry in
real life. They started dating after meeting on the show years
ago and are now happily engaged. Both actors are intensely
private, but you can see how much they care about one
another in small moments on red carpets or in interviews.
Leslie has no tolerance for spoilers, though. She said that when
Harington gets a new script for the last season of Game of
Thrones, she kicks him out of the house so that he can't
accidentally spoil it for her. She wants to experience it just like
everyone else does.
2. BEST FRIENDS: ZENDAYA & TOM HOLLAND
Even though many fans want this pair together, Tom Holland
and Zendaya have been shooting down romance rumours since
they starred together in last summer's Spider-Man
Homecoming. The former Disney Channel actress Zendaya told
Variety last year, "He's a great dude. He's literally one of my
best friends. This past how many months we've had to do
press tours together. There are very few people that will
understand what that's like at 20 years old." The "just friends"
thing hasn't stopped the two from posting the cutest stuff on
their social media, including when Zendaya called out Holland
on Snapchat for being a paparazzi magnet. The two are set to
star in the Spider-Man: Homecoming sequel, which should see
the onscreen friendship between Holland's Peter Parker and
Zendaya's Michelle which perhaps can turn into more.
3. DATING: COLE SPROUSE & LILI REINHART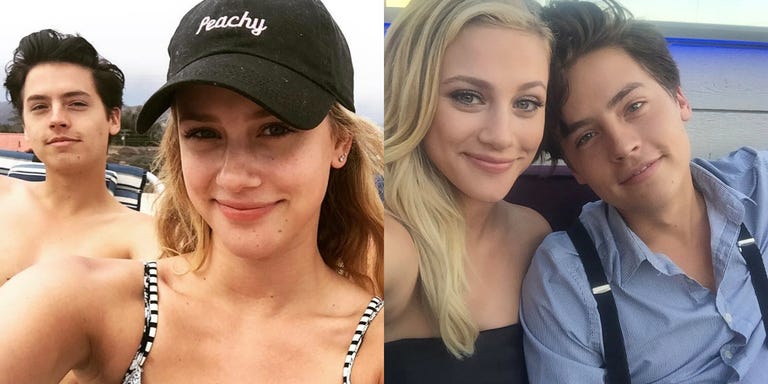 While Riverdale co-stars Cole Sprouse and Lili Reinhart have
mostly stayed mum about their dating status, Reinhart (sort of)
confirmed they were an item earlier this month. TMZ caught
up with the two as they were arriving to LA from a romantic
trip in Paris, where they were snapped hugging and kissing.
When asked by the video paparazzi if taking their relationship
public was a big decision, Reinhart just said "It's obvious,"
which could mean a few things. From the looks of their
closeness since last year, it seems like they are definitely
dating. On the popular CW show, Reinhart's Betty has gotten
over her enormous crush on Archie and has fallen from the
thoughtful Jughead, played by played by Sprouse. Their
onscreen pairing is affectionately known as "Bughead" by the
show's fans.
4. DATING : RYAN REYNOLDS & BLAKE LIVELY
Ryan Reynolds used to be married to another star. He and
Scarlett Johansson were married for a brief moment in time
they started dating in 2007, got hitched in 2008, but
unfortunately where divorced by the end of 2010. Though, we
know that the ending of that relationship opened the door for
his current marriage to Blake Lively. It's hard to miss them on
social media since they tease each other all the time. Lively
was the one who started trolling her husband on Instagram
before the release of Dead pool, teasing him about suggestive
Dead pool photo shoots and his love for Helen Mirren. Now
they've had a back-and- forth war going on for the past few
years, cutting each other out of birthday photos and
proclaiming their love and admiration for everyone but each
other. Ironically, this just makes it even more obvious how
much fun they have together. When they're taking a rare
moment to be serious, they're open about how a strong
friendship is the basis of their romantic relationship.
5.BEST FRIENDS: SCARLETT JOHANSSON & CHRIS
EVANS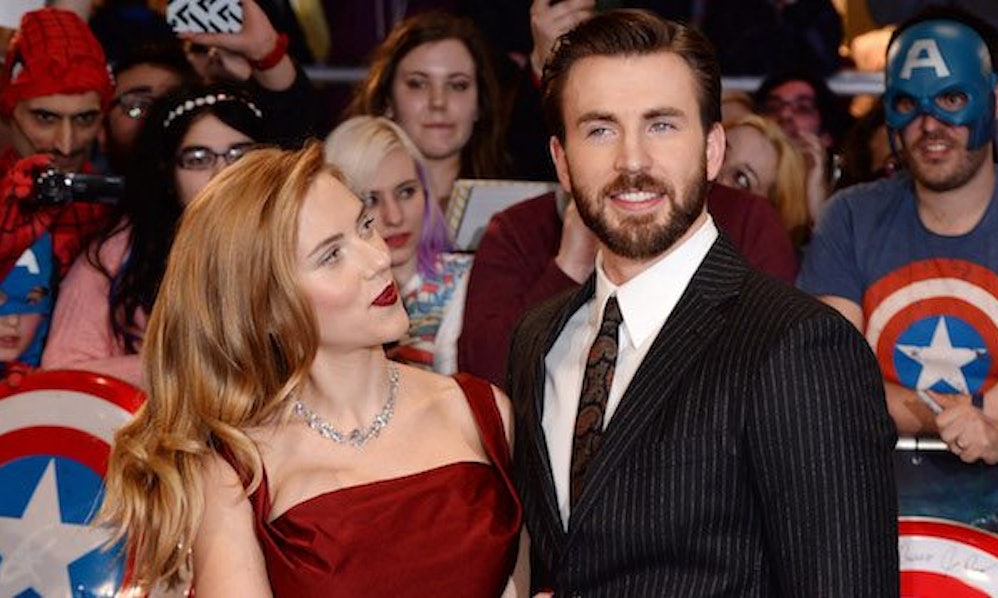 Black Widow and Captain America's chemistry is so natural
that the actors playing them, Scarlett Johansson and Chris
Evans, have continually had to shut down romance rumours
outside the MCU, saying they have always just been great
friends. They haven't just been co-stars of the Avengers
movies, though the franchise has definitely helped bring them
together often. They've been working together on various
movies since they were teenagers, long before they were the
humongous stars they are today. The two actually first worked
together as teenagers in 2004's The Perfect Score, followed by
The Nanny Diaries, which then led them to the Avengers and
Captain America movies.
It's clear from interviews, press events, and red carpet photos
that the two are super close. However, sorry, fans but
unfortunately they aren't dating they're just fantastic friends.
6. BEST FRIENDS:CHRIS PRATT & JENNIFER
LAWRENCE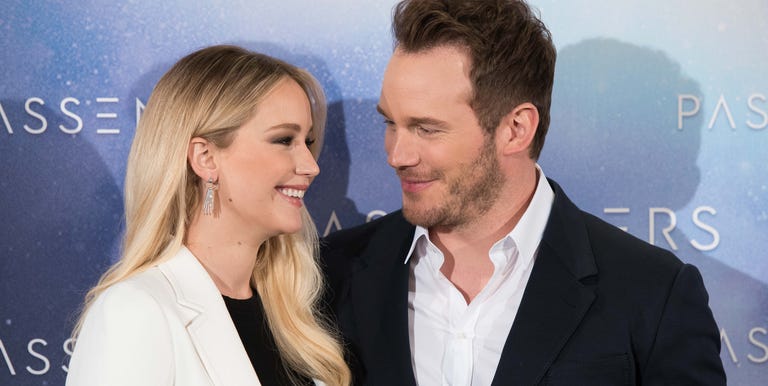 Actors Chris Pratt and Jennifer Lawrence most definitely
clicked in the 2016 sci-fi drama Passengers, playing two
people on a spaceship, headed to a distant planet for
colonization, who are woken up about 90 years too early. Even
before Pratt split with wife Anna Fairs, rumours the co-stars
might have had an on-set love affair began circulating, but they
both have denied anything romantic and said they just became
really good friends. Chris Pratt once told Vanity Fair about
Lawrence, "She's such a goofball, and what's annoying is that
she's so much better at switching it on and off than him . She
can go from goofing off to serious-acting mode in a second…
She's really great, though. They became fast friends, Chris can
never get tired of Jennifer. She's always fun to hang out with.
They laugh a lot, and had the best time making the movie
together".
7. DATING :EMMA ROBERTS & EVAN PETERS
The relationship between Emma Roberts and Evan Peters has
been…rocky, to say the very least. Although they've had some nasty
breakups over the years, for now, it seems like they're back together.
Emma Roberts is known for shows like Scream Queens, while Evan
Peters is best known for his role as Quicksilver in X-Men: Days of
Future Past and X-Men: Apocalypse. Although both of them have had
lead roles on American Horror Story, that's not how they got
together. They first met when filming the movie Adult World in 2012.
Some outlets reported that they started dating on set, but Roberts
says they didn't start dating until sometime after production ended.
Not long after that, though, the couple made headlines for a
domestic violence dispute. Guests at a hotel they were staying at
called the police after hearing a fight coming from the hotel room
Roberts and Peters were sharing. Roberts was arrested, but Peters
decided not to press charges. They got engaged five months after the
fiasco, but then broke up two years later in 2015. They later got back
together…then split up again, deleting all social media posts of the
two of them. They've reportedly been together without incident
since September 2016. We have our fingers crossed on these two
couples.
8. DATING : GOLDIE HAWN & KURT RUSSELL
Out of all of the stars on our list, whether best friends or IRL couples,
Goldie Hawn and Kurt Russell probably have the most history
together. They met long before some of the celebrities on this list
were even born — in 1968, on the set of The One and Only, Genuine,
Original Family Band. Hawn has said in interviews that she instantly
took a liking to Russell, but it didn't go anywhere — he was only 16,
while she was 21. After filming wrapped, they both went their
separate ways. Hawn won an Oscar the very next year, while Russell
slowly worked his way up the Hollywood ranks. They both married
and divorced other people. Then, in 1983, they met again at an
audition for Swing Shift. They've been together ever since. Years
after they first met, they starred together once again in the 1987
movie Overboard, where they got to pretend to fall in love all over
again. More recently, they earned their stars on the Hollywood Walk
of Fame together, and seem to be as wildly in love as ever all these
years later. Whenever the two of them write a relationship advice
book, we're sure that it will be a bestseller.
9. BEST FRIENDS: EMMA STONE & ANDREW
GARFIELD
Breakups are rough. It can be hard to immediately be friends with
someone who you were very close to for years, especially if feelings
are stronger on one side than the other. Emma Stone and Andrew
Garfield, though, set the perfect example of how to be supportive
friends even after a relationship ends. The Amazing Spider-Man co-
stars did date for years after meeting to film the movie in 2010. Both
were in relationships at the time, but after news broke that the two
had independently ended their previous relationships, rumours
started to swirl that they were secretly dating.
It took them months to confirm it, but once they did, they were
almost annoyingly cute. They were together for roughly four years
before reps confirmed that they had split back in 2015. Since then,
there have been rumours of the two of them getting back together,
but it seems as though they're keeping their relationship platonic.
Stone has said that Garfield is still someone she loves very much, and
Garfield gave Stone a standing ovation when she won the Golden
Globe for Best Actress in 2017.
10. DATING : MILEY CYRUS & LIAM HEMSWORTH
Yes, they are dating again, in case you didn't know. We've been here
before, in the days before Miley ditched her Hannah Montana Disney
image and announced that she was a woman by twerking on Robin
Thicke. The Disney star met Liam Hemsworth (who you probably
know as Gale from The Hunger Games) on the set of her 2010 movie
The Last Song, one of her last acting gigs before refocusing her
attention on her music career. Not only did they date on and off for a
few years, but they announced their engagement in 2012, before
their relationship famously went up in flames in 2013. Although we
did get the song "Wrecking Ball" out of the whole fiasco. After some
time for both to rediscover themselves and what they wanted from
relationships, they rekindled their relationship in 2016. Cyrus
officially announced that they were engaged again on Ellen in
October 2016. Tabloids have been trying to dig up any proof that
they got secretly married away from the public eye, but they haven't
had any luck yet. Chris Hemsworth has gone on the record to say
that they're not married, but that Cyrus does feel like a member of
their family either way.