Not all movies are shot episode after episode. As picture filming depends on weather conditions, expenses, actors' timetables, even locations, and many others which leads to movies being shot out of sequence.
In these conditions, professional filmmakers end up creating blunders. As editors have immense responsibility for spotting mistakes throughout editing procedures that deflect viewers from the storyline. Usually, they hire the whole team to scan each part of the movie, before being released to the public. Despite all the safeguards, common mistakes like bad booming, lighting, cliches are typical and find their way to final editing.
Let's discuss five movie blunders that escaped your eyes.
Stormtrooper Head Banging- Star War
The head-banging Stormtrooper mistake is the major blunder in the Star Wars franchise. As a group of Stormtroopers walks into a control room, and one of them suddenly strikes his head on the ceiling. According to the man behind the helmet, a mistake occurred because he was distracted by his Intestinal trouble throughout a movie shot. However, George Lucas or any other crew member did not pay attention to this error. 
Later Lucas added an individual metallic sound on the helmet effect for giving everyone another big laugh on the scene. 
He even references the same type of injury in the 2002 movie Attack of the Clones. Here Jango Fett (Temuera Morrison) hits his head on his ship's door while escaping Obi-Wan (Ewan McGregor).
Pirates Of The Caribbean: At World's End
Nearly all the Pirates Of The Caribbean fans remember that Captain Barbossa's (Geoffrey Rush) is Hector. Still, not everyone is aware that this was not disclosed officially until the third film, At World's End.
And there was a joyful incident related to it, as Johnny Deep was recording a DVD commentary track for the indigenous film and humorously announced that Hector was indeed Barbossa's name.
Due to fan's engagement on this comment, writers felt the need to adjoin this name. They did in "At world's End" When Jack Sparrow (Depp) address Barbossa as Hector for the first time.
Harry Potter and the Deathly Hallows Blunder
Harry Potter is an immensely successful film series based on the book series written by J. K. Rowling
According to the book, Harry Potter has green eyes, just like his mother. Still, in the movie "Harry Potter and the Deathly Hallows," Harry Potter (Daniel Radcliff) has green eyes. But the actress who played the character of young Lily has brown eyes instead of green eyes.
Pretty woman movie Pancake Mistake
In the pretty woman movie, the Character of Julia Robert was eating a room service breakfast.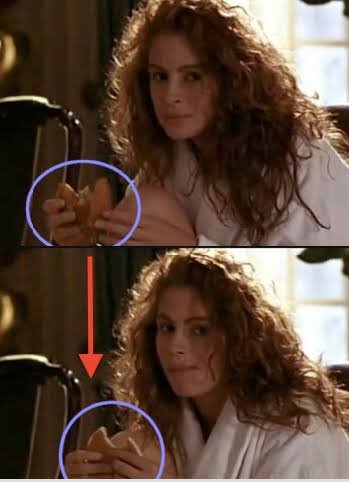 In the first scene, Julia was eating a Croissant. But as the camera moved to her partner and moved back towards her, she ate the half pancake instead. And after one or two shots, there was a whole pancake, for instance. 
Captain America: Civil War
In Captain America: Civil War movie, there is a scene when spider-man has covered the web all over the shield by grabbing it. But in the next scene, as the spider-man is holding a completely clean shield instantly.
Sources:- Whatculture , Brightside