The MCU concludes the year with Hawkeye's conclusion. Fans have been following the exploits of a talented and ambitious archer, Kate Bishop, and Avengers veteran, Clint Barton, as they fight out New York's most dangerous enemies over the previous five weeks. As a result, the series examined their mentor-mentee relationship as Clint demonstrates to Kate the skills of becoming Hawkeye.
Fans traveled through Hawkeye with hypotheses and predictions, much like the other MCU TV programs, and observed how the plot affected the fate of the world. While the series concluded with even more concerns regarding the characters' futures and later plotlines, including Wilson Fisk as the uncle and Eleanor Bishop working with the mafia.
5. What Happened to Yelena?
Clint Barton was eventually challenged with Natasha's death, and Yelena finally accepted the truth about her sacrifice. Clint Barton is spared, and she finally departs without revealing her next endeavor.
It's unclear where Yelena's tale will continue from here, as it is for many other characters. Some speculate that Yelena could run across Valentina Allegra de Fontaine as a result of her latest mission, but her future adventure remains unknown at this time.
4. Did Wilson Frisk die already?
Given his fantastic and forceful performance in the canceled Netflix program, many Daredevil fans were ecstatic that Vincent D'Onofrio was returning his role as Wilson Fisk/Kingpin. The uncle was revealed to be Wilson Fisk in the penultimate episode, implying the great scale of events taking place in the MCU. Despite his promise, Kingpin appears to have been shot and murdered by Maya Lopez in the end.
Surprisingly, it happened so quickly after he was introduced and only featured in two episodes, leaving many concerns concerning Fisk unanswered. For example, fans are unsure if this Wilson Fisk has the same plot arc as in the Daredevil series or a different variety. However, when Maya meets Kingpin, the film cuts to black as a gunshot is heard, implying that Kingpin is not dead, as many believe, and may appear in future ventures.
3. What Was Laura Barton's Background As A SHIELD Agent?
Laura's secret history, that she was a former SHIELD agent, was ultimately disclosed in the finale, and this ending raises even more doubts about Laura's backstory. Was she a field player or did she work in administration?
Of course, because the mystery surrounding Laura Barton piqued viewers' interest, many fans assume she is a Mockingbird owing to several not-so-subtle indications. Despite the fact that Mockingbird is an alter personality of Bobbi Morse, who previously featured in Agents of SHIELD, Laura and Clint's tale echoes much of the comic book material in which Mockingbird and Hawkeye were a relationship after meeting as SHIELD operatives. Although it is simply supposition, it adds to Laura's enigma and sets up future plotlines.
2. To Whom Was Avengers Tower Sold?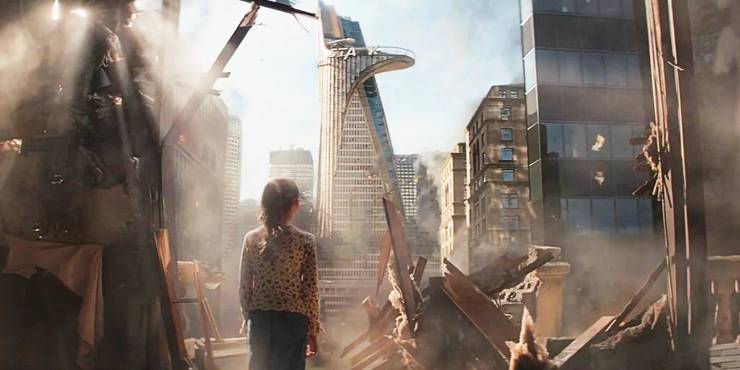 Clint Barton states that Avengers Tower was sold temporarily but does not reveal who acquired it. Many fans assumed it was Oscorp, which was controlled by Norman Osborn, one of Spider-adversaries. Man's
The events in No Way Home, on the other hand, suggest differently. Norman revealed in the film that he and his son, Harry, do not exist in Spider-realm Man's after conducting the study. As a result, this disproves fan notions that Avengers Tower is now Oscorp. However, Hawkeye is not the first piece of MCU literature to address this, thus the new owners have some relevance. It's only a matter of figuring out who they are.
What Are The Chances Of Hawkeye Season 2?
Till now, only two MCU TV programs that have aired on Disney+ have been renewed for a second season: Loki and What If…? WandaVision has been revealed to be a one-season series, but The Falcon and the Winter Soldier will continue its plot with a Captain America 4 film in the works.
There is currently no news on whether Hawkeye will be renewed for a second season. It does, however, have the potential to deepen Clint and Kate's bond. It's merely the beginning of the passing of the mantle, and a second season might focus on Kate's ascension as Hawkeye, while Clint gradually steps down as the superhero for good.