DC has some amazing A-list superheroes we all love. But sadly the B-list and C-list characters often go unnoticed even though they play important parts. DC went all crazy when it was creating characters for the Silver Age. They created ones with some amazing concepts but it didn't do well with the characterizations.
Animal Man is one such hero who is way underrated and deserves his own movie (or maybe a series).
1. Grant Morrison's Era
Grant Morrison's run aka Animal Man #1-26 is considered as of the best comic runs of all time. He took the character who was a Silver – Age and gave it new energy for modern times. He went on to tell a remarkable tale that blurred the fine line between reality and fiction. The comics changed our outlook on how we treat all the things created for entertainment.
And it's surprising that not many A-list characters out there have had a great run has been as influential or as praised as Animal Man's the Grant Morrison run.
2. He has the best family!
Animal Man is a good guy and what makes him better is his family aka the Bakers. His family consists of his wife Ellen and kids Cliff and Maxime. It's sort of a trend that comic book fans do not like superheroes with families, but the fans who think that way have probably never read Animal Man comics.
The Baker family has always been a prominent part of the comics they have featured in. They perfectly play off each other and they are everyone's dream family! We all would wish ours was as cool as theirs. Their dynamics are so real and wonderful that it actually makes Animal Man a much better character than he is.
3. Powers from The Red
Just as his name suggests, Animal gets his powers from the Red. The Red is an elemental force that connects all animal life. As a result, Animal Man can use and take on the properties of any animal anywhere which makes his powers extremely useful (and awesome).
The concept is quite similar to DC's Green who is the source of Swamp Thing's powers, just with the plants instead of animals. It is quite an interesting concept and deserves more credit and recognition than it usually gets.
4. He brings Versatility in Fights
Animal Man has been a hero for a long time, as a result, he has the experience and detailed knowledge about his powers. This allows him to use them accordingly when needed to his maximum benefit. Moreover, the Red's powers make Animal quite versatile when it comes to fighting battles.
Only a few DC heroes are as versatile as him. He can punch, heal himself, use poisons, fly, make venom, breathe underwater, can even make claws and whatnot. Anything that an animal can do,  he can do it as well.
5. He is too Cool!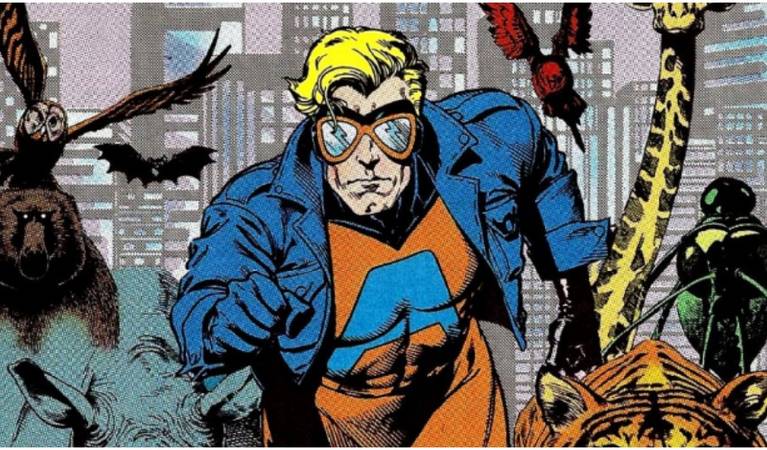 You could get some eye rolls while describing his character. His real name is Buddy Baker and won't make you think of any hero. He will just max come off like a friendly neighbor. But that's it.
And yes his powers (replicating capabilities of animals) do sound like he was made by a kid. But he is way too cool and more powerful than he is credited for! And if you look at it from a broader perspective, his powers give him really useful and interesting options.