It is just so tough to criticize the latest MCU release Spider-Man: No Way Home, as the movie, was highly anticipated and it was exciting since it brought the generational rift among fans to an end. It brought the fans of Sam Raimi's trilogy, Amazing Spider-Man series, and MCU fans together, and watching it in the cinemas was a treat.
But no matter how great the film is, there will always be people who have issues with something or the other, and a few Redditors have pointed some major criticisms with the movie. Somethings, nothing can make people happy!
1. The Movie Is Overhyped
The Redditor Iveseenfootag3  is just tired and sick of hearing about the film. They go on to explain the fact that the film has so many villains, is in itself a major flaw of every other Spider-Man series.
But that is also the beauty of the film since it has managed to be successfully easy to understand and compelling despite having so many villains. No other superhero movie has been able to pull off having more than just two villains in the film.
2. Tom Holland's Peter Parker Is An Absolute Idiot in the Film
This particular opinion among the Redditors sort of makes sense considering it raises some pretty spot-on and valid points. Honestly, Tom Holland's Peter Parker is stupid among all the Peter Parkers, and of course, he has made so many disastrous mistakes in the film.
The Redditor  Tarhabibi says that Peter Parker is a total idiot in Spider-Man: No Way Home. They do admit to enjoying the film but they say that Peter Parker was "way out" of place as he was trying to save the villains. The Redditor also pointed out that had Peter listened to Doctor Strange at the very beginning, Aunt May would still be alive and the people whom he loved would still know who he was. But then there would be no Tobey or Andrew and he wouldn't become the "Actual" Spider-Man.
3. Tobery Maguire's Entry Was Underwhelming.
Ned opens a portal trying to find Tom Holland's Peter Parker, however, Andrew Garfield's Spider-Man jumps through and it was an exciting scene as everyone was clapping, whooping, and accompanied by many gasps as well especially when he removes his mask. Then a few seconds later, when Ned opens another portal, Tobey Maguire's Peter Parker just walks through wearing extremely plain clothes and is completely calm.
The Redditor Maverick_jones926 was highly disappointed by this and was interested to know more about what Tobey and Andrew were doing before they showed up.
4. It's A Terrible Movie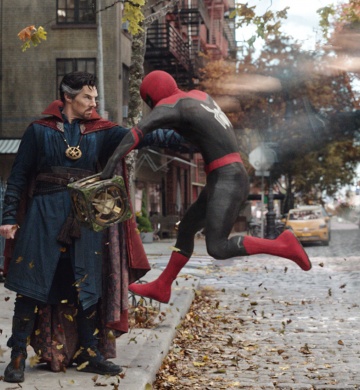 There are many fans who believe that the audience made the movie worse, but there are some who think the film was absolutely terrible. Redditor  ECS420  believes that MCU didn't want anyone who is over 20 to enjoy the film.
This maybe makes no sense, considering there are quite simple jokes at points and the plot is also straightforward and even the older audiences can enjoy it. In fact, anyone from any age bracket can enjoy the film since those who are in their 20s and 30s actually grew up Tobey Maguire's Spider-Men films and even Andrew Garfield's Amazing Spider-Man films.
5. Andrew and Tobey Shouldn't Have Been In The Film
This was literally the biggest selling point of the movie, though Sony and Marvel tried hard to keep it a secret, all knew that the previous two Spider-Men will return.
However, revenge_for_greedo believes that they both shouldn't have been in the film and goes on to argue that we had a perfect Spider-Verse movie already with Into The Spider-Verse.
But if it weren't for Andrew and Tobey, the movie wouldn't have been as good as it was. The movie got such a great audience all thanks to the previous two Spider-Men. But the Redditor believes, that if these two weren't in it, this could have meant more screen time for other characters.