Kelly Ripa is one of the most known talk show hosts in the world. She has been the host of Live with Kelly and Ryan since 2001 and the show has withstood the test of time. Speaking of things withstanding time, Ripa's marriage with Mark Consuelos is another thing that has withstood the changing times. The duo first got together back in 1996 and got married that same year by eloping to Vegas. They have been together ever since and have welcomed three children, Michael, 25, Lola, 21, and Joaquin, 19.
Also read: "I'm not a monster, I'm a human being": Obsessed With Perfection, Kelly Ripa Has a Strict Ritual She Follows Before Every "Live" Show
The American actress lives in her beautiful home in Manhattan, New York, and can't help but flaunt its interior every once in a while. The constant sharing of her home pictures has got the fans convinced that something bad is going to happen soon.
Kelly Ripa has been showing off her home a lot lately
Kelly Ripa and Mark Consuelos live in their residence on the Upper East Side of Manhattan. The $27 million townhouse reportedly has five bedrooms and six bathrooms over the 7,796-square-foot property. Over the years, Ripa has uploaded glimpses of her New York home on Instagram on various occasions. Back in 2020, Ripa shared pictures of her place on Instagram as she flaunted the hallway of her house. She captioned the picture, "50 has never looked this good."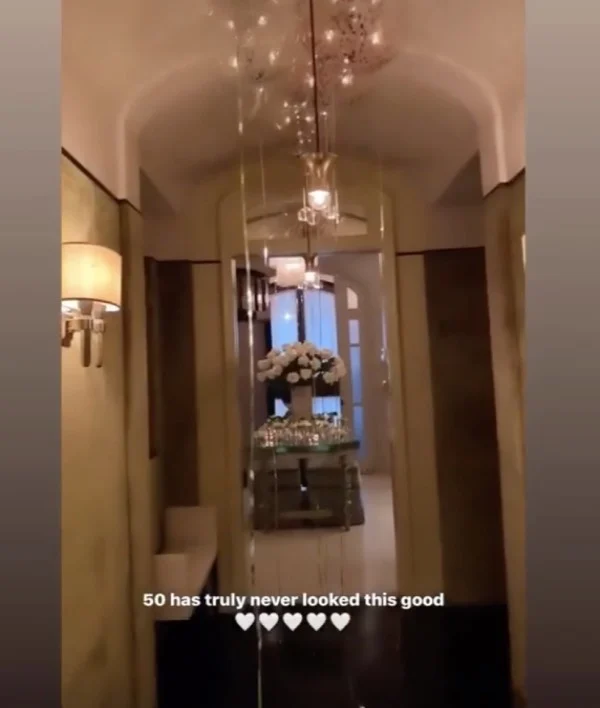 Also read: Is Kelly Ripa Overcompensating as Marriage With Mark Consuelos Allegedly in Trouble? Fans Convinced 'Live' Star Sharing Naughty Throwback Pic To Ensnare Hubby From Walking Out
The Live with Kelly and Ryan host uploaded a picture of a platter of cheese and fruit last week as she welcomed 2022. She wrote, "scenes from cheeseboard" and "#pre2022" in the photo. A beautiful staircase and a stylish side table were visible in the background of the picture.
As she uploaded the picture on New Year's eve, fans are convinced that something terrible might happen soon to their beautiful home. The oversharing of pictures might also be a sign of Ripa's marriage with Mark Consuelos worsening. However, the latter scenario is highly unlikely.
The Ripa-Consuelos pair has many properties all over the world
Although the couple spends most of their time at their New York residence, they still have many properties all over America. Ripa and Consuelos have a combined net worth of $160 million, so it's quite obvious that they have more than just one house. The couple has a vacation home in Southampton. They have another property in the Caribbean region where they spent the early days during the Covid pandemic. They also have a home in Colorado, and a rental home in Michigan as well. The rental home in Ann Arbor, Michigan is so that they can be closer to their son Joaquin who is studying at the University of Michigan.
Also read: "But I can't see what the card says": After Her Most Embarrassing Interview, "Live" Host Kelly Ripa Was Forced to Wear Glasses
After being together for what seems like forever, it seems like the star couple is finally facing some troubles. Earlier Ripa mentioned in an episode of Live with Kelly and Ryan that maybe she and Mark Consuelos might get divorced after their third kid went to college. However, it seems like things worked out for the best as the couple is still going strong.
Source: Hello Magazine