Star wars are exclusively the most talked and debated about movie franchise, even more than the Marvel Cinematic Universe. The fantastic and mysterious nature of 'George Lucas' would naturally attract a ton of assumptions and fan theories, which makes it even interesting and give the audience a big reason to watch the movie. But sometimes cast members also make some bold statements, which create a buzz among their fans. Here's a look at some of the myths started by the actors about star wars movies.
There's A Six-Hour Cut Of The Phantom Menace – Jake Lloyd
For many people watching star wars Episode I: The Phantom Menace is already quite an unbearable experience. But it's absolutely the opposite in the case of George Lucas's alleged six-hour cut. In a 2011 Interview, Actor Jake Lloyd asserted that Matthew Wood, sound editor of the franchise, had seen the six-hour cut and clarified it as "mind-blowingly awesome."
Even though Anakin has claimed this, there hasn't been any final confirmation by Lucas. So this can be a myth by the actor to tell something interesting about the movie.
Villainous Jar Jar Binks – Ahmed Best
In October 2015, before the release of The Force Awakens, a creative fan posted a theory to Reddit telling that Jar Jar Binks (Ahmed Best) was actually thought to be revealed as a cruel companion of Palpatine (Ian McDiarmid), but the audience did not like that character. 
Lucas changed the plan in The Phantom Menace. Though the viral "Death Jar Jar" post was just a fan theory, it gained a lot of attention from the fans. 
None Of The Female Characters Wear Bras – Carrie Fisher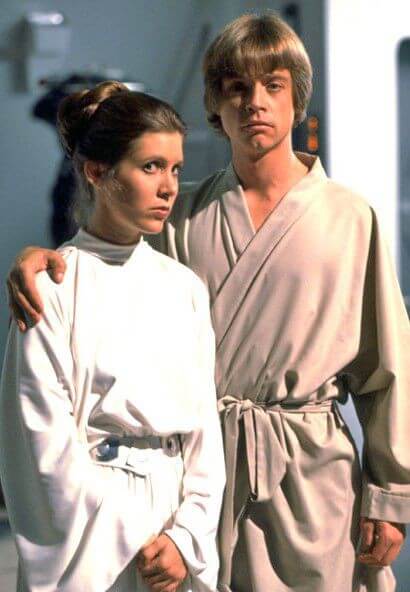 Carrie Fisher may have made the most cheerful claim about shooting Star Wars when talking about why George Lucas wouldn't let her wear a bra in the shooting of the actual movie. Now, it surely does an entertaining trick, though fans have discussed the reality of this claim ever since, as it indicates that in star movies, no women wear bras.
Rey's "Relevant Lineage" – Simon Pegg
The parentage of Rey (Daisy Ridley) was one of the most hotly debated paradoxes of sequel trilogy as fans recognizing that the series was about to reveal that Rey was Luke Skywalker's (Mark Hamil) daughter. Many were confused, then Simon Pegg claimed that her parents were surely nothing but random jumpers. This claim received backlash from confused fans.
Mace Windu Is Still Alive – Samuel L. Jackson
The death of Mace Windu (Samuel Jackson) brought the biggest letdowns for his fans. Though fans have indicated that ever since that Windu could have existed, the theory picked up smoke as Jackson said in one of his statement that in his mind, Jedi is not dead, Jedi could fall from high distances, but not die.
  Palpatine Is Over 100 Years Old In Return Of The Jedi – Ian McDiarmid
Fans were not surprised by the claim by Ian McDiarmid about Palpatine that he is surely more than 100 years old. Though it assisted in painting Palpatine as a picture of ancient, unending cruelness, it didn't really relate with how the character was introduced in prequels, so fans disproved this theory quickly. 
Source: WhatCulture