Actors and actresses not just entertain us but also make us feel their emotions as they act on the big screen.
We all have our favorites and think we know them better than most of the rest and these performances by actors and actresses throughout history have also introduced us to new experiences, new perspectives, and new worlds.
Many stars out there have blessed us by their big screen performances which probably will remain legendary for years to come and of course there are other which are equally stunning.
Certain careers of the Hollywood's greatest gems have spanned over decades while sadly some of them didn't last long enough due to  an unforeseen accident or illness. In any case, the last role taken by a performer has a unique place in their list of work.
There are certain last lines of their final performances which might surprise you, make you smile, or, frankly, underwhelm.
Here are some of last lines uttered by celebrities that are surely going to stay with you.
1. When Robin Williams Reminded Not Only His Costar But Us As Well To Smile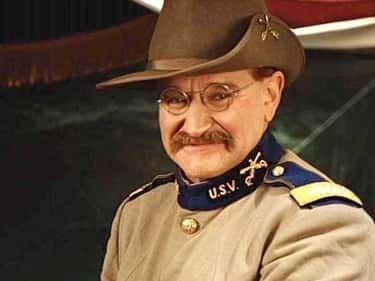 The last live – action where comedian Robin Williams appeared was in the third installment of the Night at the Museum franchise. But technically he also voiced Dennis the Dog in Absolutely Anything.
Both the movies  Night at the Museum: Secret of the Tomb and Absolutely Anything were released after his death .
In Absolutely Anything, the last thing Williams said as Dennis " Hey, nobody's perfect" . I mean that's a life lesson!
In Night at the Museum: Secret of the Tomb,  Williams played Theodore Roosevelt; the former US President, who talks to Larry (Ben Stiller) in the moments just before sunrise speaks his last words " Smile my boy, it's sunrise."
2. Alan Rickman Defending A Deadly Decision On Screen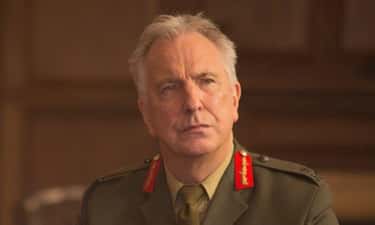 The last movie Alan Rickman appeared in was Eye in the Sky before his death in January 2016.
His last movie had a great cast and focused on drone warfare. He played Lt. Gen. Frank Benson,  the Deputy Chief of the British Defense Staff.
Towards the climax, a drone pilot struggled with ethical dilemma of if he threw the bomb, it would cause the damage. Alan Rickman gave some thought to the percentage of the entire situation and gave the order "You may proceed."
And towards the end he explains his position reminding the politician to "never tell a soldier that he does not know the cost of a war."
He then proceeds home while thanking a fellow soldier as he has handed a package.
3. Marilyn Monroe & Clark Gable Made Their Last Movie Appearances Together In The Same Scene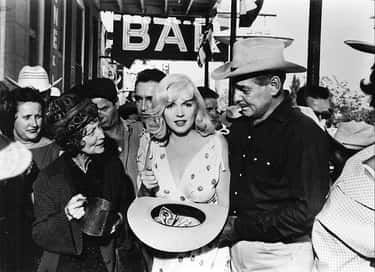 The Misfits released in 1961 was Marilyn Monroe's last major motion picture. She played a divorcee opposite  Clark Gable and Montgomery Cliff. Sadly Gable died before the movie even came out while Monroe passed away in 1962.
In the very last scene of the movie Monroe as Roslyn Taber and Gable as Gay Langland drive off together and Monroe asks "How do you find your way back in the dark?"
And Gable replies  "Just head for that big star straight on. The highway's under it. It'll take us right home."
4. John Candy Worked in 2 Movies Which Released After His Death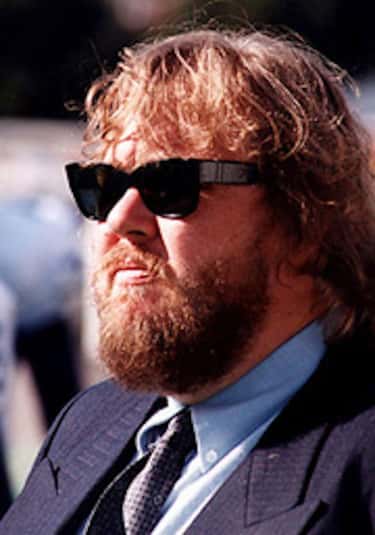 John Candy passed away in 1993; the same year he had appeared in Cool Runnings and subsequently Wagons East and Canadian Bomb came out in 1994 and 1995.
In Canadian Bacon is movie about a satire about tension on the Canadian-US border, Candy played Sheriff Bud B.Boomer.
Considering this was the final time Candy appeared on movie theater screens, his last words were "Look, honey, home", followed by his laughs as he and his on screen wife Rhea Perlman returned to the US.
5. Elizabeth Taylor ; All She Wanted Was To Party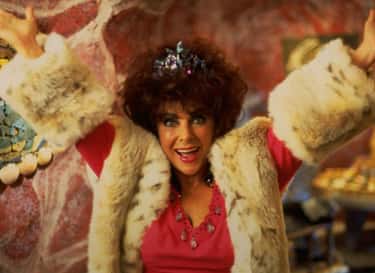 In the live- action movie The Flintstones, actress Elizabeth Taylor played Pearl Slaghoople the mother of Wilma.
She was Fred Flintstone's mother- in- law; Pearl insults him in and out and questions her daughter's choice of a husband and tells her daughter she another man and a much better one in her mind for her daughter.
Pearl wants Wilma to call Elliot Firestone as an alternative to Fred.
In words of Pearl, "Just call Elliot Firestone. Even if things don't work out, he can give you a great deal on some tires." and as she leaves out, she offers a "Bysie- bye!"
Fred gets a new job and leads to celebration and at the party, Pearl has done an about- face, cozy up to Fred and asking he had lost some weight.
And right before the party ends, she calls for a "Congo line!"
6.  Audrey Hepburn Offered Some Beautiful Thoughts On The Afterlife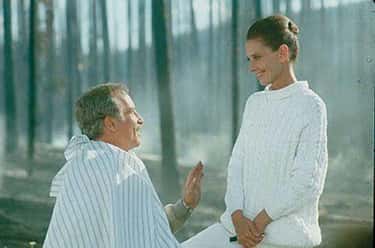 Audrey Hepburn's role in Steven Spielberg's 1989 Always which was remake of the film released in 1943 by the same name.
She played Hap, the being Pete Sandich meets after his plane crashes.
In the film when Pete is dead, he has an exchange with Hap while receiving a haircut and revisiting some of the major events of his life.
Hap tells Pete navigating his new existence. And her comments concluded with the lines, "You've had your life, for better or for worse. Anything you do for yourself now is a waste of spirit. There's your boy."
7. Paul Newman Said His Last Movie Line Nearly 50 Years After His First Movie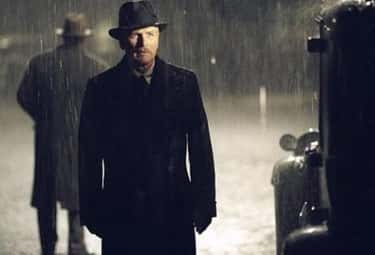 As his acting career began during the late 1940s; Paul Newman made his film debut in The Silver Chalice in the 1954.
He of course kept on appearing in various movies like Cool Hand Luke, the Sundance Kid and even Butch Cassidy; but alongside, he also appeared on stage.
Throughout the 70s, 8os and 90s, he charmed all the audiences in movies like The Color of Money and Nobody's Fool.
But his last movie was 2002's Road To Perdition for which he earned the much deserved Oscar nomination for the Best Supporting Actor.
In the movie, Newman played John Rooney who was a mob boss that employs an enforcer named Michael Sullivan, portrayed by Tom Hanks.
His last words in the movie which he told to Hanks were " I'm glad it's you."