Stranger Things Season 4 just ended, leaving us with the team re-united in Hawkins which is on the brink of an apocalypse. Many would agree that this season might be the best season written for Stranger Things by The Duffer Brothers. The acting, writing, and cast seemed to be at their peak performance for this epic reunion of the members of the Hellfire club. When it comes to the new addition to the cast, Joseph Quinn who plays the role of "Eddie Munson", the fans absolutely fell in love and had their hearts torn when his death came in the finale of the season.
Stranger Things Season 4 leaves the audience with a bittersweet ending, especially with Eddie Munson
The leader of the Hellfire Club, who was also an astonishingly talented guitarist, perished because "he didn't run." Munson, armed with a spear and shield, battled the Demobats head-on and held his own until being overpowered. That implies his role is over, but there are still chances for him to appear in Season 5 of Stranger Things.
On Friday, Netflix released Volume 2 of Season 4 of Stranger Things. Many viewers of the show over the weekend would have been heartbroken by what happened to two cherished characters. Max Mayfield's limbs were severed, her eyes were bloody, and her heart stopped for more than a minute as a result of Vecna's activities. Even though Eleven used her as a piggyback to save her, Eddie Munson was lost.
Also Read: 'Sadie Sink's Back Must be Tired': Stranger Things Fans Claim Max Carried Entire Season 4 On Her Shoulders
Joseph Quinn says he could return for Stranger Things Season 5
The actor went on to express his thoughts about the future of his character if the writer ever decided to bring him back in season 5. During his chat with RadioTimes.com, Joseph Quinn mentioned "As an actor, you want characters with those kinds of arcs. So whilst it would have been great to come back for another season and get together with all those lovely people again, I think it was a brilliantly realized ending for a brilliantly written character." 
The actor clearly respects and values how the character evolved drastically while making his character arc seem organic. Therefore, his feelings towards reprising his role in the next season seem to depend on how his character makes a comeback from the grave.
Also Read: "So Full of Dread"- Stephen King Reveals He Is Afraid to Watch Stranger Things 4 Vol 2 Finale.
Exactly how would Eddie Munson make a comeback after his brutal death scene?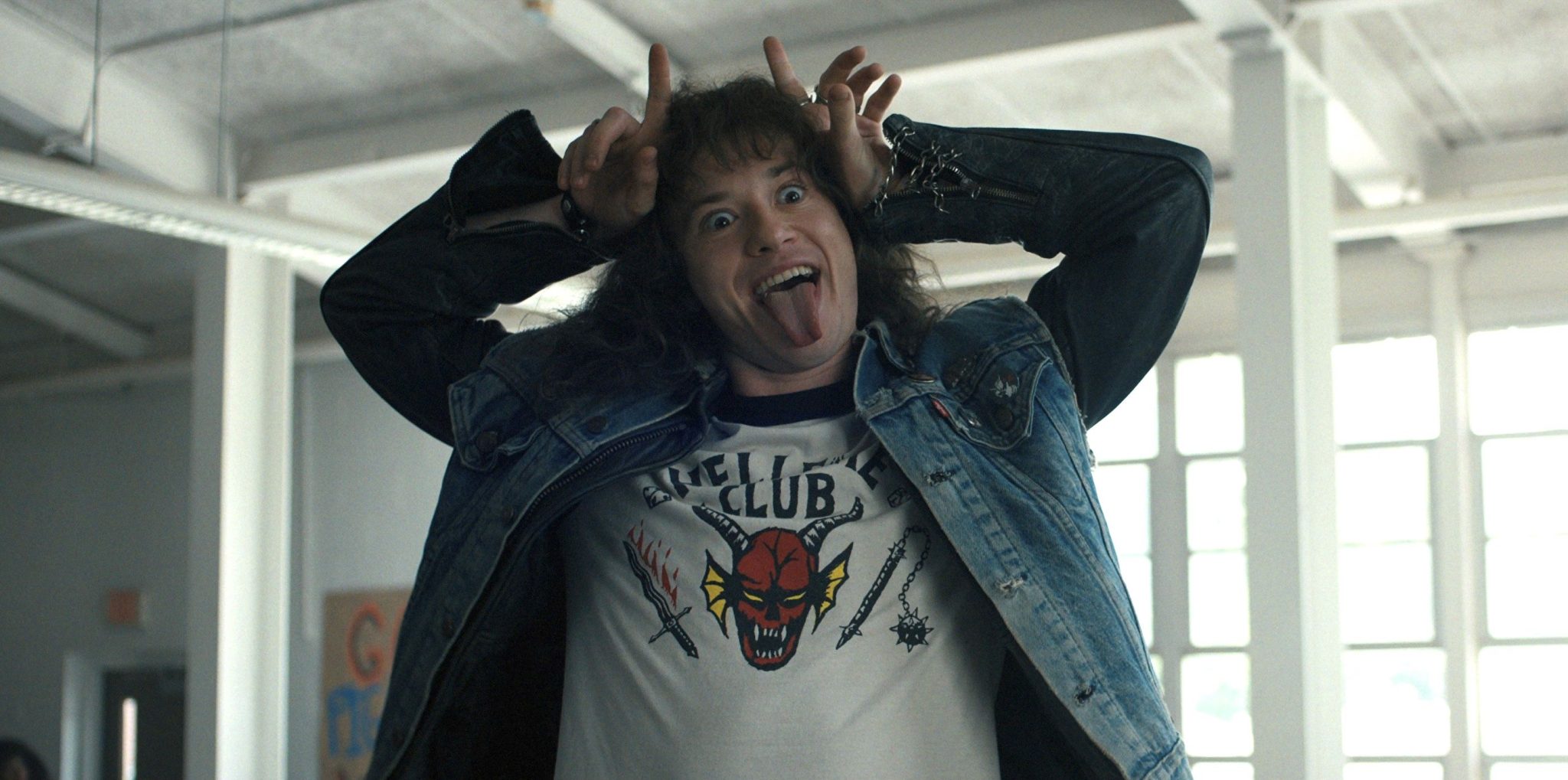 "Me and Joe Keery (Steve Harrington) were discussing ways in which I could kind of…maybe I'd be like a figment of Gaten's imagination or something. Like if there could be some kind of room for something like that, something a bit supernatural"
Any possible return might take the shape of an exclusive appearance. Characters from the past, such as Billy Hargrove, have typically acted in this way. This scenario would be excellent since Dustin would have been the most negatively impacted by his friend Eddie Munson's valiant sacrifice as he witnessed it firsthand. Quinn is eager to return, but he also appears to have come to terms with the reality that he left after his Upside Down show on a high.
Source: NetlfixJunkie
Also Read: Stranger Things: Eddie's Chrissy Viral TikTok Song Will Get Stuck In Your Head