Stranger Things season 3 is just around the corner, Netflix surprised us with a brand new final trailer, and the show looks absolutely incredible. It's estimated to be the largest budget show for Netflix to produce, many of the original cast will return with a few additional characters to appear.
The hit show certainly has competition for the July 4 holiday weekend, Spider-Man Far From Home will be released just one day later, hopefully the show will be a huge success like the first two installments.
"Set in the fictional town of Hawkins, Indiana, in the 1980s, the first season focuses on the investigation into the disappearance of a young boy amid supernatural events occurring around the town, including the appearance of a girl with psychokinetic abilities who helps the missing boy's friends in their own search. The second season, titled Stranger Things 2, is set one year later, and deals with attempts of the characters to return to normality and consequences that linger from the first season. The third season, titled Stranger Things 3, is set in mid-1985.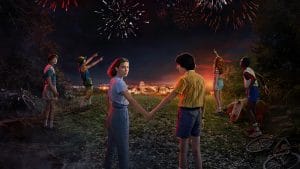 The Duffer Brothers developed the series as a mix of investigative drama alongside supernatural elements portrayed with childlike sensibilities. They established its time frame in the 1980s and created a homage to the pop culture of that decade. Several themes and directorial aspects were inspired and aesthetically informed by the works of Steven Spielberg, John Carpenter, and Stephen King, among others, including several films, anime and video games.
The first season of eight episodes premiered on Netflix on July 15, 2016. It received critical acclaim for its characterization, pacing, atmosphere, acting, soundtrack, directing, writing, and homages to 1980s genre films. The second season, consisting of nine episodes, was released on October 27, 2017. In December 2017, Netflix ordered a third season, which began production in April 2018 and will consist of eight episodes, and is set to be released on July 4, 2019. The Duffer Brothers have said that Stranger Things is likely to end after its fourth or fifth season. The series has received 31 Emmy Award nominations, including for Outstanding Drama Series, four Golden Globe Award nominations, and won the Screen Actors Guild Award for Outstanding Performance by an Ensemble in a Drama Series in 2016."