A Royal Baby Is Arriving:
There's another royal baby on the way with the sounds of trumpets.
With Meghan Markle and Prince Harry's first child due this spring, Netflix has officially confirmed the third installment in the Christmas Prince series, which will be released this holiday season.
It means that there are two royal babies arriving, one the Britain royal couple's baby and another, the Christmas Prince and the Royal Princess's baby in the popular Christmas Prince season.
Following the Royal Path:
Just like A Christmas Prince and its Royal Wedding sequel, the new movie is following the real Britain royal's path with some exciting baby news.
Also Read: Gerard Way Netflix's Umbrella Academy Is Now The Biggest Digital Show In US
Announcement by Netflix:
Netflix announced the news on Monday by tweeting a promotional poster featuring a sonogram of a growing fetus that was already fitted with a crown.
The Netflix poster says, "Baby makes 3."
This cheesy franchise follows everyone's favorite journalist-turned-future queen, Amber (Rose McIver), who married Prince Richard of Aldovia (Ben Lamb) in a lavish Christmas wedding in last year's sequel named Christmas Prince and The Royal Wedding.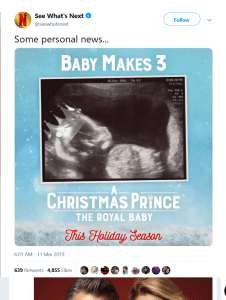 Sealed news about the gender of the baby:
There is no news about the gender of Meghan and Harry's baby. Thus, Netflix has kept their lips sealed about whether a royal boy or girl will be born for Aldovia.
Netflix's Summary of 'A Christmas Prince':
"It's Christmastime in Aldovia—and a royal baby is on the way! Amber and Richard host royals from a faraway kingdom to renew an ancient truce, but when the priceless 600-year-old-treaty disappears, peace is put in jeopardy and an ancient curse threatens their family!"
The shooting of the movie:
The movie is set to be filmed in Romania at the same castle where parts of the previous two films were shot. Rumors of a third flick initially swirled in Romanian publications when fans noticed that Peles Castle was decorated for Christmas in the middle of March. The visitors posted the photos of the stunning, festive decorations online. Apparently filming at that location is set to happen on Monday, March 11 and Tuesday, March 12, days when the castle is typically closed to visitors. The film will reportedly shoot scenes on the castle's terrace.
Also Read: Could Meghan Markle Ever Become The Queen of England?
Actors reveal:
Ben Lamb and Rose McIver are going to reprise their roles as Prince Richard and Amber.
Theo Devaney, who plays the sometimes-villainous Simon, posted a pic getting his hair cut, writing, "Yassssss, Simon's getting a haircut.. can't wait to see your final look."