Just when we thought they are done with the Fast and Furious movies, a new Fast and Furious "spinoff" is in works with Charlize Theron's Cipher as the central character.
The cyberterrorist Cipher was debuted in The Fate of the Furious in 2017 and later Theron reprised her role for this year's sequel F9.
Happy with her antagonistic role, Vin Diesel recently disclosed to Variety that he has requested the franchise writers to develop a Fast and Furious movie that would have Cipher as the lead character.
The news of Theron's Cipher getting her own movie came right after the cast said that there should be a female – led spinoff movie. In an interview, the cast was asked which of the characters to they think should get a spinoff and Chris Ludacris Bridges who stated that the true people who deserved the spinoff.
And looks like they have plans to bring back some people and maybe Eva Mendes, Helen Mirren, Jordana Brewsterm and Michelle Rodriguez.
Vin Diesel does not have any additional information about the Cipher spinoff and as a result we don't have details on how many stars could be involved in this spinoff.
Additionally, considering her relationship to John Cena's character Jakob Toretto in F9,  we could expect him to appear in the Cipher movie but that of course would depend on multiple factors including when and where the movie is set.
And we are still dark about the fact if the movie is going to be a prequel for a Cipher or would be a continuation of the F9 story.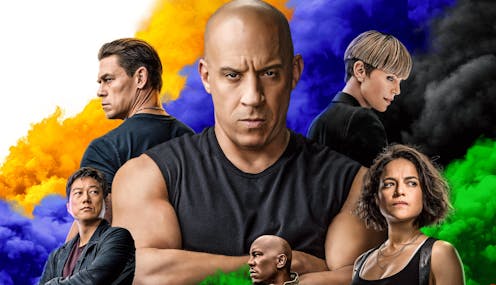 On the other news, the Fast and Furious will (finally ffs) conclude its main story line with its final two installments.
According to statements of Vin Diesel, the F10 and F11 are both scheduled to start shooting back to back in January.
That means the core crew is expected to return for these upcoming movie installments but its remains to be seen if we could see Cipher in these movies or will she go off the "Hobbs and Shaw" route and expand her own narrative at the current point.
But the interesting fact is that the director Justin Lin recently gave out some details teasing that The ROCK aka Dwayne Johnson and Jason Statham could be appearing in the two installments of F10 or F11.
According to Justin Lin, "I think that's always been our approach… So many of the conversations I have is about characters that are not even in there, but are still, obviously, they are living and breathing in this universe"
He further added, "On (F9) , when I came back, I was thinking a lot about Hobbs and Shaw, and all of the other characters. I never think of them as being gone, for sure."
Justin Lin directed F9 using a screenplay he had co-written with Daniel Casey.
Vin Diesel and Charliez Theron are of course the leads but we also have a huge star studded cast which includes John Cena, Michelle Rodriguez, Tyrese Gibson, Chris "Ludacris" Bridges, Nathalie Emmanuel, Jordana Brewster, Sung Kang, Helen Mirren, and Kurt Russell.
With the current coronavirus pandemic situation, it is not preferred to release the movies in the theatres and there have been multiple delays but despite of all the odds, this movie has been a huge hit at the box office.
And we aren't surprised to see "Universal" keep on releasing the spinoff movies.
Looks like there is not going to be any end to these movies.