Comics Book have gained way more popularity than before all thanks to the movies that have been adapted from them. Since almost two decades the stories and adventures of the superheroes have gained a lot of love from the audience all over the world. Thanks to Marvel Cinematic Universe and DC these superheroes have taken the world up by storm. There are tones of superhero movies out there and it is quite obvious and non surprising fact that there have been multiple actors who have played more than just one characters.
Many times certain films with certain actors did not hit the box office quite well and these actors end up acting in different movies playing a different character or a role.
Fans love seeing their favorite actors return to the big screens with another role as a superhero. There are many famous transitions especially  Ryan Reynolds who went from Green Lantern to Deadpool, but there are many more such transitions which are not that famous among the fans.
Here are ten actors who were part of more than just one superhero movie.
10. Michael Keaton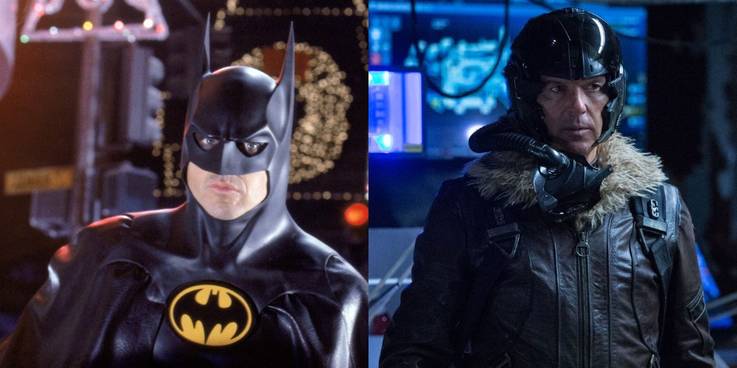 Batman is an all time iconic character that has been played by many actors over the number of years.  Michael Keaton played the Batman in the 1989 film and its sequel too. These films made the role of Caped Crusader quite famous and making sure that people do not forget about him thus taking him very seriously.
Moving fast forward to years later, Michael Keaton played a popular character; rather a villain aka Vulture in Spider-Man: Homecoming. Vulture in one of the iconic Spider-Man villains and we do not think anyone else could have given it justice like Michael did.
Everyone praised his role as the villain in the popular MCU film. Everyone is now looking forward to see him in Morbius (upcoming in 2022). He would also be playing his role as Batman once again in The Flash film (2022).
9. Michael B. Jordan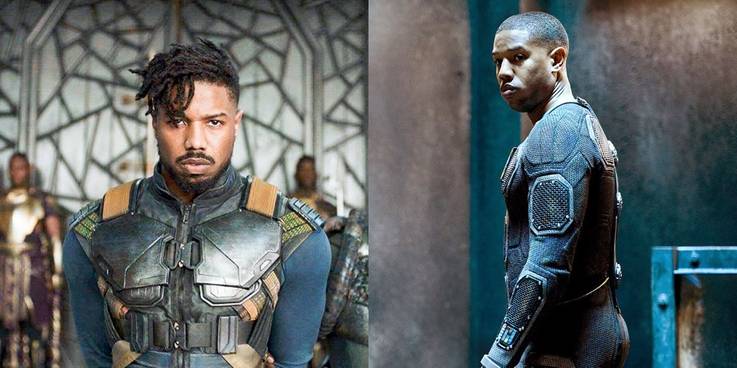 Fans were not quite keen on the idea of rebooted version of Fantastic Four in 2015 (by Fox).
As a result this movie was badly criticized for many reasons and few were quite obvious. Fans did not really like the fact that the older Fantastic Four movies weren't given justice. However, one of the few things they did appreciate was the portrayal of Human Torch by Michael B. Jordan. Just like Chris Evans, Michael also got a chance to star in another Marvel movie when he portrayed Erik Killmonger ; the villain in Black Panther.
Black Panther is one of the finest movies in the MCU and had received praises not only from the Marvel fans but many DC fans as well appreciated it. Jordan got immense love for his role and there are fans who loved his role more than Black Panther. He definitely left an impact on the audience.
8. Brandon Routh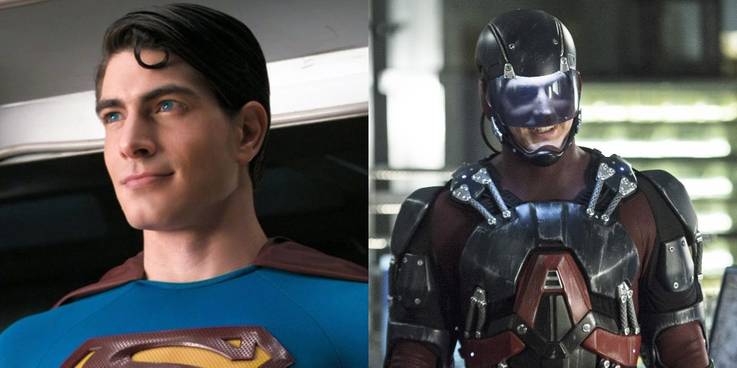 When Christopher Reeve retired playing Superman, he had left some big shoes to fill for the Man of Steel. That is when Brandon Routh stepped up to fill in his shoes. When the move came out , there were mixed reviews even though Brandon was praised for his role. However due to disappointing box office collections, there was no continuation of the franchise.
However, Christopher Reeve got another shot at playing DC character aka The Atom in The CW's Arrowverse. This role was highly successful and he went on to play Ray Palmer/The Atom/Neron on Legends of Tomorrow, The Flash, and even reprised Superman in the Infinite Crisis crossover.
7. Jared Leto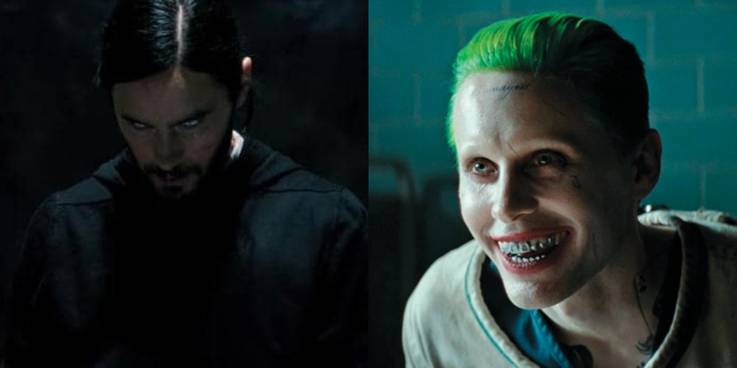 When we hear "Joker" ,  the first thing that comes to our mind is Heath Ledger's portrayal of the villain. So obviously Jared Leto had to achieve something for which the bar was set up way high. He received lot of hate and love for his performance as Joker. However some fans think that he given his own unique touch to the character. His character was also included in Zack Snyder's Justice League.
He is one of those actors who have had the opportunity to be a part of both Marvel and DC universe. He has bagged the role of Morbius in the Sony's new feature film with the same name. The film is supposed to connect Venom and the MCU Spider- Man films. The film has been postponed due to the Corona Virus pandemic and we are yet to see his portrayal of Spider-Man villain. Although , judging from the trailer , we think Jared has out done himself .
6.  Josh Brolin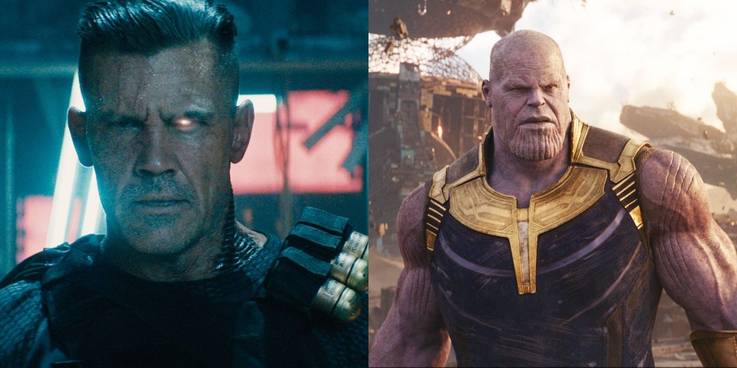 Josh Brolin was fortunate and talented enough to play a role in two superhero movies simultaneously. As fans were excited to see the end of the Avenger : Infinity saga , they had to wait once again to see Josh Brolin in another movie. This time a different character aka Cable in Deadpool 2.
It was sort of weird to see Cable and Deadpool team up but Cable had a reason which was to prevent this wife and daughter dying.
Now what the funniest part is that most of the fans did not know that Cable and Thanos were played by the same actor! Many of them just refused to believe this fact. However after seeing how closely the anger and the grins on both the faces match , they eventually believed that it was Josh Brolin !
5. Ben Affleck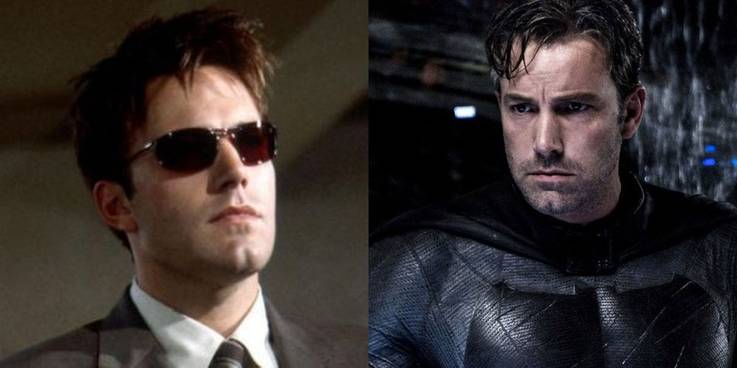 Fox at the time owned the Marvel character Daredevil and decided to make a film that would be a hit at the box office. Ben Affleck was roped in for the role of Daredevil and starred in the 2003 film. The fans were not really impressed with his role.
But things took a U turn for Ben Affleck when he was roped in for the role of Batman in the series.
His role as Batman is claimed to be one of his best roles by fans as well as the critics. There is no question over him playing the character almost three times.
4. Willem Defoe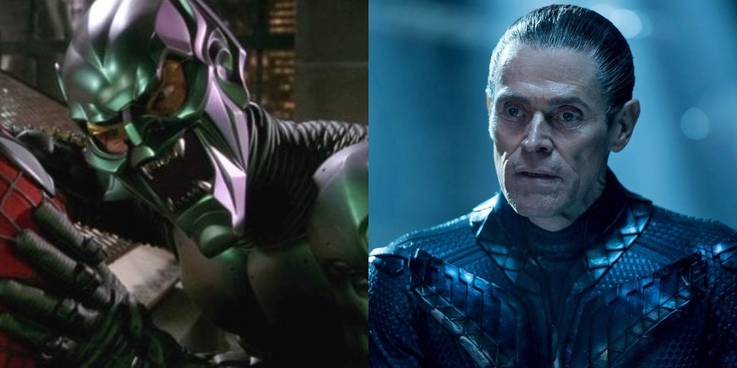 Willem Defoe's role as Norman Osborne aka the Green Goblin in Sam Rami's Spider- Man was a huge hit. Willem's goofy turn as a villain is still praised by fans to this day and he has been fan favorite for the same reason.
He even played the role of Vulko in Aquaman. It was not as important as Goblin but it once again stood out among his other roles. Fans are expecting his return in the future Aquaman films.
3. Chris Evans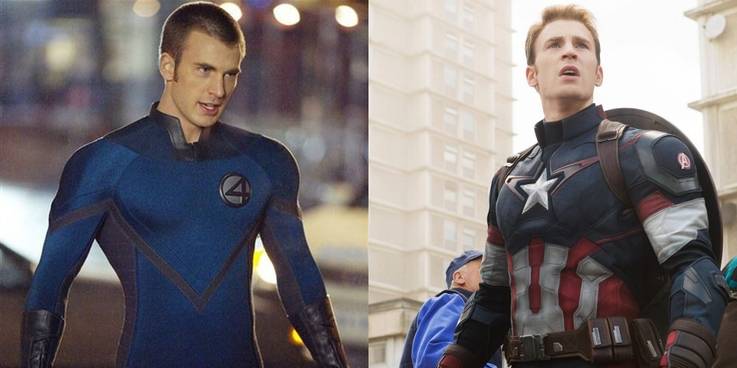 When we hear or read Chris Evans, the first thing that comes to our mind is Captain America. The legacy Chris Evans has left behind with his iconic role of Steve Rogers is very difficult to imitate and forget. But this was not his first Marvel character role.
He has starred in Fantastic Four (2005) and  its sequel as Johnny Storm aka The Human Torch.
This character of his was exactly opposite to that of Captain America.
Human Torch is quite immature and doesn't act according to his age.
The Fantastic Four films of  Fox didn't do as well as the X-Men series at the box office but the movies still have their fans who adore Chris Evans as Human Torch and want to hear him say "Flame On".
But of course , Captain America will always be his most successful role in the history.
2. Tom Hardy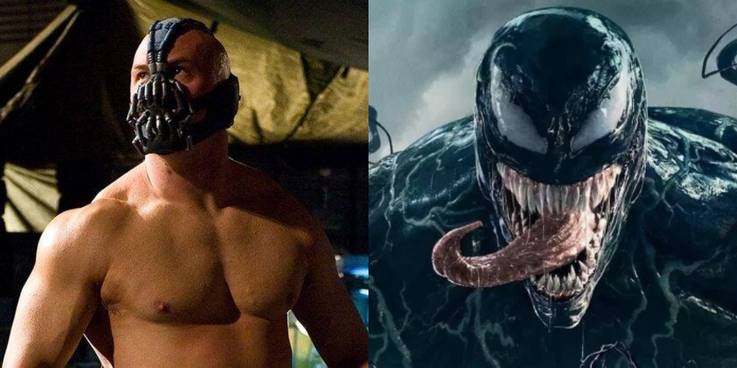 We swear we could hardly recognize Tom Hardy when he played the role of Bane in The Dark Knight Rises.  The movie is about a decade old but the fans praise him for his portrayal of the character.
Tom Hardy then stepped into the MCU and played the role of a classic Spider-Man villain aka the Venom. Even though he played another anti-hero role, he has been showered with praises from both fans and the critics. He even got his first solo movie in 2018 and there has been no stopping him from there. Venom : Let There Be Carnage ; is the sequel of the first move and fans are excited to see Tom Hardy once again playing the role Eddie Brock aka the Venom. It will still be quite a wait as the movie hits the theatres in September 2021. Looks like Tom Hardy might just be known as Venom henceforth.
1. Ryan Reynolds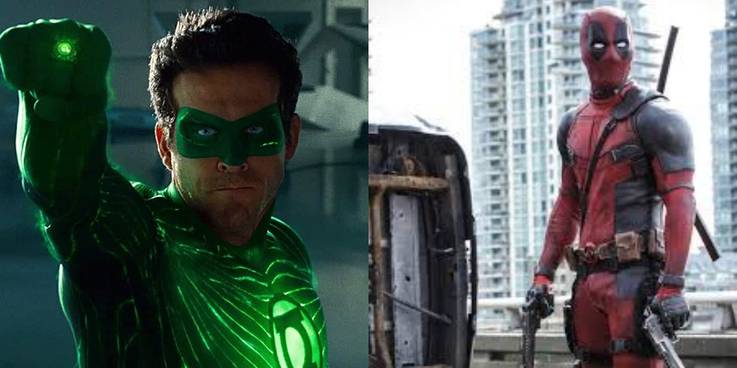 Ryan Reynolds first roped his superhero film as the Green Lantern in the Green Lantern film in 2011. And no one has hated that film more than he himself as. It has received a lot of criticism, this film just did not click with the audience. Till today he himself makes fun of his Green Lantern movie and even Deadpool was seen making fun of it.
However , Ryan Reynolds,  played an amazing portrayal of Deadpool and then there has been no turning back for him. His performance also gave him an opportunity to play the role in X – Men Origins : Wolverine.
He got the first solo movie of the character in 2016. The comic fans have upheld his role as it is very true to the comic books. He plays the perfect funny version of the character. Ryan also got a chance to be present in the Marvel movie Captain America: The Civil War.
We think Ryan Reynolds is already a superhero legend as the hilarious Deadpool (even though the films are actually R rated) !