DCComics has announced DCeased, a new event series from Tom Taylor (Injustice, X-Men Red) with art by Trevor Hairsine, James Harren, and Stefano Gaudiano.Taylor has been teasing the event for a week, suggesting it's going to be even more brutal on DC's heroes than his Injustice comic, based on the hit fighting game of the same name.
"The idea originated with editor Ben Abernathy. He had an idea to do a horror/zombie tale at DC, and hit me up to ask if I'd like to be involved. At the time I was pretty busy, but over the next few days, my mind was racing," Taylor told IGN, who announced the series. "I couldn't stop thinking of new and terrible ways to torture my favorite heroes in ways that made Injustice look tame by comparison."
The DC Universe is about to be overrun with zombies in the new series DCeased – and Batman will have to stand against them.
Also Read: These List Of Actors May Be Ben Affleck's Batman Replacement
The 'DCeased' event's synopsis:
"A mysterious techno-virus has been released on Earth, infecting 600 million people and turning them instantly into violent, monstrous engines of destruction.
The heroes of the DCU are caught completely unprepared for a pandemic of this magnitude and struggle to save their loved ones first…but what happens to the World's Greatest Heroes if the world ends?
New York Times best-selling writer Tom Taylor (Injustice) returns with a terrifying new tale and is joined by artist Trevor Hairsine (Legends of the Dark Knight) and Stefano Gaudiano (The Walking Dead)."
CAN BATMAN BE THE SAVIOR FOR ALL?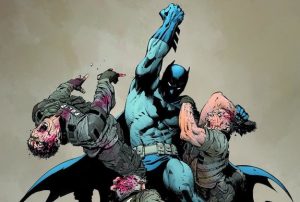 Also Read: Gerard Way Netflix's Umbrella Academy Is Now The Biggest Digital Show In US
"Batman is definitely usually ready for anything," Taylor teased ominously. "And this is no different. But Batman's greatest asset, after his friends and family, is his mind," Taylor teased. "Without wanting to spoil too much, our virus affects the mind. Can Batman fight something that's part of him? Or will Bat-god be revealed to be as mortal as the rest of us?"
"While the characters are the ones everyone knows so well, this is very much its own thing," Taylor explained. "The reason being, the stakes are real. We can tell a story without holding back. No one you love is safe. Even the icons can fall."
The question is,"WHEN IS IT TO COME?"
Three covers,have been released by Taylor, each of which suggests that Batman will be the focal character of the series or at least the first issue. Some of Taylor's previous tweets suggest Superman and Darkseid may also play a role.
That release date for the first issue is set to be May 1st.
Here we go.
Yasmine Putri's stunning horror variant cover for our first issue of #DCEASED.
Out May 1st.@DCComics @Ben_Abernathy pic.twitter.com/7lXZ20Vh0m

— Tom Taylor (@TomTaylorMade) February 18, 2019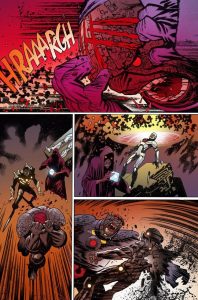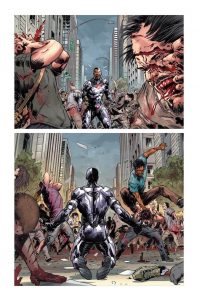 The Magnificent DCeased #1 is due out on shelves May 1.
The series will run for six issues.
NOBODY CAN WAIT FOR DCEASED TO BE RELEASED!!!!!