Through an illustrious and successful career spanning over three decades, giving the fans numerous classics,  Johnny Depp definitely created a loyal fandom for himself. The recent years have been nothing short of a horrific roller-coaster ride for the actor-singer, ever since his divorce from Amber Heard which opened a can of worms for both his career and reputation.
Depp got his redemption when he won the defamation case against Amber Heard, winning both the jury's and the masses' hearts who couldn't help but abhor Heard. However, Amber Heard did not accept her defeat and appealed the verdict. And ever since, Johnny Depp's reputation has been taking a downslide as well.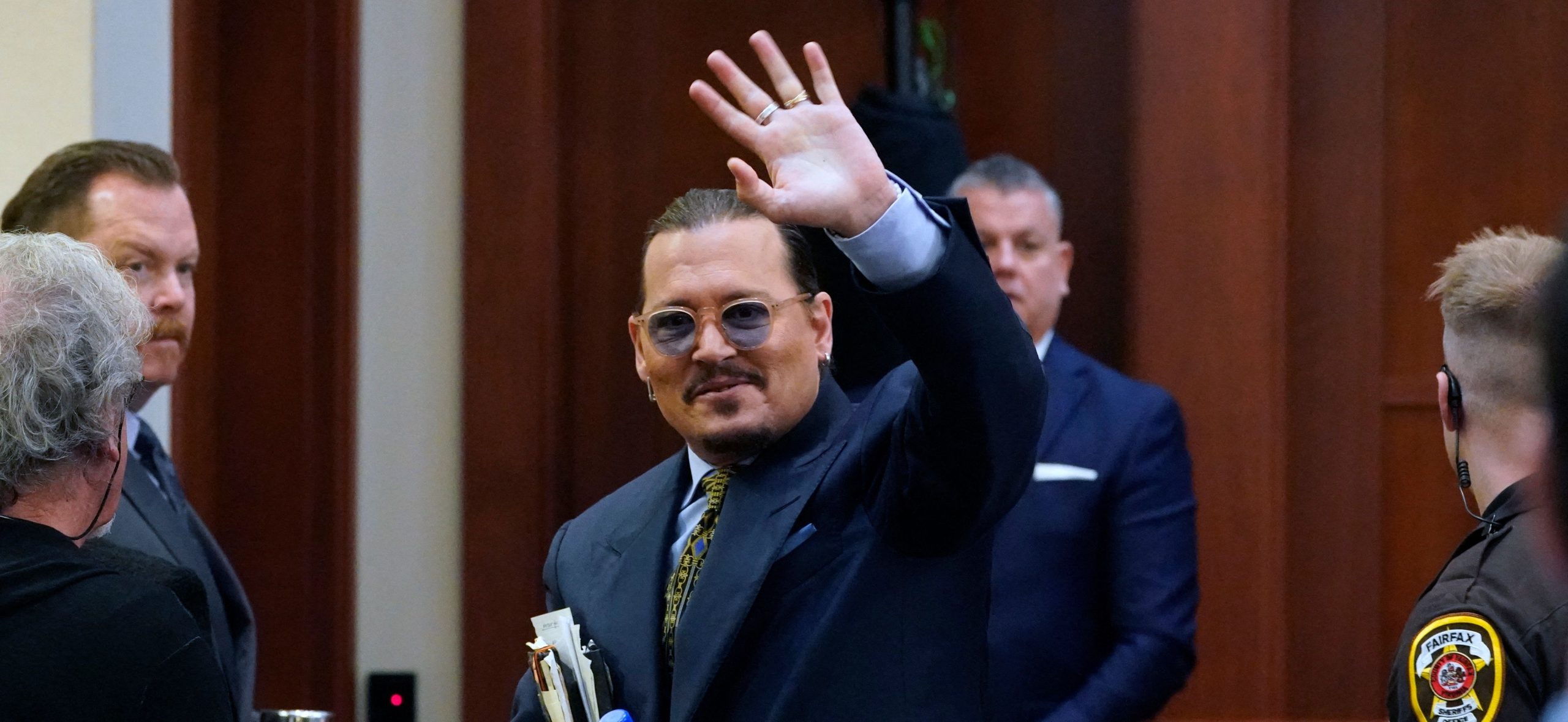 Also Read: 'Don't forget Amber Heard used ill children for merit': Johnny Depp Fans Call Out Amber Heard for Exploiting Children's Charities after New Leaks Put Depp in Bad Light
Johnny Depp supporters unsealed confidential court documents
A few days ago, over 6000 pages of court documents were unsealed by Johnny Depp's fans who paid $3000 to obtain information against Amber Heard. However, a lot of stuff in those documents turned out to be counter-productive for Depp and his fans. Despite the fact that there is no saying if the leaked documents are legal or not, Heard stans went wild on the internet vilifying her ex-husband in every way possible.
Also Read: "She's Cut Off His Goddamn Finger"- Amber Heard's Sister Reportedly Freaked Out After the Aquaman Actress Cut Johnny Depp's Finger in a Fight, New Revelations
A conspiratorial smear campaign
Johnny Depp has been going through a seemingly hard time these past few days again, after a huge triumph. The smear campaign against him was bringing out plausible evidence establishing him as an abuser, alleging he and his best friend Marilyn Manson were pedophiles, accusing him of using revenge porn against Amber Heard, his losing support among the acting fraternity, and so on.
However, recently a Depp supporter dived deep into the leaked documents to fish out all that smelled fishy. And courtesy to that, now there is a detailed thread that lists the various aspects and weapons that Heard stans employed to defame Johnny Depp, yet again.
Debunking and exposing the orchestrated Smear Campaign against Johnny Depp that Amber Heard fanatics have engaged in, a thread 🧵: pic.twitter.com/nSr8NT9B66

— 🌹 (@fightfortruthx) August 10, 2022
Amber Heard stans used cropped images to incriminate Johnny Depp
Several unsealed court documents were made to go viral by Heard's fans that seem to prove that Depp's allegations of being abused mentally by his ex-wife were baseless. However, it has now been revealed that the documents were cropped on purpose to hide the part that was not viable to Heard's testimony.
🪡: Another Popular Amber stan account intentionally blocking out bits of the documents that disproves their claim pic.twitter.com/kuoL4Bm1wX

— 🌹 (@fightfortruthx) August 10, 2022
🪡: Johnny Depp's team DIDN'T say he suffered no harm from Amber, but that he isn't suing for a specific emotional/physical injury caused by her or the Op-Ed (such as PTSD) pic.twitter.com/Ok15OFHp9b

— 🌹 (@fightfortruthx) August 10, 2022
Revenge p*rn allegations are baseless
One of the biggest allegations against Johnny Depp going wild the last few days was that he tried using revenge p*rn against Amber Heard to bring to light, her past as an exotic dancer. However, the unsealed documents have also now revealed that Depp neither did nor had any intention to share Heard's n*des with the court.
🪡: Johnny Depp did NOT attempt to ever submit 'revenge porn' evidence. Amber's team couldn't even point to the exhibit pic.twitter.com/vJ1Q0vE4TW

— 🌹 (@fightfortruthx) August 10, 2022
The texts between Johnny Depp and Marilyn Manson were taken out of context
A series of questionable chats between Johnny Depp and Marilyn Manson aimed to establish that the two had questionable characters However, on contextualizing the messages, it has been made clear that the apparent meaning was either misguided or deliberately assumed.
A text exchange that was assumed to be the two men thinking of having sex with an 18-year-old fan was actually them discussing the song I'm Eighteen by the Hollywood Vampires, Johnny Depp's old band.
🪡: Johnny Depp and Marilyn Mansons text wasn't about having sex with an 18 year old fan, but performing a song (a week later) pic.twitter.com/CKrJjaDwAV

— 🌹 (@fightfortruthx) August 10, 2022
The text exchange between Depp and Manson, where they talk of recreating their own Salo, a film about physically, mentally, and sexually torturing kids was one of the most criticized aspects of the leaked chats. Both the men were accused by netizens of fetishizing the r*pe and torture of children. However, the fan contextualized the texts to show that the two were actually planning a music video.
Another text alleged Johnny Depp to be a racist, where the actor wrote "I shot a few n*groes in a club…" Although this statement makes no literal sense whatsoever, it was still clarified by a fan that Depp meant was talking about a drink called 'Palo Negro' and not what everyone thought it meant.
🪡: Johnny in a text to Marilyn was referring to a drink not using a derogatory term toward black people pic.twitter.com/KQKvH4c5q7

— 🌹 (@fightfortruthx) August 10, 2022
Johnny Depp never tampered with the audio
Johnny Depp had been facing accusations of altering the audios between him and Amber Heard. The revelations show that first of all, Depp never edited any audios, and second of all, the audios that were edited were submitted by The Sun, during the UK trial. Back in 2020, Depp had filed a defamation case against The Sun for publishing an article that accused Depp of being a wife-beater.
🪡: Johnny Depp's 'edited' audios were provided by the Sun/Amber in the uk trial. If edited, it was by Amber/the Sun pic.twitter.com/KajVbVrawu

— 🌹 (@fightfortruthx) August 10, 2022
🪡: More proof Johnny did NOT edit audios pic.twitter.com/X8lEEyMbSc

— 🌹 (@fightfortruthx) August 10, 2022
🪡: Amber Heard's own exhibits showed the same 'issue' pic.twitter.com/U2nM3J1SUk

— 🌹 (@fightfortruthx) August 10, 2022
Amber Heard supporters allegedly used bots
General activities of Amber Heard fan accounts hint at their being run by bots. Several pages have posted the exact same messages and it has tipped off the Depp fandom.
🪡: Her stans appear to be using bots pic.twitter.com/omrSA8Lrg6

— 🌹 (@fightfortruthx) August 10, 2022
Johnny Depp is not losing social media support
Reports of Depp losing support amongst the acting fraternity were also going viral recently. The actor had posted a heartfelt message after the Virginia verdict claiming that he had finally gotten his life back. Many big names had shown their silent support but more recently, he seemed to have been losing likes on this post and followers as well – hinting at decreasing popularity. However, this myth has also been debunked, claiming that it is actually an Instagram glitch.
🪡: Many celebrities are NOT unliking or unfollowing Johnny. Just seems to be a common IG glitch pic.twitter.com/1yesvMLDkf

— 🌹 (@fightfortruthx) August 10, 2022
The effort and research the fans go through to prove Johnny Depp's innocence is a testimonial to the huge support the actor has. It is imperative to notice that the leaked documents (if they really are official) went through the court's scrutiny during the 6-week trial period, thus proving that nothing truly incriminating against Depp could be found in them, as the verdict itself proved. Therefore, who is the smear campaign actually targeting? The judiciary?
Source: Twitter