Florence Pugh is one of the most talented English actress in the entertainment industry. Pugh started her acting career with the 2014 mystery drama The Falling. Her next film was Lady Macbeth (2016), and then she appeared in a few TV series and soon got famous as one of the most influential actors in the industry. Believe it or not, Hollywood is a challenging place for female actors, as they have to work much harder than male actors in order to make an impression in showbiz. As not many newbies got opportunities to grow in their professional careers, Pugh took every role that came her way and continued to deliver effective roles on the big screen. But in the last few years, while she receives positive responses for her movies, she has also made headlines for her controversial relationship.
Florence Pugh and Zach Braff's 3-year-long romance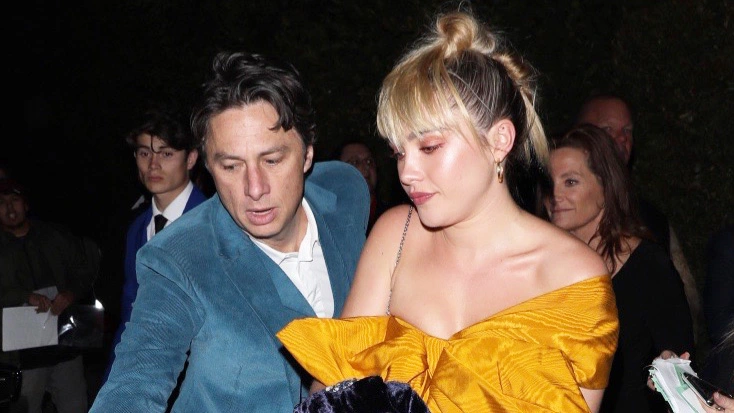 Celebrities' lives are much harder than we think. It is not always about the money and lavish homes they own or the trips they go on for vacation, but while they do enjoy all these perks after their hard work, they lack personal privacy. Every now and then, Hollywood stars suffer from privacy invasion as paparazzi show no mercy and even go to extremes to capture their intimate moments. The Midsommar movie actress faces a similar issue. As per multiple reports online, Zach Braf started liking photos of Pugh on Instagram in 2018. In 2019, he cast her in his short film, In the Time It Takes to Get There. But in April of the same year, the actress and her former boyfriend were spotted strolling in New York City while holding hands, which sparked dating rumors.
Also Read: "Why Are You Showing Everyone Your Ugly Spots?": Dune Star Florence Pugh On How Hollywood Forced Her To Look More Flawless Than Human
On December 28, 2019, the actress hinted at her relationship with Braf. She shared a picture of herself and wrote in the caption, "First pit-stop, Matzo Ball Soup. #curingjetlag101." Her former boyfriend Zach Braff dropped a princess emoji, and a user replied to his comment by writing, "You're 44 years old, to which Pugh responded with a savage reply, "and yet he got it."
Although Braf and Pugh didn't confirm their relationship with the public at the time, in November of that year, the ex-couple went on a trip to Disneyland with a group of friends. The pair again steal the spotlight, as in January 2020, Pugh was seen hugging Braff's arm after a press day where the actress learned that she had been nominated for Best Supporting Actress at the 2020 Oscars for her work in Little Women, and not just that, but paparazzi also caught them sharing a celebratory kiss afterwards.
Also Read: "I Don't Really Feel The Need To Go Into The Nitty-Gritty Details": Florence Pugh Strictly Refuses To Talk About Alleged "Screaming Match" With Olivia Wilde During 'Don't Worry Darling'
Why did Florence Pugh and Zach Braff break up last year?
 The Wonder movie actress was in conversation with Harper's Bazaar last year for their September 2022 issue, Florence Pugh shared a few details of her breakup with Zach Braff. While it's no surprise that the duo had kept their entire relationship private, fans of Pugh have been very vocal about their alleged affair, so it was no surprise when the couple announced their split last year. Talking about her painful split, Pugh revealed, "We've been trying to do this separation without the world knowing because it's been a relationship that everybody has an opinion on." She continued,
"We just felt something like this would give us the benefit of not having millions of people tell us how happy they are that we're not together. So we've done that. I automatically get a lumpy throat when I talk about it."
She further shared how angry she felt all these years when her private images with Zach Braff continued to leak in the media. She said, "Whenever I feel like that line has been crossed in my life, whether it's paparazzi taking private moments or moments that aren't even real, or gossip channels that encourage members of the public to share private moments of famous people walking down the street, I think it's incredibly wrong." She adds,
"I don't think that people, just because they have this job, should have every aspect of their life watched and written about. We haven't signed up for a reality TV show."