Angelina Jolie, the star of Eternals, has turned down the opportunity to feature in a solo film based on her character Thena.
When asked by CinePOP if she'd be interested in starring in a standalone Thena adventure, Jolie stated,  "I loved being part of the family, so I have no desire to separate from the family. But I would be happy to play her again and explore even more deeply the struggles that she has. I think it's fun thinking of where they've been over the years. We've got thousands of years worth of material. We can take her anywhere. I think that's fun and I like the idea that we can pop up somewhere, maybe in other Marvel movies."
Despite being one of the most well-known movie actresses to feature in the Marvel Cinematic Universe, Jolie only has a minor role in Eternals, which introduces ten new superheroes to the MCU. In terms of screen time, Richard Madden's Ikaris and Gemma Chan's Sersi are more important to the plot than Angelina Jolie's Thena – an elite warrior who can create any weapon from pure cosmic energy. Nonetheless, Jolie is prominently featured in several of the film's spectacular action moments. There's also a key plot line in which Thena suffers from memory loss, giving her a distinct journey within the superhero genre.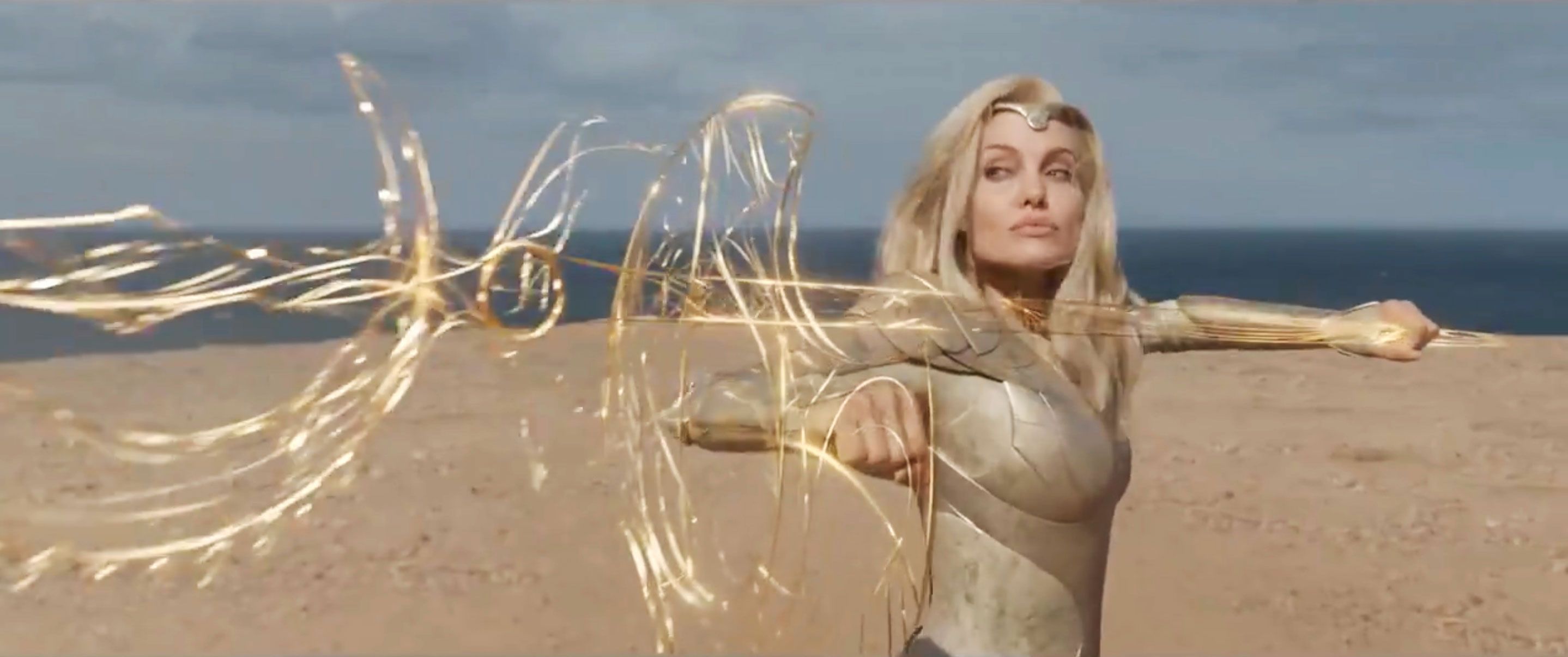 Nate Moore, the producer of Eternals, recently disclosed that Jolie first assumed her part as Thena would be a cameo. "When we first talked to her, I think she thought, well, I know she thought we wanted her for a very, very small cameo," he said. "So she was sort of surprised at the size of the role, and really threw herself into Thena and creating a movement style for Thena and a fighting style for Thena that was unique."
Jolie previously stated that establishing a "family" inside the MCU was important to her, stating that "it was the cast" that inspired her to come on for Eternals. "It was the concept of what this family would be like. And I really wanted to be a part of this family before I knew who I was going to portray "She elaborated.
Jolie was also proud to be a part of the MCU's most diverse film, which featured characters of many colours, sexualities, and even a deaf superhero. "What's really astonishing is that when we all stepped out together, it didn't seem like, 'This is so fresh and cool,' it felt like, 'This is how it should have always been,'" she added.
Eternals is now playing in theaters.