Kelly Ripa and Mark Consuelos are among the sweetest Hollywood couples ever, and they have lots to say about their 26-year-long marriage. Each year passes, and their relationship blossoms with more romance as they grow closer. The couple never hesitates to reveal their s*x life openly is one of the most beautiful aspects of their firm and alive marriage. Since 1995, the couple has been together and has three children: Michael Joseph Consuelos, 25; Lola Consuelos, 21; Joaquin Antonio Consuelos, 19.
As their kids are now grownups and they pursue their studies and careers abroad, the power couple has become empty nesters. Their second child, Lola Consuelos, has recently returned from London after finishing her final semester. In an interview, Kelly Ripa and Mark Consuelos revealed something annoying they faced with their daughter while living together and gave her a strict warning.
Also Read: "When I'm on the road working": Kelly Ripa Reveals Her Longest 'Dry Spell' With Mark Consuelos as Live-Show Host Unearths Her Insatiable S-x Drive at 52
Kelly Ripa And Mark Consuelos Give A Warning To Their 21-Year-Old Daughter
On Live! With Kelly and Ryan Monday's episode, Kelly Ripa, the talk show host, appeared on the show with her husband, Mark Consuelos. The couple again opened up about their private moments in the episode, along with an awkward incident that occurred because of their daughter, who had returned home and was living with them currently.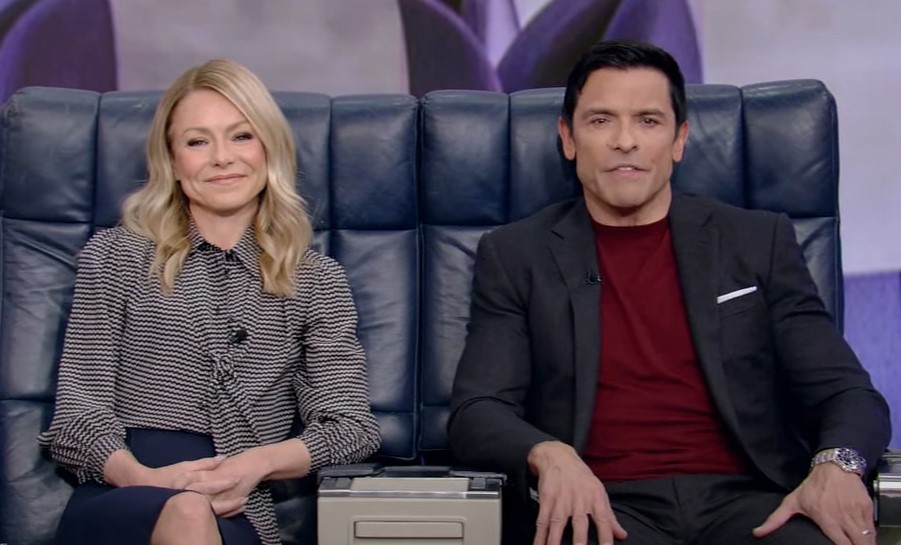 According to the couple during their interview on Live!, they have set some boundaries for their 21-year-old daughter Lola Consuelos due to her habits in college life. Ripa and Consuelos then went to share that awkward incident, and Mark Consuelos said,
"She's not going to go back to her apartment; she's staying with us. Noting that Lola had been studying abroad in London."
He continued,
"And you know what she does now? The door's closed in our bedroom, no knock, she just walks in and says, 'Hey girls!'"

"And so I said, Lola — I don't want you to take this the wrong way, I'm very excited that you are home. We missed you. You are the heart of this family. You're so funny, and you're just fantastic. But you gotta knock."
Then, Ripa said,
"Because, at this point, anything you walk in on is your problem."
Consuelos joked,
"Your fault! Don't you think she's been traumatized enough by walking in before?"
He remembered the moment when Lola repeated the same act and got a warning from her mother, Ripa, which left her in trauma for a while.
Then Consuelos continued,
"Well, be warned, Lola Conseulos. Cause this week's freaky week, isn't it? Yeah, this is Jan. 30. We're going to get freaky this week."
Ripa responded,
"Why this week?" Is this historically freaky week?"
He said, "It is now."
There is, however, a strong possibility that Lola Conseulos will be able to respect her parents' privacy after the second warning. Although the couple has been married for 26 years, there have been moments when they were not ideally suited to each other. However, they have kept the spark alive in their beautiful relationship and grown more robust each year.
Also Read: "I started to see things that I didn't like": Long Thought to be a Natural Beauty, Kelly Ripa Shocked Fans By Revealing Her Face is All Plastic Surgery
Live! Host Traumatized Her Daughter Lola Consuelos Earlier As Well
It was not the first time that Kelly Ripa and Mark Consuelos' daughter Lola Consuelos walked into their room without knocking on the door. On her 18th birthday in 2019, she repeated the same act and became scared by the visuals once she realized that her parents were in their love moments.
During his appearance on Ripa's ABC Daytime talk show in June 2019, Consuelos recalled the fateful day when their daughter walked in on them.
Consuelos recalled,
"She opens the door … and we're like, 'Ah, close the door, knock, what are you doing?'"
Then, Ripa added,
"She shuts the door, and you hear, 'You just ruined my birthday and my life, and I used to see in color, and now everything is grey.'"
Later, when they were having brunch as a family, Lola said without hesitation,
"You're disgusting. You guys have no chill! You act like you're 20, but you're not."
However, the Consuelos family is a perfect example for their fans as they are living their life to the fullest. In addition to her studies, Lola's debut single, Paranoia Silverlining, is paving her way in the entertainment industry. Ripa and Consuelos are very proud parents of their three children, who are pursuing their careers and achieving great milestones in their lives.
Also Read: "I think Jimmy Kimmel is the perfect fit": Ryan Seacrest Subtly Disses 'Live' Co-Star Kelly Ripa, Says Jimmy Kimmel is a Better Oscars Host
Source: Live! With Kelly and Ryan, Watch What Happens Live with Andy Cohen