Armie Hammer has apologised for his recent social media outburst on those who were paying tributes to the late Stan Lee after his death. The legendary writer died at the age of 95 due to a series of health issues leaving behind a lasting legacy that shaped the whole entertainment industry. While many people from around the world paid tributes, Hammer's reaction caused quite a stir.
After Lee's demise, Hammer took to Twitter and criticised people who posted photos of themselves with Lee, calling it nothing but a way to promote themselves. He soon received a lot of criticism for that, which eventually forced him to take down the tweet. Now the actor has taken to social media again to publicly apologise for his "unnecessary social commentary about the whole selfie culture."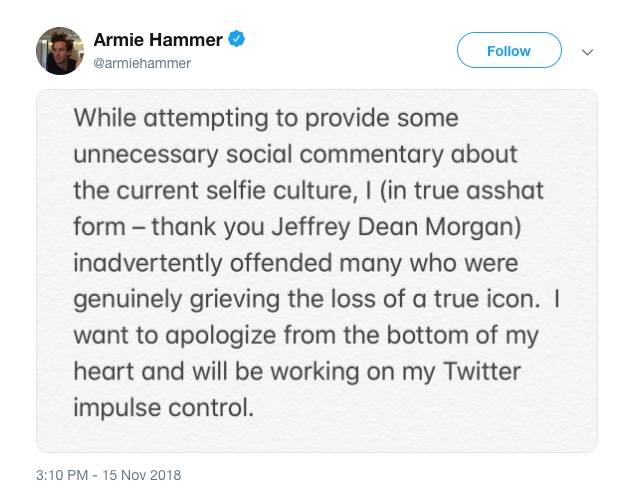 Hammer sought forgiveness from the offended fans and celebs who were actually grieving the loss of a true legend. He promised that he will be working on his Twitter impulse control. Earlier Walking Dead star Jeffrey Dean Morgan also criticised him by calling him an ass hat. Hammer also mentioned him in his apology to everyone.