Jennifer Lopez has been killing her beauty game since before we even learned about makeup and beauty, perfectly bronzed, and glowing like a million golden flies! Her Latina heritage was something she owned, and she shook what her mother had blessed her with. She mostly wears glossy lips and long, voluminous lashes, but she's never been one to shy away from trying something new! She has a good sense of balance, and anyone could benefit from her beauty game. Whether she is Jenny from the Block or not, she unquestionably rules the glam-up!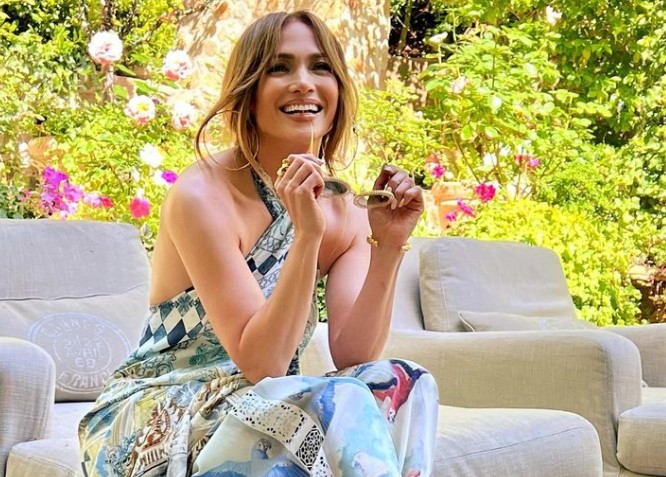 Don't get us wrong; we are definitely fans of side-swept hairstyles, but J-Lo's current look just might change your mind. Jen is wearing her hair up and in a "middle part glam pony"—as Andrew Fitzsimons, a celebrity hairstylist, describes it, in an Instagram post he shared. Because these two artists collaborated to create such a masterpiece, they will both always be the muses of millions of women. 
Also Read: Jennifer Lopez Stripped in Public For Alex Rodriguez's Birthday, Wanted to Top His 911 Carrera Present
Jennifer Lopez is rightly smokin' up the top knot look
A top knot has never looked better. Jennifer Lopez gave us a perfect example of how to wear our hair for a fancy night out as she rang in the new year. The actor, singer, and dancer entered 2023 with her hair up and in a "middle part glam pony." Celebrity hairstylist Andrew Fitzsimons shared this picture with her more than 230 million Instagram followers, and it really was the most flawless-looking maintained hair. She appears to have sipped champagne from a coupe glass, looking like the epitome of luxury. Starting with a set of 2023-themed eyeglasses, she has unveiled her look with beautiful, smokey eye makeup.
Her hair was tousled and fell past her collarbones from a middle part that appeared to be amazingly undone. We're willing to bet that the loose waves are simply day-old curls that fell into the textured hairstyle overnight.
Also Read: "The party was epic, even for the Hamptons": Alex Rodriguez Made Jay-Z Feel Ashamed With Grand Entrance After Jennifer Lopez Breakup
Is your sleek ponytail game as strong as the queen of extra gold
?
In the beginning days of 2023, Jennifer Lopez was determined to stun us with her flawless beauty looks, which included a deep burgundy lip. Her New Year's Eve glam was undoubtedly stunning, and she far exceeded our expectations. Putting legends aside, the middle part vs. side part controversy has been going on for a while, and even though a clear winner hasn't been decided upon, we believe J-Lo's pony just about said it all. In order to complete the makeup look, makeup artist David Velasquez created a soft smoky eye, fluffy lashes, and a fuchsia pink lip, while Jen's nail artist, Tom Bachik, chose a true yellow mani. 
Let J.Lo be the one to demonstrate how to style your bedhead. We know Lopez had a happy night based on the cheerful smile that graced her face in the post, and we can only hope that 2023 is just as optimistic for Lopez as it is for all. She definitely is rocking the style game despite her age.
Also Read: "Whatever happens, you cannot treat her badly": Jennifer Lopez's Ex-Flame Alex Rodriguez Was Warned By Close Friend While Dating Her, Called Her American Royalty
Source- Instagram