The Hulk is one of Marvel's most popular characters that has originated in the Avengers Series. He is one of the most notable MCU characters who has successfully punched all the bad guys into oblivion. However, he has never got his movie series which is disappointing as Hulk turns out to be MCUs most active characters with an exciting storyline.
The Historical Timeline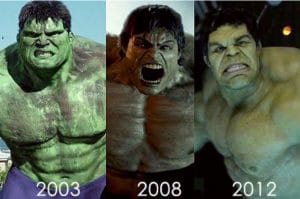 2003 saw the release of Ang Lee's very first movie of the series titled Hulk. This movie had not been a huge box office hit along with The Incredible Hulk, which was released in 2008 following the story to middling effect. The character remained on the MCU canvas, and he has been a consistent show stopper. He has smashed bad guys or been a saving grace on some days in the form of his human alter ego Bruce Banner. Marvel introduced Bruce Banner (played by Mark Ruffalo) aka Hulk in the Avengers Series. Since then he has appeared in all the MCUs Avenger Series along with a cameo in the movie Thor: Ragnarok.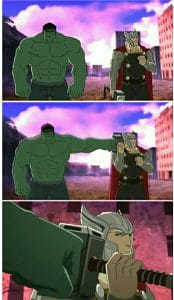 Avengers consists of many small moments that are iconic, and the fans have been talking about them since the film's release. One of the moments that caught everyone's attention was the moment where the Hulk and Thor are standing side by side after a fight. After which, Bruce Banner stretches his arm out to the side and punches Thor square in the face. There was a roar of laughter in every theatre when the movie was first released in 2012. Disney XD TV series recreated the Hulk and Thor punch sequence in Avengers Assemble. In one episode Hulk and Thor are standing side by side once again. Hulk's strike is blocked. Thor quickly moves Mjolnir up to cover the side of his face, causing him to punch the hammer instead. When Hulk looks over to see what happened, Thor smirks at him in return.
Thor: Love and Thunder – Upcoming in 2021
Since both the Hulk and Thor have successfully ranked each other, it looks like the competition remains in a draw. The strongest Avenger title debate will be continued in the upcoming MCU franchises.  On the big screen, Thor will appear in his fourth solo film, Thor: Love and Thunder, in 2021. Hulk's Cameo isn't confirmed for any of the future MCU movie series.
Check out the GIF for the punching sequences below: