Rocket Raccoon almost saw something he couldn't unsee during the events of Avengers: Endgame.
The clip, which was posted online by IGN at Comic-Con International in San Diego 2019, shows Rocket Raccoon — his animation not entirely complete — finding Thor peeing off a balcony in Asgard. "I said I want to claw my eyes out, but unfortunately it wouldn't do anything, because I already saw the awfulness," Rocket says.
The two have a conversation about the coming invasion of the Dark Elves, and Thor gives his companion the tool used to extract the aether from Jane Foster. When Rocket asks him which way he needs to go, Thor reveals he doesn't know, as he's only lived in Asgard for 1,500 year.
How Big Is Rocket's Role in Avengers: Endgame?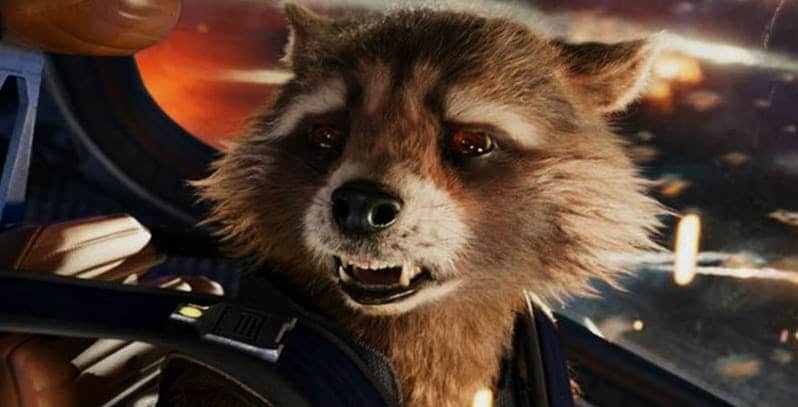 We could be seeing an awful lot of Rocket Raccoon in Avengers: Endgame. With the sequel to Infinity War just around the corner, there are still so many questions we have. Marvel has done a bang-up job of not revealing too much in their marketing campaign thus far, having only released a question-raising teaser trailer and a Super Bowl spot. So any and all information we can get our hands on at this point is valuable and, this time around, it comes from Sean Gunn.
For those who may not be aware, Sean Gunn, brother of Guardians of the Galaxy director James Gunn, aside from playing Kraglin, also stands in as the actual human actor on set for Rocket during filming. As such, he knows the character very well and knows what he'll be up to as well as anyone, save for directors Joe Russo and Anthony Russo. During a red carpet interview at the Captain Marvel premiere, Gunn had this to say about Rocket's role in Avengers: Endgame.
Rocket Raccoon was one of few to survive Thanos' deadly finger snap at the end of Infinity War. As revealed in the Super Bowl spot, he's going to team up with the remaining Avengers to try and right the wrongs done by the Mad Titan. It stands to reason that he'll be getting more screen time as a result. Further, with him meeting lots of interesting people, it sounds like we can expect to see even more of Rocket than perhaps we previously realized.
"All I can say is that Rocket gets to meet a lot of interesting new people that he has not met before in Endgame and I think I'll leave it at that."
Directed by Joe and Anthony Russo, Avengers: Endgame stars Robert Downey Jr. as Iron Man, Chris Evans as Captain America, Mark Ruffalo as Bruce Banner, Chris Hemsworth as Thor, Scarlett Johansson as Black Widow, Jeremy Renner as Hawkeye, Brie Larson as Captain Marvel, Paul Rudd as Ant-Man, Don Cheadle as War Machine, Karen Gillan as Nebula, Danai Gurira as Okoye and Bradley Cooper as Rocket, with Gwyneth Paltrow Pepper Potts, Jon Favreau as Happy Hogan, Benedict Wong as Wong, Tessa Thompson as Valkyrie and Josh Brolin as Thanos. The film is set for release on Digital HD on July 30 and Blu-ray and 4K UHD on Aug. 13.