"The hero we deserve" memes have taken up the internet by surprise. This new trend of memes doesn't spare Gordon , Squidlady ,Spiderman as well as the legendary director Macaulay Culkin .Creating waves of laughter worldwide with the Dark Knight reference "The hero we deserve" memes are comical and uproariously funny. This new trend of memes is rib-tricklingly witty and humorous. The dialogue gained increased acclaim, thanks to Jim Gordon's famous variation of the line, "He's the hero Gotham deserves, but not the one it needs right now" from 2008's The Dark Knight.
Since then, the quote "The hero we deserve" has gone viral , finding its place in various memes. The booming popularity might be due to the craze over the dialogue and its intensity.
Lets have a look at those top trending "The hero we deserve" memes :
1.     Spongy Hero
 This photo edit with "The hero we deserve" caption comes from the Spongebob Squarepants episode "The Fry Cook Games," in which Spongebob and Patrick Star compete in a competition on behalf of the Krusty Krab and the Chum Bucket, respectively.
Would Spongebob be as good at protecting Gotham City as he is at being a fry cook? maybe not, but his struggle would be undoubtedly entertaining to watch. At least being a sponge makes him more resilient to thumps and kicks.
2. The purrfect attire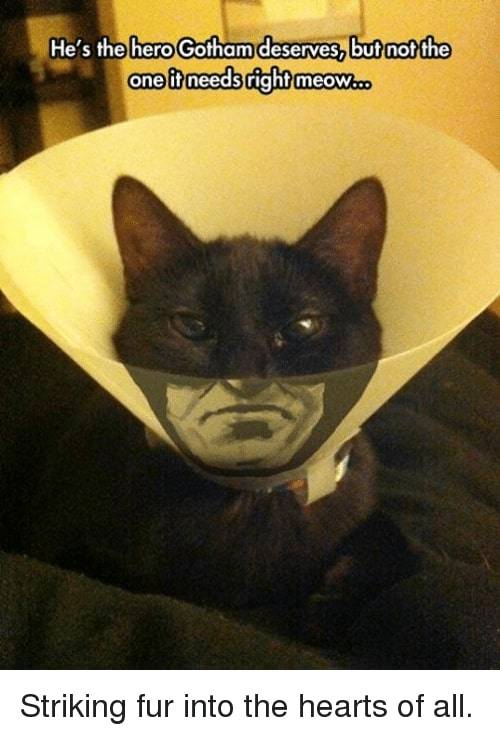 This "The hero we deserve" meme is absolutely funny with a cat and batman ensemble blended together. Batman's former foe turned lover Catwoman would absolutely love this attire, which credits both characters' costumed identities. There isn't a cape attached to the back of that cone—honestly, it's hard to tell—but the Cat Crusader unquestionably looks the part, especially thanks to the drawing of Batman's lower face on his cone.
The cat actually somewhat resembles Isis, Catwoman's graceful companion from Batman: The Animated Series; it's not too hard to envision Selina Kyle creating such an ensemble for Isis on Halloween… but only if Isis needs to wear a cone, of course!
3.     Loyalty at its best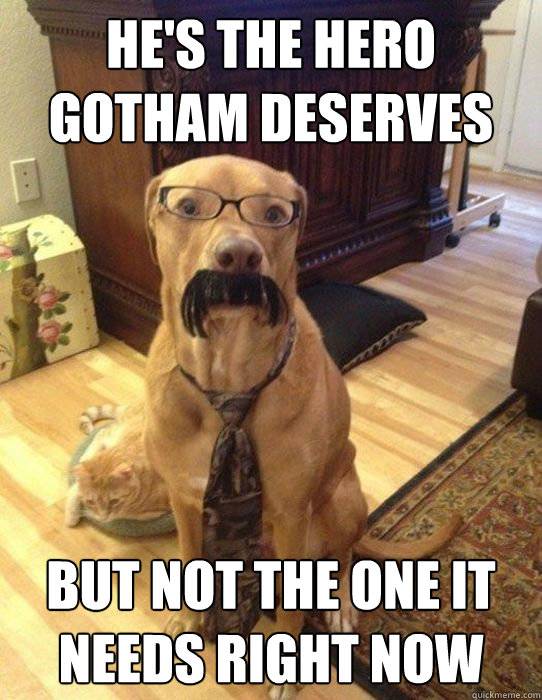 What if Commissioner Gordon was a dog? ,You've wondered the same I know. Well he's unquestionably faithful to his good friend Batman, and he does resolutely chase crooks. perhaps this "The hero we deserve" meme surely does justice I'm guessing.
Gordon is faithful to batman and he unquestioningly pursues criminals for him . An important ally for years ,Gordon can be the dog .However loyalty is at its best in this meme created in a thoughtful way.
4.     Not a pirate this time , wow this is a proud moment indeed .
 However, Ron not dressed as a pirate for the first time now that's a nice thing to witness indeed . Through this meme atleast he is dressed as batman and not a pirate .Batman would be a perfect Halloween costume for him.
Imagining Ron Swanson from Parks and Recreation as Batman isn't all that tough, even without the meme. Both are reserved barely displaying any emotions and have shown unfriendliness . There is an aura of mystery to both . With Swanson striking his birthday from all public records proves his love for a strictly private life.
  5.  Not all superheroes wear a mask and cape , some wear squids too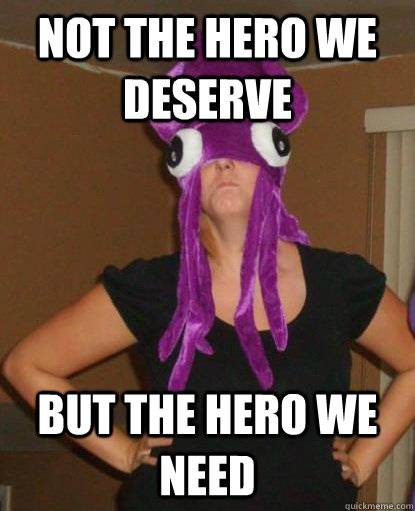 Clearly not every "the hero we deserve" meme is about batman , though his counterpart Aquaman would be pleased with this superhero ensemble. This "Squidlady" as it is termed is a hero for the life down there in the deep waters. Even though the appendages on the mask don't seem to fight the enemies , the mask has its charm . With this one might wonder what if the bat that flew out of Bruce Waynes window was really a bat or a squid , apparently one can only wonder or probably squidlady might have the answer.
6.     Wasn't expecting that for batman or were we ?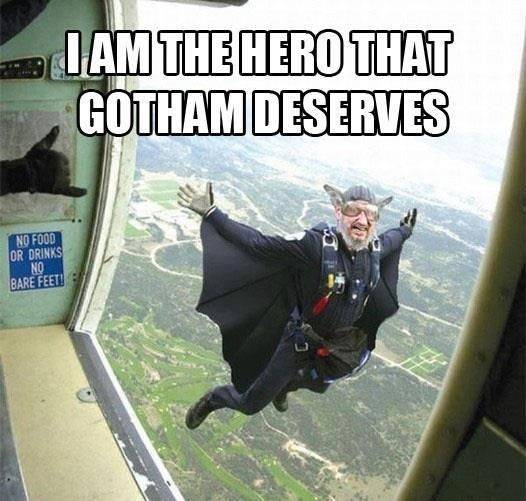 This funny image with the man striking an uncanny resemblance to the one the Dark Knight wore when he debuted in Detective Comics #27 in 1939 . though this wasn't what you were expecting under the caption "The hero we deserve" or was it ?. The attire , all black suit with a fanny pack and a utility belt does resemble batman , so why not pose good.
Nevertheless those goggles don't do the trick of hiding his identity as a mask does. Yet this caped campaigner earns points for his style and creativity especially when it comes to those ears . Good job done they resemble the bat ears very well.
7.     Heroic feat via [Home alone]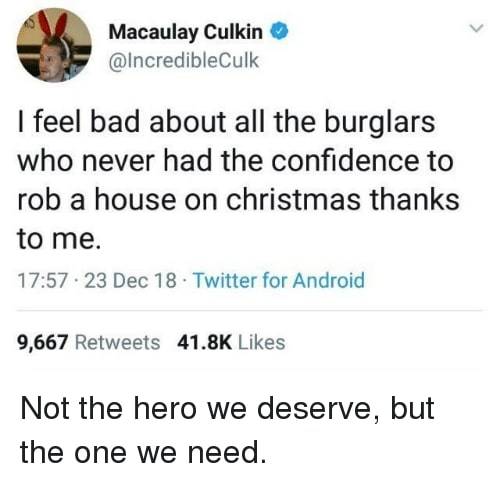 The Christmas movie Home Alone also finds its way into the trend of "the hero we deserve" memes . Macaulay Culkin's  iconic movie franchise Home alone did install fear into the minds of robbers all over.
Culkin's Tweet is factual and all it took was a single added line from another user to add it to "the hero we deserve" meme trend.
8.     Flex seal maybe the one stop for all leaks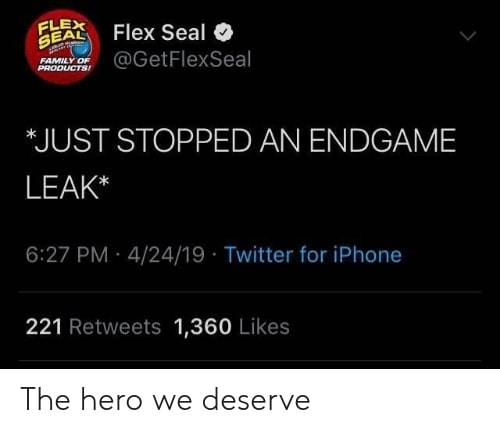 It appears like Flex Seal is the one stop of all kinds of leaks. Flex seal played rescue by originally tweeting about stopping the endgame leak. As some mischievous individuals tried spoiling it for their delight flex seal jumped in as a savior.
9.     Spider-dog overloaded with cuteness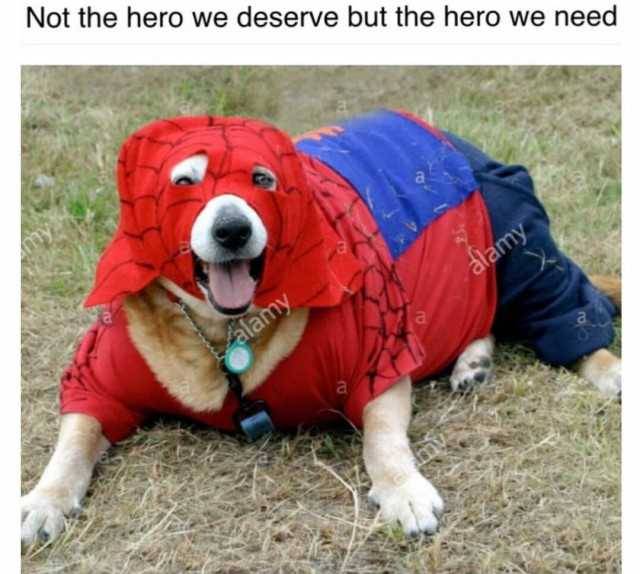 This spider-dog is capable of taking down the offenders with its undeniable cuteness. The criminals absolutely cant get past this adorable creature without petting it. It's definitely time to get over the spider-pig as this cute spider-dog is irresistibly cute.
Even though Spider man never owned a pet partner like batman , yet he had a dog called sandwich that he loved and pampered. If Peter still had him, this meme would become a comic book reality
10.  Hairy affair
Uh-oh seems like Gordon is having a hair crisis. Despite Gordon being a loyal friend of Batman ,he couldn't get himself a conditioner. This meme creator surely pulled a pun by highlighting Gordon's hair crisis. Even Robin has his own conditioner while Gordon doesn't . however one thing's sure,  a conditioner Gordon would probably work great on moustaches.