Picture this – You see a colorful Disney scene in front of your eyes, that slowly transitions into a behind-the-scenes view. Interesting, isn't it? Instagram artist Andhika Muksin makes this into reality. Andhika edits random famous Disney scenes into hilarious behind the scene versions. 
With a follower base of over 500K, his humorous edits recreate childhood icons in a realistic light. Being a Disney fan helps him identify which scenes can transform comically. Here's a look at some edits we fell in love (or should we say laugh) with:
Alice in Wonderland
By morphing Alice into a cutout makes this scene look very real. The cameraman in the corner adds a realistic touch to the whole scene. As if an actress sat down like this and shot the scene.
Aladdin
This scene looks straight out of a set. The lighting effects, hidden stunt man holding Aladdin and the green walls for backdrop effect.
Cinderella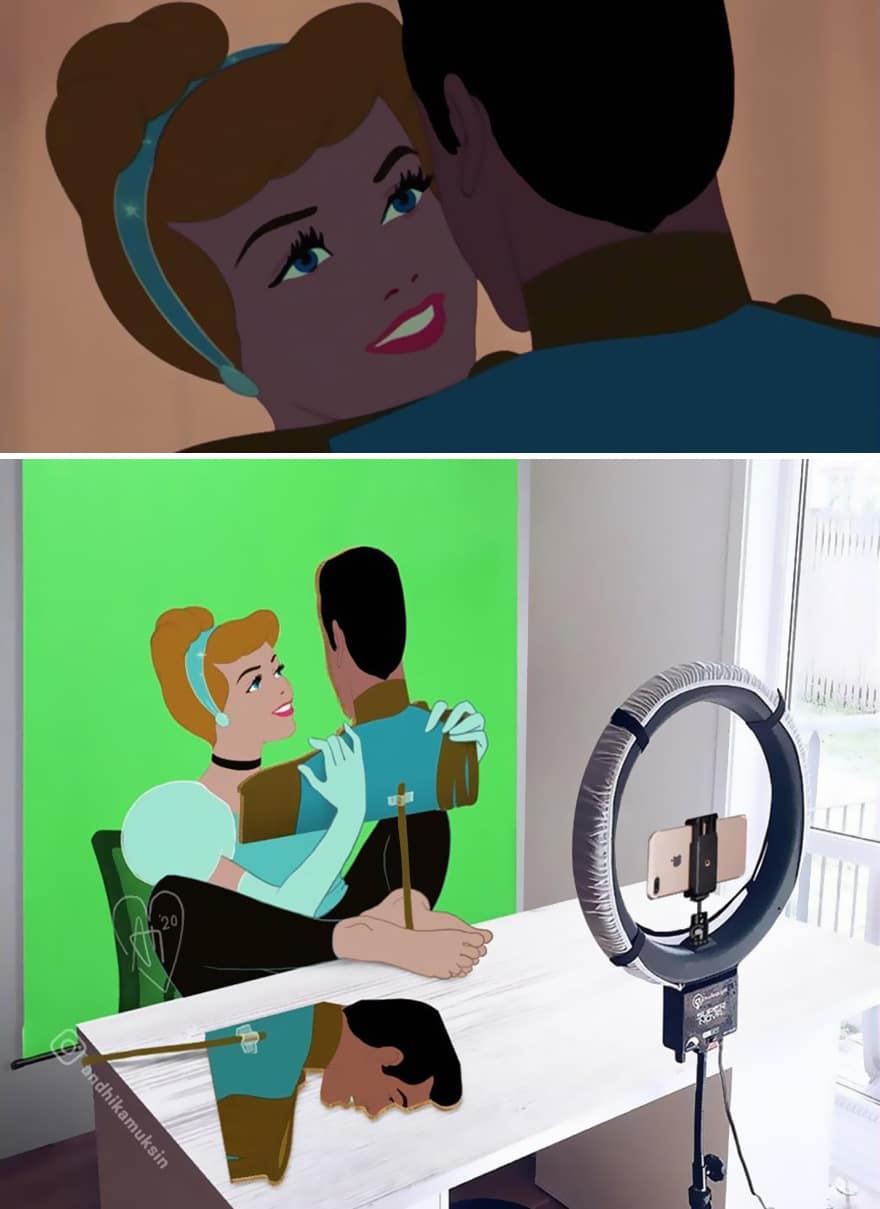 What could possibly be behind Cinderella's moment with the prince? The chance that it's not the prince at all! Andhika imagines Cinderella as a pro-selfie photographer (Hint: Notice her toes) holding a cutout of the prince's torso just for the picture. And there's a spare cutout available as well. An amazing imagination indeed.
Ursula: The Little Mermaid
How do you think Ursula makes up for the dramatic effect? Well, another pro-selfie photographer imagined here! Notice how the artist has included minute details like the phone, the lighting, the small rocks stuck up with sellotape
Ariel: The Little Mermaid
This one is a gem. How does Ariel get the flowy-hair and perfect angle? With the stunt helper at work. 
And this one below sets a very professional backstage for the scene, with props and stunt help and even the cameraman (holding the camera at the right angle of course)
Maleficent
And lastly, look at the cute dragon prop! The setup very closely resembles any real animated movie scene where the actor is in the backdrop for the silhouettes and props dangle around them.
In a short compilation video, Andhika shares 5 of these greenscreen artworks with promises of more to come.  Show Andhika Muksin your support by following him on social media.
What is your favourite amongst these behind the scene edits? Or did you like any other one from the artist's page? Share your thoughts with us in the comments below: