Fans who would be quite interested in knowing what made the Knives Out director Rian Johnson say that the coming sequel will not delve much into the backstory. While, Johnson had made it clear since the beginning that the film is based on Agatha Christie's mystery novels, specially the one, which had notably starring Hercule Poirot.
Knives Out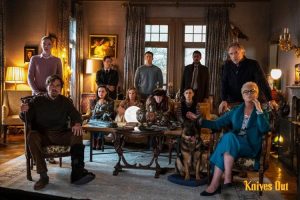 Knives Out was a 2019 realised, super hit mystery film. Th plot was something like this, a renowned crime novelist named Harlan Thrombey had died just after his 85th birthday, an inquisitive Detective Benoit Blanc arrives to investigate. Each one is a suspect, from Harlan's devoted staff to his dysfunctional family, Blanc sifts the truth through a web of red herrings and self-serving lies.
The Sequel
Even before the release of Knives Out, the director of the film, Rian Johnson had said that he would like to create some sequels with Benoit Blanc would be investigating some more mysteries He also stated that he already had an idea for a new film.
In January 2020, Rian Johnson confirmed that at that point, he was writing a sequel, which intended to lay focus on Blanc investigating a new mystery. Finally, on February 6, 2020, Lionsgate announced officially that a sequel was under development.
Expectations from the Sequel Story
Just like Young Indiana Jones TV series, which had demystified Harrison Ford's charming archaeologist by going on filling in all the gaps existing between his childhood and his adulthood. His adulthood was the time he's seen at the beginning of Indiana Jones and the Last Crusade and in the rest of the franchise. The Knives Out follow-up was being expected to follow same footprints by fans.
Director's Word
Johnson had made the point crystal clear from the beginning, in fact, far before the film became public that the film was inspired by and based on, 'Agatha Christie's murder mysteries', specifically those mysteries, which had to star Hercule Poirot. Now again, Johnson says that he will continue to guide him and be his North Star as he develops this (and any other possible) film(s) in this series.
Wrapping Up:
Even if we get another mystery and no history, there's quite a chance that this mystery turns out to be equally engaging as the last one. Or who knows, it can be even better too.
Wondering if you missed an epic movie? Watch the video to know:
Sources: Comic Book, The Hollywood Reporter