Martin Scorsese is often known as the spot-on director who never misses. But what do you get when you pair him up with one of the finest Hollywood actors, Robert De Niro? Nothing but greatness. The duo has given us some iconic films over the years that are still relevant. Scorsese's desire to tell a gangster story with De Niro in it has mostly paid off. Today, we'll talk about some of the best Robert De Niro films directed by Martin Scorsese. Check it out!
1. Raging Bull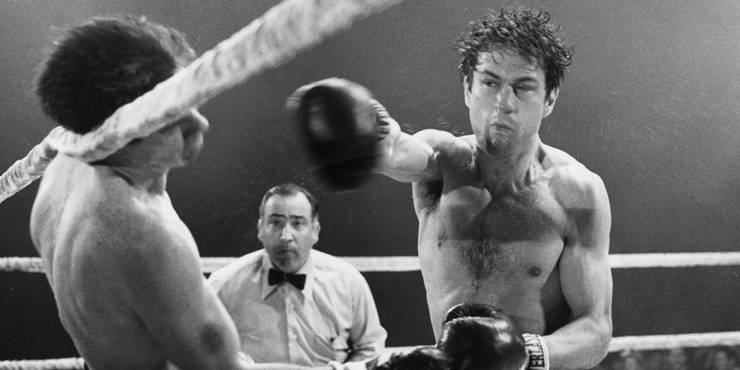 While filming Raging Bull, Scorsese was facing a lot of health problems and that it would be his last film. So, he gave this movie everything he had. The result was nothing but perfection. The phenomenal fight scenes that will hike up your adrenaline make the movie one of the best sports movies of all time. Fun fact – De Niro suggested the project to Scorsese and won his second Academy Award for it.
2. The Irishman
Scorsese and De Niro satisfied the fans who have an appetite for crime movies with this one. The movie had two biggest Hollywood names – De Niro, who played the real-life truck driver turned hitman Frank Sheeran and Al Pacino as Jimmy Hoffa. The project was so exciting that Joe Pesco came out of retirement for this one. The Irishman uses the de-aging technology perfectly to cut De Niro and Al Pacino into half their ages.
3. Taxi Driver
De Niro was defined as an actor from a different league with this one particular. Martin Scorsese did the perfect job in capturing the deteriorating mental health of Travis Bickel (De Niro) as he turns into a vigilante. De Niro used the liberty that had been provided by the director and improvised one particular scene. The scene where he talks to himself and says, "You talking to me?" is one of the most iconic scenes.
4. Goodfellas
GoodFellas easily glamorizes the crime world and proves why Scorsese is one hell of a director. The movie has a lot of memorable moments which made the experience so awesome. Let's not forget the "How am I funny?" scene of Joe Pesci which he improvised? Apart from this, Ray Liotta stars alongside De Niro's Jimmy. De Niro is calm, but killer. The direction and storytelling in this movie are a class apart.
5. Casino
De Niro and Scorsese have a lot of diamonds embedded in their tenure and Casino is one of them. The feeling of betrayal, power, and greed are soaked into every minute of the movie's runtime. De Niro plays a Jewish-American gambling expert who turns into a hotel and casino owner.
Which De Niro-Scorsese movie do you like the most? Let us know!