Spider-Man has been added to Marvel's Avengers for free for PlayStation 4 and PlayStation 5 owners. With a vast array of skins to acquire and/or purchase, he shows to be a pretty distinctive character in an already diversified range of playable characters.
With over forty skins to unlock, some stand out more than others owing to their effective use of redesigns and color. This is not the case with Spider-Man, as every character obtains new skins via content upgrades on a regular basis.
FUTURE FORWARD
Another MK II recoloring, the moniker Future Forward paired with the black-and-white color scheme plainly refers to the Future Foundation outfit. When the Fantastic Four were temporarily renamed the Future Foundation, Spider-Man joined them.
The texturing of the Future Forward suit is fantastic, with a mesh pattern on certain portions, glossy white armor on others, and a soft matte on the black pieces. When combined with the helmet, the Future Forward resembles the comic version of the suit's future idea.
S.H.I.E.L.D SUIT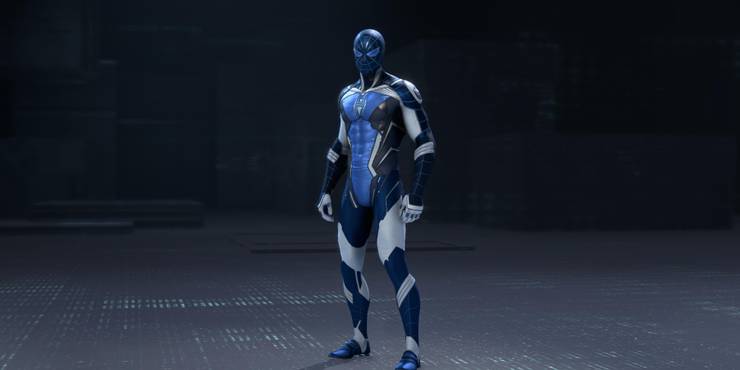 What if Spider-Man was a S.H.I.E.L.D. agent? That's the core idea behind Marvel's Avengers' S.H.I.E.L.D.-issue uniform. It's a blue-and-white uniform that flawlessly combines Peter Parker's distinctive look with the sleek, militaristic design that S.H.I.E.L.D. would wear.
Rather than merely recoloring the Secret Wars costume, Crystal Dynamics adds elements like the S.H.I.E.L.D. the symbol on his shoulders. The S.H.I.E.L.D.-Issue suit, when combined with the various armor elements, completely transforms Spider-Man into a covert agent.
CLASSIC
Sometimes all that is required are the fundamentals, and the Iconic suit epitomizes this concept. Crystal Dynamics, of course, adds its own spin on the distinctive style with more angular patterns and logos. The nice thing about it is that it manages to stand out amid a long line of movie and video game outfits.
The Iconic costume does not attempt to imitate the suit worn by Tobey Maguire, Andrew Garfield, or Tom Holland in Marvel's Spider-Man. It puts a distinct imprint on something so iconic, much like voice actor Sean Chiplock's performance, without copying the past.
MK-III
The MK III suit, one of Spider-most Man's iconic armors, is intended to assist Spider-Man in facing some of the Sinister Six's most formidable members. As a result, Spider-Man is dressed in heavy armor evocative of the DC universe's Red Hood, which matches his goal.
This one appears in The Ends Of The Earth narrative, as well as as an unlockable outfit in Marvel's Spider-Man. It's an outfit designed to make Spider-Man appear ready for battle, and Crystal Dynamics captured that well in their game, especially considering he's entering a war against A.I.M.
ANGLOPHILE SUIT
Consider the color scheme of a vintage Spider-Man costume for the Spider-Armor MK II. The end result is a stunning ensemble that feels like the logical progression of Peter Parker updating his costume. The silver eyes and emblem stand out against the dark blue and brilliant red background.
The armor gives Spider-Man a fantastic high-tech appearance without making him too close to Iron Man. It has some resemblance to Miguel O'Hara's Spider-Man 2099 outfit, particularly with the significant focus on the blue areas over the red.