Blac Chyna, an American socialite, and model, recently failed to astonish her fans with her appearance despite being a professional in her line of work. 
Along with Grammy's viewers, even the star's mother didn't seem particularly impressed by the star's flamboyant look when she made an appearance at this year's Grammy Awards on Sunday. So much so that it seems as if the two are at odds after mum Tokyo Toni couldn't help but voice her opinion about the bizarre outfit. Shalana Jones-Hunter, who goes by the moniker 'Tokyo Toni,' critiqued her daughter's 'Black Swan' ensemble in the scathing fashion takedown.
One of the Grammys' most controversial looks from 2023 was worn by Blac Chyna. How tense Blac Chyna's relationship with her mother can become is evident from a sneak peek at her new outfit selection for Grammy night.
Her brutally honest 51-year-old mother criticized her daughter's appearance in a conversation with TMZ on Monday. She regrettably did not approve of her over-the-top outfit choice.
Also read: "Don't ever meet your superhero": Kendall Jenner Does Not Want to Meet Brad Pitt Because He Makes Her Uncomfortable
No 'thumbs up' for Blac Chyna's Grammy outfit from her mom!
On Sunday, February 5, television personality Blac Chyna, whose real name is Angela Renée White, attended the Grammy Awards wearing an outfit that even her mother openly criticized. The socialite made her way down the star-studded red carpet while donning an oddly embellished all-black bodysuit. 
Chyna added some opulent gloves to the somewhat dubious ensemble and chose black eyeliner.
After this, mother Tokyo Toni publicly shamed her daughter for her choice of clothing and agreed that it was terrible, in addition to social media users who criticized the ensemble on Twitter. She continued the explosion by saying:
"It was horrendous. It was sickening. It looked like a worship ceremony. I texted Chyna this morning and, uh, when I found out and I saw it, um, I said, 'Chyna, what in the H is this?"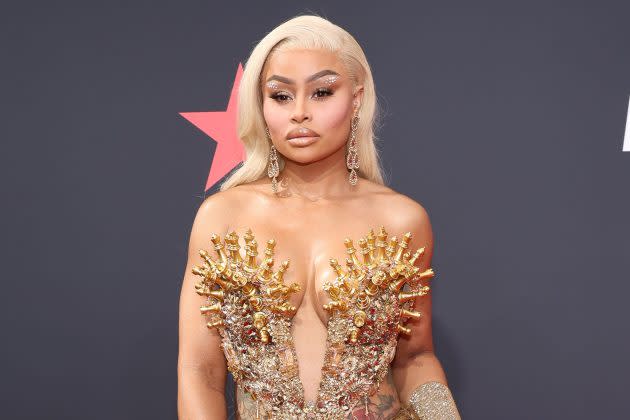 Toni said in a statement to TMZ. "Who are you trying to not impress?"
She also denounced Twin Hector, the new boyfriend of her daughter. Her daughter's "terrible" Grammys performance, in her opinion, was significantly influenced by the rapper.
Additionally, Toni argued that if you are going to attend the biggest night of the year, you should dress "very, very elegantly." She, therefore, thought her model daughter deserved to be the target of online trolls.
Also read: "Everyone bows down to Kylie…you're a hater": Huge Fight Broke Out After Billionaire Kylie Jenner Allegedly tried to Ruin Kendall Jenner's Night by Stealing Her Dress
Who else at Grammy night attracted attention for their attire choices?
In addition to Blac Chyna, other people also made some out-of-the-box 'bizarre' fashion decisions during the glitzy evening. 
Similarly divisive was Harry Styles' appearance on the red carpet. The 29-year-old former member of One Direction attended the event wearing a low-cut Swarovski jumpsuit, exposing his bare chest and numerous tattoos. The sleeveless outfit had flared legs, was composed of a rainbow of colored triangles, and resembled his 'Love On Tour' outfit in terms of glitter.
"I love this Grammy outfit," gushed one Twitter user. "Harry Styles looks amazing. He looks happy. And he's glowing. No one else could pull this off but him. I dig it."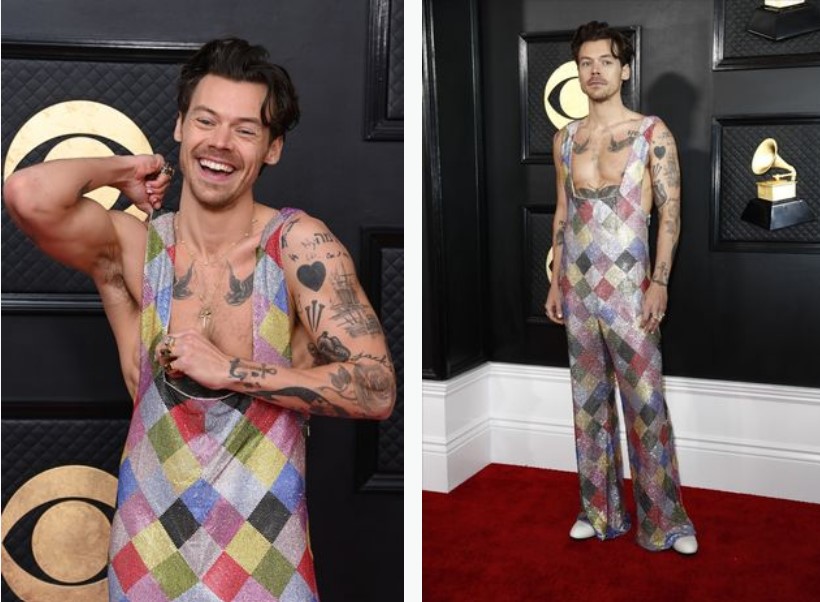 However, some even disagreed, including UFC fighter Conor McGregor, who ridiculed Styles's appearance by saying it was similar to a freestyle wrestling outfit. Then we saw, Beyonce, who was a few minutes late in a stunning gown but made up for it by becoming the artist with the most Grammy Awards wins, with 32 to her credit. 
According to the recording academy, nearly 50% of the top nominees for this year were women. The biggest night in music was held at the Crypto.com Arena in Downtown Los Angeles, and Trevor Noah once again served as the event's host. 
Also read: "Any connection they still have is strictly platonic": Kendall Jenner Gets Snubbed By Harry Styles After Breaking Up With Devin Booker as Singer Reportedly Hasn't Moved On From Olivia Wilde
The top contender apart from Beyonce was Lamar, who received eight nominations. Adele and Brandi Carlile tied for seventh place with seven each. 
Source- TMZ