Marvel Studios is slaving away for Phase 4, which is going to include both big-budget movies as well as television series for Disney+. The first that is supposed to greet our screens is next year's The Falcon and The Winter Soldier, which will follow the ongoing epics of Sam Wilson/Falcon (Anthony Mackie) and Bucky Barnes/Winter Soldier (Sebastian Stan).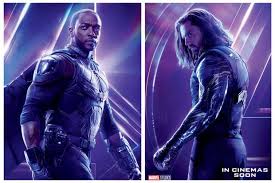 As of now, we've only been exposed to bits and pieces (mostly in plain clothes) of what Bucky is set to look like in the show, a new behind-the-scenes photo changes things in epic proportions.
The Twitter leak:
 Twitter user @yelenatswhore shared a photo of Stan that is rumoured to have been taken in a coffee shop between the series' production in Senoia, Georgia. The photo shows Bucky sporting his Wakandan-made metal arm, as well as a brown tactical suit.
MY MUSIC TEACHER TOOK THIS PICTURE! HE'S IN SENOIA OHMYGOD pic.twitter.com/jBKCrc9LRL

— jane (@rainykozume) December 18, 2019
The Reactions from the cast:
"I'll tell you I have [seen scripts]," said Stan about the series in a recent appearance. "I have seen them and I'm so excited about it. It's going to be so cool and kind of crazy. All I can say is it's just new and different from what you've seen so far. I mean, it will be totally in line with everything that has happened and what we've seen and so on, but these characters are getting such additional mileage in terms of learning about who they are now, what they feel, what they're thinking, and there's a lot of action, comedy, you know there's going to be comedy. I feel like you're going to be happy. I think you're going to be very happy. And there's some crazy stuff, like the stuff you don't see coming from anywhere."
The Falcon and The Winter Soldier is set to see the homecoming of Emily VanCamp as SHIELD agent Sharon Carter, along with Daniel Bruhl as the evil Baron Zemo. The series will cater to the debut of John Walker/US Agent, brought to life by Wyatt Russell.
What do you think of the latest look at Bucky Barnes in The Falcon and The Winter Soldier? Share your thoughts with us in the comments below!
Source: Comicbook