The Duchess of Sussex, Meghan Markle enlightened her audience about some serious topics in her Tuesday podcast, Archetypes. She expressed her disappointment with how stereotypical people could be while talking about females and them exploring their sexuality. It is so vilified. She shared how society has double standards for judging a person based on their gender.
She talks about how people considered her a bimbo girl. The Suits star shares about her work life before her marriage. Howie Mandel, the host of the show where the Duchess used to work says that he didn't really remember the time when she was on the show. Later, she left the job and got married to Prince Harry in 2018. After her marriage, Markle left acting and her past jobs. She became part of the British royal family.
Read more: "They have not changed a single thing": Meghan Markle and Prince Harry Branded "Spoiled Brats" For Tarnishing Royal Family's Reputation Just to Make Millions of Money
Meghan Markle talks about the taboo of female sexuality
Meghan Markle talks about female pleasure and sexual exploration on her Spotify podcast, Archetypes. She talks about how we grow older and tend to feel like exploring our sexual likes and dislikes. We start to understand our feminine energy and it's very normal. Sometimes this exploration can be against our will. You will find things about yourself that you never knew at a young age. She said,
"I don't understand what it is about the stigma surrounding women and their sexuality and the exploration of their sexuality that is so much more vilified than for a man." 
It's funny how society discriminates between men and women. Men exploring themselves, and expressing their desires are often accepted by the world. But it's not same with the females. They are looked at with eyes of shame and are objectified for expressing their needs.
"A man, if he is a player, out having fun or whatever he's doing, it's often celebrated. Even heralded…But for a woman, I don't care if she's perhaps the most successful woman in finance in her mid-50s, I promise you, someone will still go, 'But she was such a slut in college.'"
The concept of female sexuality sticks with her like glue for lifelong. Prince Harry's wife shares her own life experience and how society objectified her.
Read more: 'There were some bad moments between them': Meghan Markle, Prince Harry Reportedly Unhappy With the Tone of Their Netflix Series, Got Director Garrett Bradley Fired
Duchess of Sussex talks with Paris Hilton in her podcast
Read more: Meghan Markle is Reportedly Afraid of Kate Middleton's US Visit, Has Big Plans to Steal the Spotlight from Her and Win the Popularity Contest
The Suits star talks to Paris Hilton about being called a bimbo girl. Before becoming the Duchess of Sussex and marrying Prince Harry, Markle used to work on the show Deal or No Deal from 2006 to 2007. She used to be a briefcase girl. She says that the show was all about beauty and it had nothing to do with the brain. But she was glad that the job made her pay her bills and manage her finances. But ultimately left the show.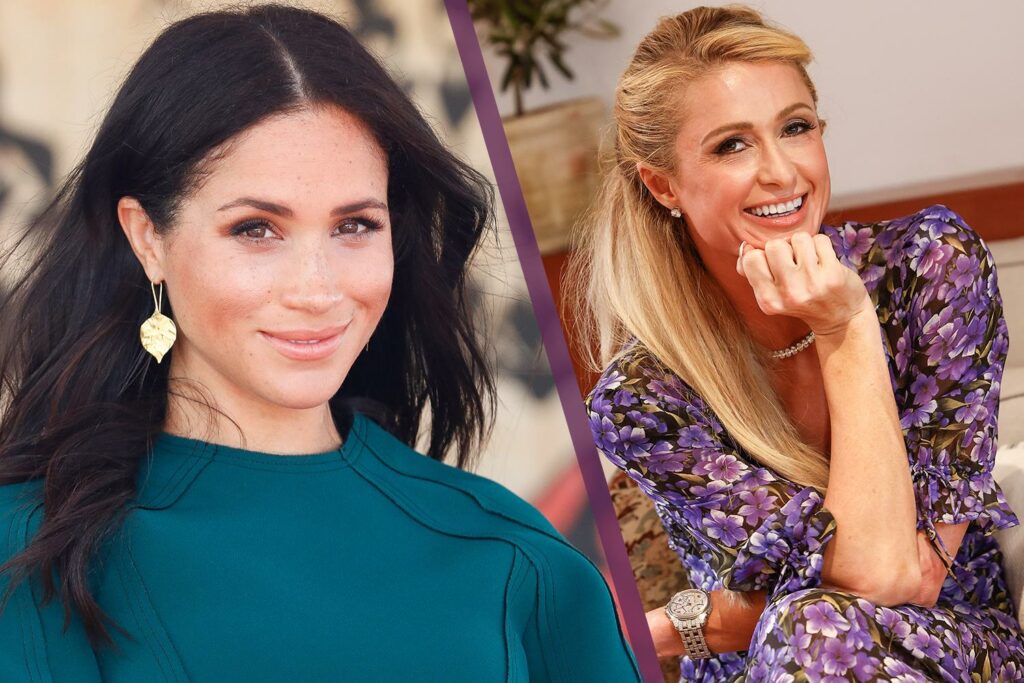 "I ended up quitting the show. I was so much more than what was being objectified on the stage…I didn't like feeling forced to be all looks and little substance, and that's how it felt for me at the time being reduced to this specific archetype: the word 'bimbo.'"
Markle was judged by a number of Instagram users for her past jobs. They even called her a hypocrite. They allegedly referred to her as a woman who was caught performing oral s*x in the car. Markle says that though she was surrounded by smart women on the show, it barely mattered. Whatever you do, society will objectify you in one or the other way.
The Suit star shared that she wishes to raise her daughter strong and confident enough to handle all these societal taboos. She wants to make her a girl who is known for her brain rather than her beauty.
Source: Page Six