Avengers: Endgame is one of the biggest hits by the Marvel Cinematic Universe. The movie had a three-hour run time and was entertaining until the conclusion. Yes, there were some funny moments and certain sad scenes that broke our hearts. However, this doesn't stop us from appreciating the Russo Brothers' masterpiece. Recently there was a revelation on how the finale cut down Black Panther's fight sequence. It turns out, this missing piece of the puzzle is replaced by the fight sequence between Thanos and Captain Marvel.
Captain Marvel's Cameo
Avengers: Endgame editor Jeff Ford reveals that they expanded Carol Danvers' part in the battle because of Brie Larson. Captain Marvel released precisely a month before the eagerly awaited franchise. Jeff Ford tells Slash Films, "When Captain Marvel arrives, that was in the script from day one, the way she comes through the ship. We knew she was going to do that, but what we did alter and add and expand later, mostly because of how much we loved what Brie was doing with the character, was her fight with Thanos before he power punches her back."
Last Second Rewrite
According to Jeff Ford, it is Anthony Russo who came up with the idea of rewrite. The scene is a last-minute reshoot between two of the most compelling characters. The view is where Thanos pulls the power stone out of the gauntlet. He then proceeds to punch her with the raw power stone. But it is of no use as she quickly shows Thanos who is in charge. This scene was mainly to showcase that even if Thanos did try to sideline Captain Marvel
for a minute, there's no way to do it as she is powerful.
Check out the fight sequence between two super powers: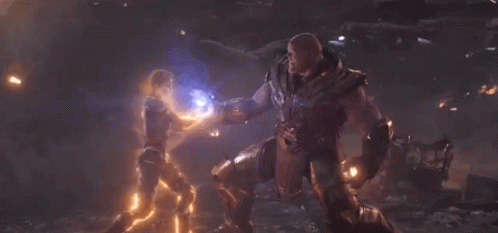 Future of Demised Heroes
Though it was Tony Stark who vanquished the Mad Titan, his sudden demise deeply upset us. But fear not as Disney Chairman Bob Iger recently reveals that there will be appearances from Earth's Mightiest Heroes in future projects from Marvel Studios. So it's not sayonara after all. Bob says, "In Marvel's case, I'm calling it the post-Avengers world, it doesn't mean there aren't films being made with characters from the Avengers. We have Black Widow coming out, in fiscal '20, and a Thor 4 movie in the works, and I can go on and on. We also are mining other characters like Eternals."
Source: Comicbook