Warning: SPOILERS for Captain Marvel #8
Thing just keep getting worse and worse for Carol Danvers, AKA Captain Marvel. As if it wasn't enough of a shock to learn that her mother was secretly a Kree Warrior, the secret being made public now means that Captain Marvel is the world's most hated superhero. But through it all, the silver lining is that Carol still has her delightful cat, Chewie… who might have just been swallowed whole by Carnage!
Carol Danvers dearest cat may have been swallowed whole by Carnage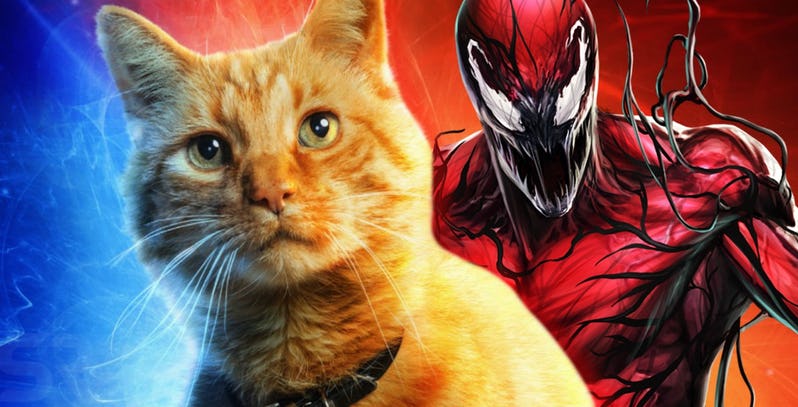 If readers haven't been keeping up with the latest Marvel Comics releases, it will be news to hear that the publisher has taken a cue from the MCU in advertising the coming Absolute Carnage event. Using small, single-page "post credits" scenes in select comic books, the coming of Carnage in his new Symbiote God form has been teased in dramatic fashion. It turns out Cletus Kasady has been keeping tabs on many of Marvel's most beloved characters. Sadly for everybody's favorite Flerken, that also includes Captain Marvel's adorable (but dangerous) cat.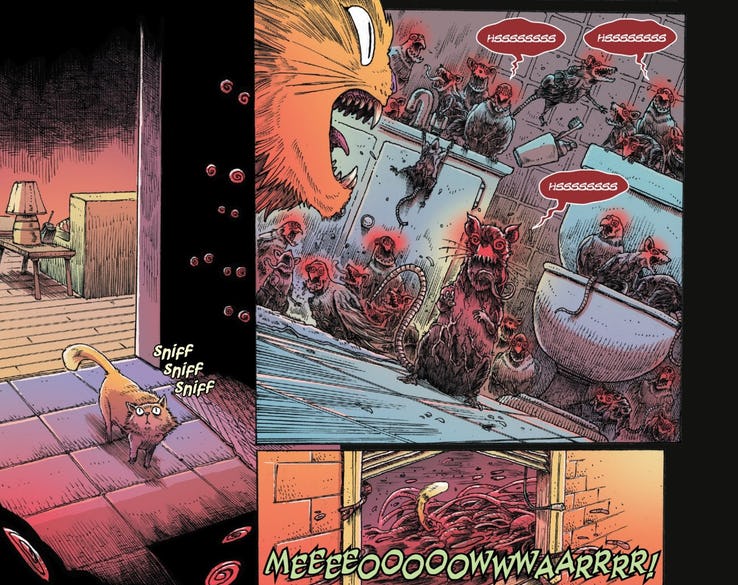 The last page of Captain Marvel #8 supplies the twist, showing Chewie (known as Goose in the Captain Marvel movie) happily chasing after a rat. But when the Flerken tracks her prey into a dark bathroom, she discovers the rat was merely bait to lead her into a horde of red-eyed rats and birds. This can only mean one thing: these creatures have been possessed by Carnage. Not one to back down from an otherworldly threat,  Chewie unleashes her best hiss–only to be met with one from her opponents, before the last panel shows Chewie swarmed by a storm of red symbiote tentacles (able to utter on last "meowwww").
After turning Venom's world upside down a year ago, DONNY CATES and RYAN STEGMAN are about to put the Sinister Symbiote through hell again, only this time CARNAGE has come calling, and everyone who's ever worn a symbiote is dead in his sights! He's skirted the periphery of the Marvel Universe for months, but Cletus Kasady at last stands poised to make his grand return to New York in a blistering triple-sized story…and he wants to paint the town red!
Release: Captain Marvel #8
Captain Marvel #8 is available now at your local comic book shop, or direct from Marvel Comics.
Source: Screenrant , youtube