Andrew Lloyd Weber's Cats has been highly anticipated by the audience and is releasing on the 20th of this month. But online movie critic Rotten Tomatoes has released the reviews and according to it the movie just manages to 'purr' on the big screen. The movie has been hailed for its elite star cast but still, RT has rated it pretty low. Here are the most plausible explanations for the bad performance of the movie.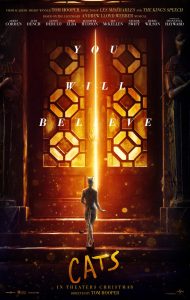 Visuals and Direction
The films CGI has not been praised a lot. The A+ cast of the movie including Judi Dench, Idris Elba and Jennifer Hudson, have been turned into humanistic cats. This does not sit in comfortably with the audience. Presently, a total of 89 reviews have scored the film a meagre 17%. However, with 15 fresh reviews, the other 74 belong to Rotten Tomatoes and there is a mixture of praises and criticisms. The other negative has been the direction, as the critics mention. The direction by Tom Hooper has been cited as dull, boring and lifeless. Not a big roar, Tom! The movie is described as an unforgettable train wreck and we are not surprised.
Positives
The positives include the hard work of the cast to bring the characters to life and the songs too. The songs have been praised as has been the acting of Dench, Elba and Hudson. But it seems like it was not enough to land Cats on all its four feet. Rather, it has plummeted down.
The Cast
Cats has a great line of actors. All of them are experienced and have been part of blockbusters. But as it is often said that "Too many cooks, spoil the broth", the Cats cast may have taken the movie a little bit too far. It is evident from the movie that the actors have worked hard to get into the skin of their character.
Source: comicbook