Chadwick Boseman breathed his last on 28th August 2020 after a long and strenuous battle with cancer. Diagnosed with stage III colon cancer back in 2016, Chadwick Boseman managed to star in a staggering seven movies in a span of four years. Despite his failing health, Boseman's dedication to the art is nothing short of superheroic in nature.
In 2016, Chadwick Boseman rose to meteoric fame when he made his debut as Black Panther in Captain America: Civil War. As the king of Wakanda, Boseman's portrayal of King T'Challa was an impactful role despite having limited screentime. As a result, Marvel Studios promptly released Black Panther in 2018, and the rest is history.
Ryan Coogler's Black Panther received universal acclaim upon its release, becoming the only Marvel movie to receive a nomination for Best Picture at the 91st Academy Awards alongside receiving seven other nominations. As the first superhero movie with a predominantly Black cast, Black Panther revolutionized the superhero industry which was dominated by white, male characters.
Also see: Chadwick Boseman's 10 Best Movies
Apart from revolutionizing the superhero movie industry as King T'Challa, Chadwick Boseman also proved why he was a true king even when not showing his acting prowess on the big screen. Here are 7 heart-warming instances when Chadwick Boseman showed why there will never be another actor like him.
1. Met Fans In Backstage of The Tonight Show Starring Jimmy Fallon
After Black Panther's widespread acclaim upon its release, Chadwick Boseman became an inspiration for millions of Black people across the world. After its release, numerous fans wished to meet their newfound icon donning a suit of vibranium.
Making their wish come to life, Chadwick Boseman surprised a few select fans at the backstage of The Tonight Show Starring Jimmy Fallon. Boseman's easy-going demeanor and humorous personality made this segment one of the most beloved videos of the show.
2. Heartfelt Tribute To Denzel Washington
Chadwick Boseman was an alumnus of Howard University. He was selected along with a few other students to attend the prestigious British American Drama Academy's Midsummer program. Unfortunately, the group of students did not have enough funds to attend the program and probably miss out on the chance of a lifetime.
As fate would have it, veteran actor Denzel Washington became their guiding angel as he funded their entire program. Years later, his kindness gave birth to Black Panther and many other iconic roles played by Chadwick Boseman.
"As fate would have it, I was one of the students that he paid for," Boseman said. "Imagine receiving the letter that your tuition for that summer was paid for and that your benefactor was none other than the dopest actor on the planet."
3. Fought With Marvel To Use African Accent In Black Panther
Originally, Marvel Studios had decided to use a British accent for King T'Challa and the rest of his subjects of Wakanda. Considering an African accent to be a bit too much for the audience, Marvel Studios had almost finalized the decision.
Like a true king and an icon for millions of Black people across the world, Chadwick Boseman fought with the executives of Marvel to incorporate an African accent for all the characters. Instead of compromising, Chadwick fought for what was right, and the rest we know is history.
4. Chadwick Boseman Stayed In Contact With Terminally Ill Kids Suffering From Cancer
Prior to the release of Black Panther, Chadwick Boseman stayed in contact with two terminally ill kids who were suffering from cancer. The two kids were massive fans of Black Panther and could barely hold their excitement to watch their favorite character on the big screen.
Unfortunately, the kids passed away before the movie was released. As Chadwick himself was suffering from cancer during that period which was unbeknownst to most people, the death of the kids broke him down. However, the kids gave Chadwick a purpose to make the character of Black Panther an icon and an inspiration for people across the world.
5. Chadwick Boseman Paved The Way For Michael B. Jordan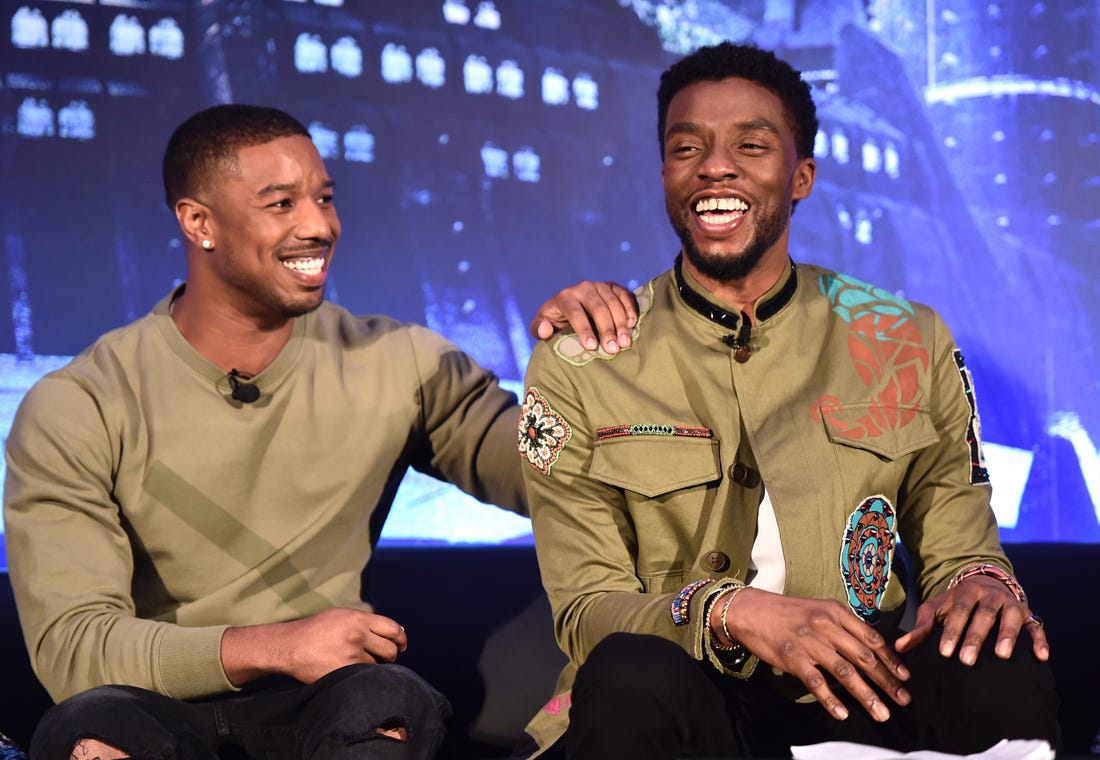 In Black Panther, Michael B. Jordan's Kilmonger pushed Chadwick Boseman's T'Challa to the limit and made him see the world from the perspective of a helpless, Black person in a world dominated by privileged white people. The best of foes, Jordan and Boseman actually go way back to 2003.
Also see: Famous Shows You Didn't Realize Chadwick Boseman Starred In
Chadwick Boseman was cast in ABC's All My Children back in 2003. ABC's stereotypical Black character role made Boseman leave the show to look for other ventures more aligned to his ideology. As a result, Michael B. Jordan was cast in the same role, paving the way for the young actor. So in a way, Chadwick Boseman was responsible for kickstarting Jordan's acting career, for which he shall remain forever grateful.
6. Chadwick Boseman at Howard University Commencement Speech in 2018
As an alumnus of Howard University, Chadwick Boseman owes most of his success to his alma mater. His meteoric rise made him a guest speaker at the university's commencement speech back in 2018.
Also see: Chadwick Boseman: The King Might Have Left One Big Surprise For Us
In the powerful and moving speech, Boseman talked about purpose and things people are meant to fulfill during their existence. A speech fit for a king, his commencement speech has been viewed by several million viewers across the world.
7. Chadwick Boseman and His Intellectual Prowess On The Daily Show With Trevor Noah
A strong king is a good king. But a wise king is a great king. Described by his co-actors as quiet, reserved, and stoic, Chadwick Boseman loved to read books even during filming. As a result, his answers to difficult questions always sounded so eloquent and logical.
Also see: The 10 Best Chadwick Boseman Performances
Chadwick Boseman made his appearance on The Daily Show With Trevor Noah back in 2018. In what seemed to be a simple question about good and evil in Black Panther, Chadwick Boseman took the philosophical route and showed his intellectual prowess to the fans. When asked about the hero of the movie, he simply replied "Everyone is a hero in their own story", and went on to explain his answer with the most pleasing and rational eloquence expected from a wise king.
Having impacted millions of people from various ethnicities, races, nationalities, and religion, Chadwick Boseman's untimely death has left a void which can never be filled. A true superhero even in real-life, Chadwick Boseman's career was short yet meaningful. After four years of battling the deadly disease, the king rests easy. Wakanda Forever!