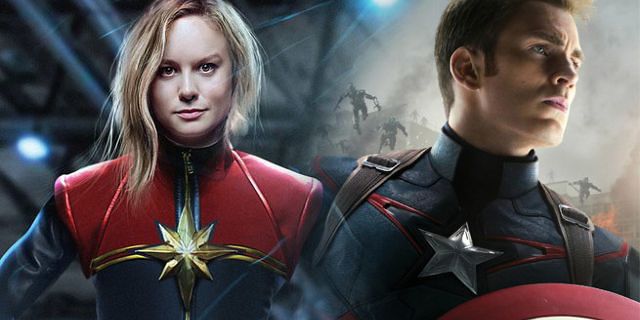 We all know that Captain Marvel has just hit the theatre and it is already making a huge buzz. Well, why not? Even Captain America a.k.a Chris Evans congratulated Brie Larson.
This Brie Larson and Jude Law starter is already a box-office hit and is going amazingly well in the market. It is a standalone Female Superhero movie fronted by a woman and a first starter for the MCU. You might have seen the mighty Captain Marvel in the comic universe but seeing her on screen is a full star of the show. The stakes were already high since DC dropped the banging movie of the decade with the last year starrer by Gal Gadot in Wonder Woman. But Brie Larson did it better. (Maybe in my opinion)
Also Read: Kevin Feige Reveals Why Nick Fury Didn't Call Captain Marvel Until 'Avengers: Infinity War'
It's Captain America and Captain Marvel Together!
We all know that when the stars get together, it is exciting to see them around. And just like that, mutual support is the best. Chris Evans was just as happy as we were when he saw Brie Larson on the big screen. He wanted to show her that he felt a substantial amount of gratitude for her role in the Captain Marvel movie. Chris Evans took to Twitter to congratulate Brie Larson:
Boom!! Congrats @brielarson well deserved!! #CaptainMarvel https://t.co/WpY8sVeuvf

— Chris Evans (@ChrisEvans) March 10, 2019
Captain Marvel Behind the Scenes
Even though the star of the show had faced some allergic reactions during her shooting but she went on. She commented that it was hilarious that she was made to do a variety of stunts around the set and the crew joked around with her with the performance of the crazy stunts. She was made to practice judo into the take.
Also Read: Shazam: Will Superman Appear In The Film?
Captain Marvel is making some noise and has already topped the $61.5m in the official box office release somewhere around on Friday. It is said that Captain Marvel is supposed to cut with a grossing amount of $160m. And it has the list of the highest earning MCU movie made in the Marvel Studios. While fans are already going crazy over the show, they can't wait for the other MCU starters which are going to make their debut in 2019.
Not only Chris Evans, but all the stars are showing their apperception towards Brie Larson. She is the most powerful character of the MCU universe, and people are famously rooting for her more. So haven't you watched it yet? Well, it is high time that you should do it right now!