A young boy named Bridger has recently made headlines as a hero. On July 9th, he protected his younger sister from a dog attack, by selflessly jumping in front of her. Bridger was bitten several times on the face, but he managed to pull himself and his sister to nearby safety.
The young boy later explained, 'If someone had to die, I thought it should be me'.
Nikki Walker, Bridger's aunt, shared the story through Instagram, while Bridger was recovering in hospital. He had to have ninety stitches in his face.
Also Read: 'The Batman' Will No Longer Film On Location
The story instantly started trending and Bridger's heroics attracted the attention of some of his favourite celebrities and superheroes. Including Captain America  himself – Chris Evans.
Chris sent Bridger a personal video message:
https://www.instagram.com/tv/CCrmxv1gTek/?igshid=ise913ghzi62
'Pal, you're a hero, what you did was so brave, so selfless — your sister is so lucky to have you as a big brother. Your parents must be so proud of you… Keep being the man you are; we need people like you. Hang in there. I know recovery might be tough, but based on what I've seen, I don't think there's much that can slow you down.'
Evans has also promised to send Bridger an authentic Captain America shield.
You Might Also Like: Dark Knight: Joker Was Ex-Military Intelligence Officer
Bridger is making a full recovery back at home and is reportedly in 'great spirits'. His family have also explained that they aren't angry at the owners of the dog.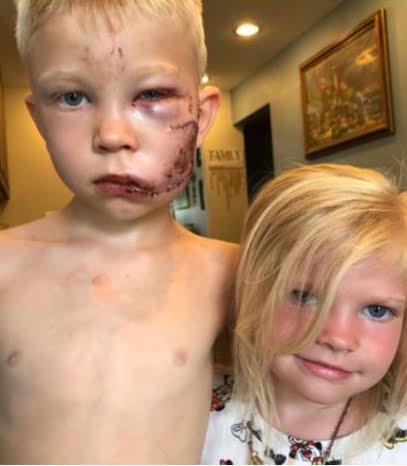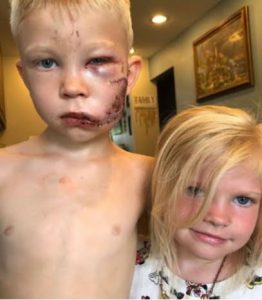 If you would like to send any messages or gifts to Bridger and his family, Nikki Walker has shared an address:
'Once again, everyone's kindness has meant so much to us. I'm trying to get to all of the messages that I can, but it may take some time. For those who have inquired about sending Bridger some rocks, here's the address to use:
Bridger Walker
P.O. Box 22141
Cheyenne, WY 82003.'
Source: Little Things