Acting is not an easy task. It is no breaking news that it requires immense effort on the actor's part. And the effort is not confined to just acting. For various projects, actors have to put in a lot of hard work to prepare themselves for their roles, physically. And there's one person who has taken his efforts to different heights. He's none other than Christian Bale, the actor who is no stranger to changing his shape and size to fit into his roles.
Christian Bale never shies away from changing his weight for different roles
The 48-year-old actor has made a reputation for playing characters that require him to change his body weight drastically. Be it getting ripped for American Psycho, bulking up for Batman, or shedding weight for The Fighter, the actor has done it all in his over 22-decade-long career.
For The Machinist, Christian Bale had to reduce his weight to 54 kg. The actor brought his weight down for the 2005 flick by a staggering 25 kg. Soon after came The Batman, for which he needed to weigh approximately 90 kg. The actor pulled through yet again, increasing his weight by 45 kg. Fans couldn't wrap their heads around the fact that they weren't watching two different people in action.
For American Hustle, the actor had to increase his weight to 103 kg. So the actor increased 20 kg yet again. he had to increase his weight in 2018 again, for playing the role of Dick Cheney in Vice. It is reported that he gained 40 pounds for the same. Safe to say, he has been one meticulous actor when it comes to preparation for his roles.
Also Read: 'She Never Called Me Again': Christian Bale Still Vengeful Drew Barrymore Dumped Him So Mercilessly
Christian Bale is not so invincible right now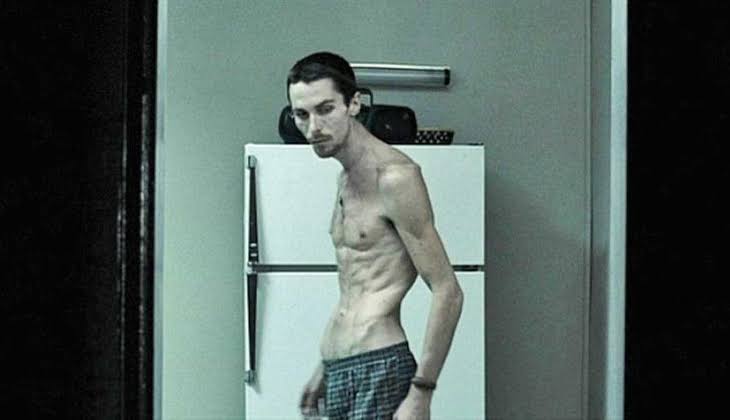 But in an interview with The Sunday Times, the actor has revealed his recent struggles. He told everyone that this dedication on his part was finally beginning to take its toll on him. He said, "I can't keep doing it. I really can't. My mortality is staring me in the face."
Seems like Christian Bale has had a reality check about his situation. He understands that the part of his life where he could change his weight drastically is gone. He had to stack on "a whole lot of cheeseburgers" and "a lot of pies" for increasing his weight, a method that doesn't have regard for one's health.
How did the actor's family deal with the situation?
The actor  disclosed that he was worried for his family, but he added, "No matter what happens, my wife's seen it." He also revealed his son loved "bouncing up and down on his father's tummy." he added, "my son loved the tummy. He would just bounce up and down on that a lot and headbutt it and bounce off it and fall to the floor." Seems like the family had more or less wrapped their heads around the problem. It remains to be seen if the actor will agree to undergo such drastic weight changes for another movie.
As for his next role, Christian Bale is now set to play the role of Gorr: The God Butcher in Marvel Cinematic Universe's Thor: Love and Thunder. The movie will release on 7th July.
Also Read: Here's why Christian Bale still hasn't seen the Batman
Source: Men's Health