Avengers Endgame has got the fans drooling over its characters. The primary Avengers have now taken backstage, and the Internet has now been talking about the lesser-known heroes. Though these heroes did not get much of the screen time, they played their part in saving the world from the Mad Titan Thanos. Recently, concept artist Phil Saunders took over the Internet to put the spotlight Don Cheadle's War Machine.
First Appearance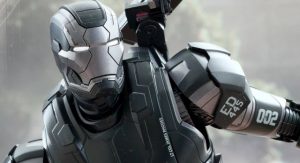 War Machine has been the topic of many discussions related to Iron Man. The suit appeared in the first movie itself and had the power to be as destructive as its name suggests. Easily considered as one of the fines creations by Tony Stark, War Machine was taken over by Colonel Rhodes. The Colonel of the U.S. Army justified the purpose of the Armour and Stark was more than happy to have him on his side in every fight.
War Machine: Through the years
The first version of the War Machine suit gradually got updated. The Endgame artbook gave the fans an idea about the transformation that the suit went through. The book presented various designs such as the one with the integrated Quantum Realm and another with a floating gear. But the final look was as most of the fans will remember from the Endgame. The suit surely caught the attention of everyone, and now Saunders is back with his updates on the suit.
When is the War Machine hitting the big screen?
A new War Machine movie was in talks, but there has been no confirmation. Disney+ is on a roll, and that could imply that we get to see Rhodes down the road. Cheadle is not going to turn off any opportunities, and maybe we can expect an appearance.