Kim Kardashian is an American socialite, model, and businesswoman. The Kardashians star has been in the news for months regarding different incidents. In most recent report, she has broken up with comedian Pete Davidson. The couple has decided to part ways after nine months of being together. Two weeks after their breakup, Kim K wore a bikini to the gym and uploaded some thirst traps to her Instagram. 
You may also like: 'Instagram Doesn't Reflect Life': In Rare Occurrence, Internet Praises Kim Kardashian for Sharing Unedited Cellulite Pics
Kim Kardashian Uploaded 'Nearly-Naked' Pictures
On Monday, the SKIMS founder uploaded her pictures wearing only a bikini and knee-high boots. That was not the odd part of the pictures though, as the Kardashian-Jenner siblings are known for uploading such pictures on their socials quite frequently. The odd part was that she posed for these pictures in a gym against gym equipment. The model captioned the pictures, "I do my own heavy lifting."
Also read: 'All That Damn Money And Not An Ounce Of Creativity': Fans Blast Kim Kardashian For Extravagantly Spending On Luxury SKKN Office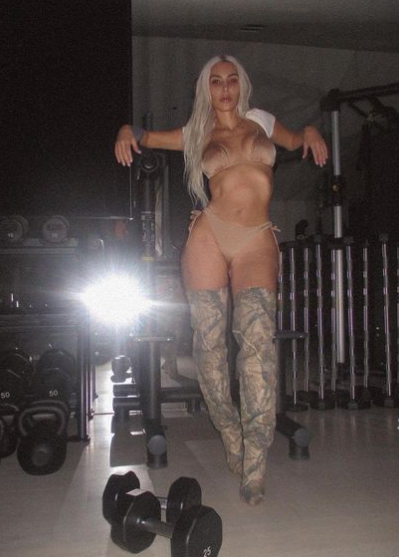 Also read: 'I Do My Own Heavy Lifting': Kim Kardashian's New Raunchy Photoshoot
In another post, Kim K shared the behind-the-scenes from the photoshoot on her Instagram. Check out the post here. Now, how she was able to work out in that outfit is something that has been bothering everyone since yesterday. Because at the end of the day, the outfit looks ridiculous and uncomfortable for a gym.
Fans Troll the Model for such an Unnecessary Outfit
Fans were clearly very unhappy with a pointless outfit and took it to Twitter to mock Kim Kardashian.
Kim Kardashian Wore a Nude Bikini and Thigh-High Boots to the Gym In fairness it was right after going to church.

— Paul Lander (@paul_lander) August 15, 2022
People are calling her outright stupid for wearing something like that to the gym.
I'm sorry but Kim Kardashian working out in a bikini and knee high boots is one of the stupidest things I've ever seen

— ・ 。✧ melodic dubslut *゚: . 。 (@shelbbbsz) August 14, 2022
From zip lining to posing in a bikini for selfies. Just proves my last tweet to be truth. Has kids but loves herself more. There's your time , now back to myself. Nannies help.

— @EVO 🫒 (@EnterViewsOwnly) August 16, 2022
And some people just woke up and chose to speak the truth.
… So tired of the Kardashians… Can we get someone with talent, please? pic.twitter.com/Y7iEH3tAo8

— Bex V (@Rk_bv) August 16, 2022
Cringy af. Let's see her do some squats in that stripper attire. Always playing dress up.
Kim Kardashian poses in nude bikini and thigh-high boots https://t.co/I9d4rQnjiB via @Yahoo

— Tuesday (@Tuesday44753242) August 14, 2022
You may also like: "Do You Have Pete's Number?": Kim Kardashian Reveals How Desperate She Was to Meet Pete Davidson
Her breakup with the comedian Pete Davidson is still relatively new, maybe this is her just dealing with grief. Sources say that they have decided to break up because of their busy schedules, there have been no comments from either of them as of yet. On the other hand, Kim K has been busy co-parenting her 4 kids with Kanye West and it's reportedly been going well.
Source: E! News