There have been tones of Batman movies throughout the years. Be it animated movies, live action films or even the cancelled movies. Batman has been one of the most popular characters not just in DC universe but in Superhero world at large. As a result he has been one of the most loved characters in the entire world. Since its first film released in 1966, many actors have been casted for the role over the decades. Ben Affleck, Christian Bale, George Clooney, few to name along with many more have worn the famous Batman suit and as a result the fans have strong opinions.
Now Warner bros have confirmed new movie "The Batman" coming in 2022 with Robert Pattinson starring as the new Batman.
But the reactions from the fans have not been very welcoming for him.
Here are best memes showing fans reaction to the same.
Don't Judge Quickly
Robert Pattinson as Batman is phenomenal casting. One of the hardest working actors today. If you've written him off, please watch Good Time and come back to me. pic.twitter.com/ystyLrIuYM

— Liam De Brún (@liamdeb) May 17, 2019
Fans who favor Robert Pattinson as Batman have rightly pointed out that most of the people who are criticizing the casting have only seen him as Edward in Twilight or as Cedric in Harry Potter. But those are not the only roles he has played, he has been seen performing several other characters and has been praised for the same. Many fans have pointed out to his performance in "Good Time".
In this movie he plays a character that robs a bank and has to avoid the law. There is no denial of the fact that Pattinson has played the role brilliantly.
He Might Turn Out To Be Brilliant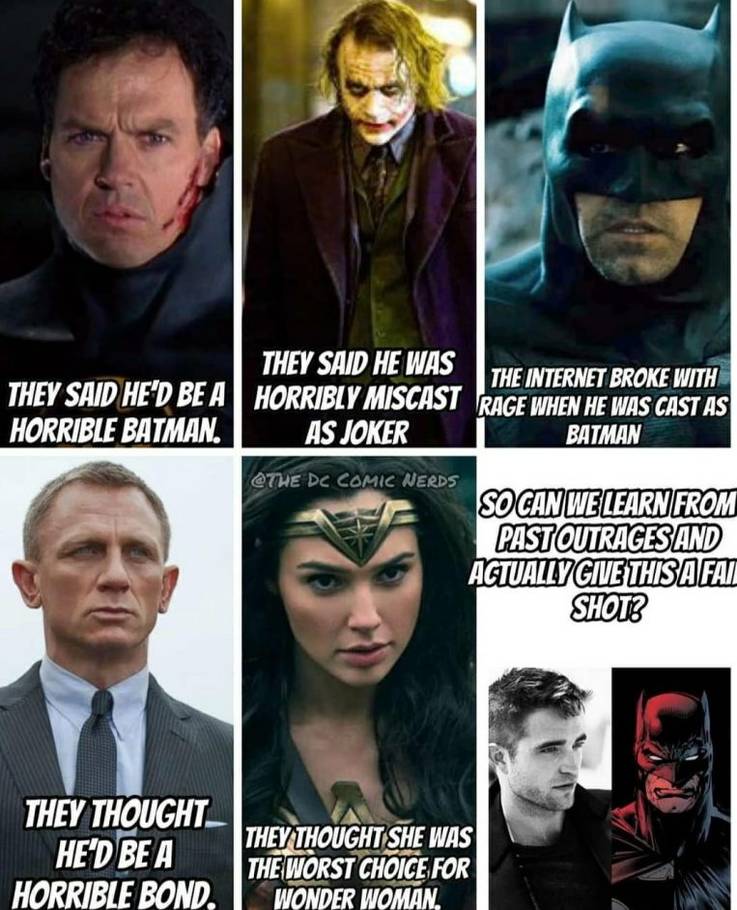 The fan who made this meme wants to give a clear message "Give Pattinson a chance!"
Over the years there have been many actors who have been criticized when chose for the role as shown in the meme. However, they performed so brilliantly that the fans adore them,
Surprisingly, Heath Ledger has also faced the similar backlash and many comments regarding his casting as Joker . He obviously proves his haters wrong and now has set the benchmark so high that it is impossible to reach it. If given a chance, Pattinson might surprise us too.
A Star Cast Enough To Make You Drool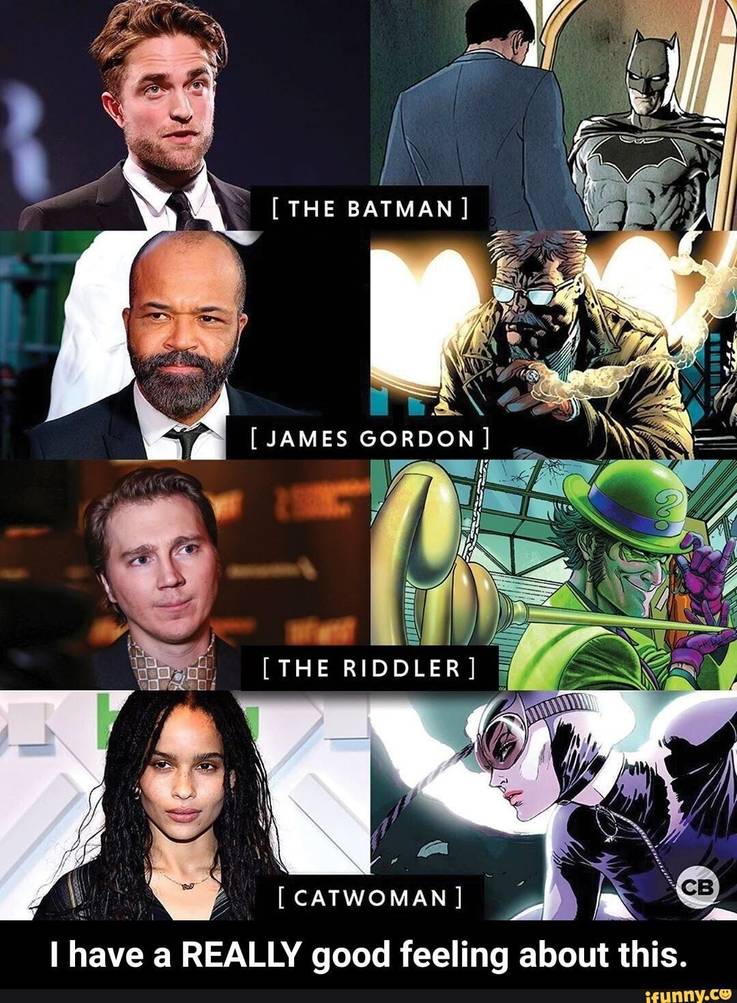 The person who made this meme is correctly looking at the movie with the positive approach . It is pointed out that with the talented actors like Jeffrey Wright (seen in Westworld), Paul Dano and Zoe Kravitz along with Pattinson have all had their individual successes.
Pattinson has had many award nominations and even won several of them.
With such a star studded cast, this movie will be expected to make a hit.
Can't Escape Twilight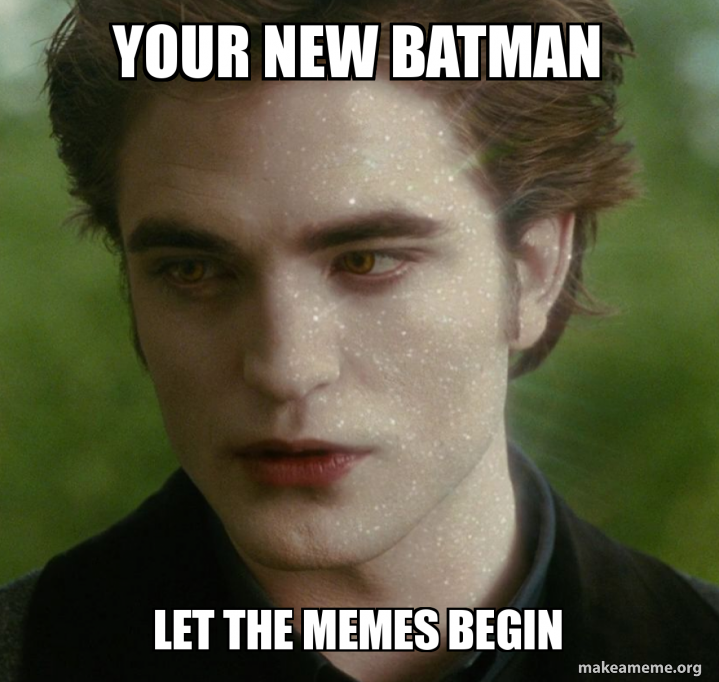 One of the famous teen flicks, The Twilight took over the world in early 2000s and had many fans. Pattinson played a vampire, Edward Cullen who for some reason sparkled in sunlight. He till today has many fans that refer to themselves as team Edward.
But however, Pattinson himself has never been happy with his Twilight past. He has on many instances been verbal about the same. His hatred is understandable as it's been more than a decade of the release but Edward still haunts him.
He Is More Than Edward!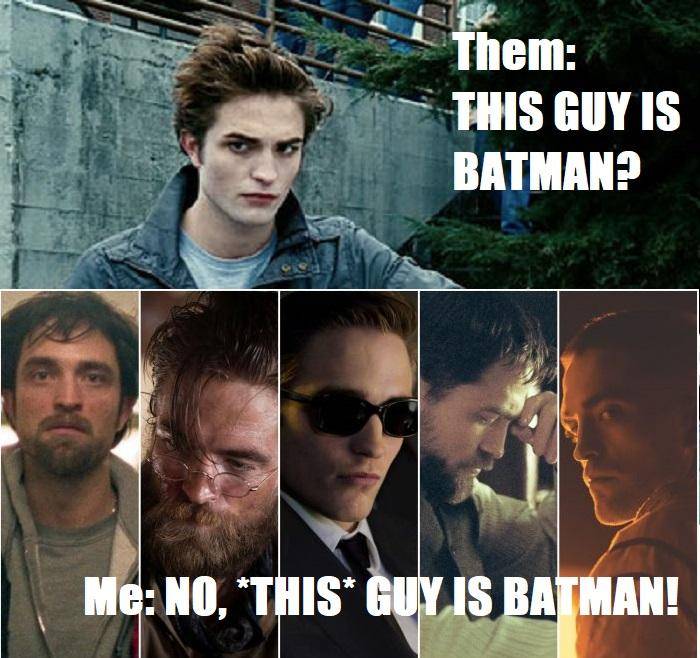 It is high time people stop hating him for playing Edward Cullen.
He has played many diverse roles over these years and it has not just been of a same teenage
vampire
and few serious roles proving the audience that he is very capable of playing any role thrown at him.
He has been seen in many roles from a tortured man in "The Lighthouse" to playing an adult role in a romantic movie "
Remember Me
" which had left us all in tears.
The Batman fans should consider and have a look at his other films as well before judging him only for playing Edward Cullen.
After all, we have to let him try!