The DC FanDome Event opened a huge door of infinite possibilities for the DCEU. President of DC Films Walter Hamada confirms that more DC Elseworlds movies will be part of the DC Extended Universe franchise. While Superman: Red Son and Kingdom Come do come to mind, there would be very generic and cliche choices. These options would make more sense.
Related: 10 DC Elseworlds Stories Deserving of Animated Films
Batman: The Doom That Came to Gotham
If you are a fan of superheroes, you cannot say you hate Batman. Batman has been around since ages and almost every fan that has come across him in a series, movie, or animated adaptation has fallen in love with him. Bruce Wayne is DC Comics' most prized possession for a reason. That is why they make him the prima facie on so many Elseworlds arc. In The Doom That Came to Gotham, Mike Mignola does the unthinkable – Combine Batman lore with H.P Lovecraft's to give us a monstrous take on the DC Universe. Mignola changes the origin stories of literally every Batman villain and supporting character. The outcome is surprisingly macabre and fun.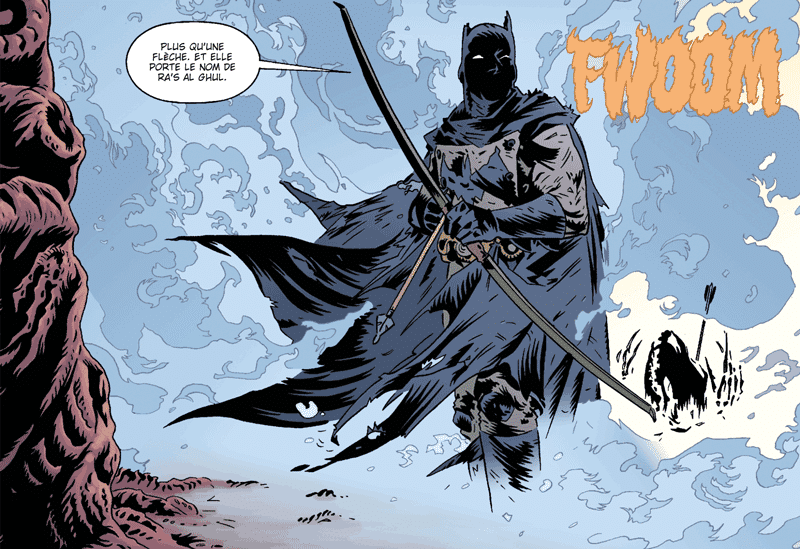 Bruce Wayne, in this universe, suffered the same fate as the original continuity counterpart. He watched his parents die in front of his eyes. Twenty years later, he would return to Gotham City. Haunted by nightmare like visions, Bruce is now ready to fight Ra's al Ghul, a Necro-Mancer hell-bent on performing a forbidden ritual and summoning a Tentacled Elder God to Gotham City. The only demerit to this arc was the absence of the Arkham Asylum. DC never milked the series enough and the ending was extremely abrupt. Ian Elseworlds series could surely rectify that.
Justice Riders
Fans of John Wayne and Clint Eastwood would definitely want this arc to be taken in for consideration. DC Comics mashed up the Wild West with the DC Universe to give us a unique take on the Justice League. Rail Baron Maxwell Lord has just razed the quiet town of Paradise while on his quest to rake in millions of dollars. Diana, the erstwhile Sheriff of Paradise Town, gathers a team of vigilantes consisting of Kid Flash, Blue Beetle, Booster Gold, and Martian Manhunter to take down Maxwell Lord and his immortal magician friend Felix Faust. To make matters worse, Pinkerton Agent Guy Gardner is pursuing Kid Flash for the purported murder of Marshall Barry Allen.
J.H Williams used his moody art-work very vividly in the series, with a very unique blend of panel borders. The powers of the heroes and villains were nerfed down but the gun-fights were more than funny enough to compensate for that. Chuck Dixon liked to make things very grounded and realistic. The adventures take us to the city of Helldorado for an epic climax that will make your head spin. It even has a lot of steam-punk elements for fans of the genre.
Lex Luthor: Man of Steel
Lex Luthor is the enemy number one of Superman. But in several universes, he is actually a good guy. In fact, in the universe of Earth – 3, Lex is a superhero who fights the Crime Syndicate of America. After having seen Lex fight Superman and be a selfish moron for all this time, it would be good to watch him in a more benevolent light. What if Lex decided to put that big bald brain of his to good use for the benefit of humanity? We give you Lex Luthor: Man of Steel.
Related: Cancelled Superhero Movies: 9 Doomed Projects Fans Still Crave For
Lee Bermejo and Brian Azzarello were the masterminds behind this arc. Lex Luthor: Man of Steel puts a spin on the classic tale of the Superman villain's origin story, making him a guardian angel of the blue planet. Luthor in this arc genuinely believes that Superman is a threat to humanity and should be stopped at all costs. He is not trying to become profit from this endeavour. He actually wants to do good and intends to fight Superman to the death and if possible kill him, to prove to the world that humanity can take care of itself.
Wonder Woman: Amazonia
Taking Wonder Woman's arcs from the comic books to a motion-picture adaptation is tricky business. Most of her arcs strike a delicate balance between equality and feminism. If the creators of a potential Elseworlds series do not get the balance right, the entire project could be doomed. Wonder Woman: Amazonia though does not have those core elements that prevail in literally every other Wonder Woman arc.
Diana is now a woman living in Victorian England. She is the wife of Colonel Steve Trevor of the Royal Air Marines. William Messner-Loebs does a wonderful job of putting Wonder Woman into a society that was rife with misogyny and rampart socially accepted sexism. Wonder Woman now works as a stage re-enactor, tricking people into believing she has biblical gifts. In due course of time, Wonder Woman realizes her powers can be used for serving the society. Also, the King of England is Jack the Ripper and an American. Go figure!!
Superman & Batman: World's Funniest
If DC really wants to go the crazy route, they can opt for Superman & Batman: World's Funniest. The two fifth dimensional imps – Mr Mxyzptlk and Bat-Mite get into a legendary argument trying to prove which superhero is better – Superman or Batman. In the process, they use their reality altering powers to kill both the heroes.  Their fight spills over to other alternate realities. The Silver Age DC Universe soon falls to the imps' powers. Mr Mxyzptlk chases Supermen from all across the DC Multi Verse, killing them one by one. In the end, not even the Spectre – the living embodiment of God's Divine Wrath is powerful enough to stop them. Superman & Batman: World's Funniest proves why fans should never be given the power to play God.
You May Also Like: Ranked: 10 Greatest Flash Costumes Better Than the DCEU Flashpoint Suit
Why adapting it into the Elseworlds features makes sense is because of the sheer audacity of the story. DC was not trying to milk Batman or Superman by putting them in impossible situations. The arc involved an impossible scenario that was brilliantly written and had a very huge backing of good A-Lister artists like Mike Allred, Dave Gibbons, Brian Bolland, Alex Ross, Frank Cho, and Frank Miller. Each universe that imps visit had their unique art-work written and illustrated into the story. The arc would be an epic love letter to the age old question of who is better – Batman or Superman!!